Help began pouring into one of the poorest regions of the U.S. after a deadly tornado tore a path of destruction for more than an hour across a long swath of Mississippi, even as furious new storms Sunday struck across the Deep South.
At least 25 people were killed and dozens of others were injured in Mississippi as the massive storm ripped through more than a half-dozen towns late Friday. A man was also killed in Alabama after his trailer home flipped over several times.
"Everything I can see is in some state of destruction," said Jarrod Kunze, who drove to the hard-hit Mississippi town of Rolling Fork from his home in Alabama, ready to help "in whatever capacity I'm needed."
Kunze was among volunteers working Sunday at a staging area, where bottled water and other supplies were being readied for distribution.
Search and recovery crews resumed the daunting task of digging through flattened and battered homes, commercial buildings, and municipal offices after hundreds of people were displaced.
The storm hit so quickly that the sheriff's department in Rolling Fork barely had time to set off sirens to warn the community of 2,000 residents, said Mayor Eldridge Walker.
"And by the time they initiated the siren, the storm had hit and it tore down the siren that's located right over here," Walker said, referring to an area just blocks from downtown.
The mayor said his town was devastated.
"Sharkey County, Mississippi, is one of the poorest counties in the state of Mississippi, but we're still resilient," he said. "We've got a long way to go, and we certainly thank everybody for their prayers and for anything they will do or can do for this community."
President Joe Biden issued an emergency declaration for Mississippi early Sunday, making federal funding available to hardest-hit areas.
"Help is on the way," Mississippi Gov. Tate Reeves said at a news conference with local, state, and federal leaders.
Recovery efforts in Mississippi were underway even as the National Weather Service warned of a new risk of more severe weather Sunday — including high winds, large hail, and possible tornadoes in Georgia, Louisiana, Mississippi, and Alabama.
A tornado touched down early Sunday in Troup County, Georgia, near the Alabama border, according to the Georgia Mutual Aid Group. Affected areas included the county seat of LaGrange, about 67 miles (108 kilometers) southwest of Atlanta
About 100 buildings were damaged, with at least 30 uninhabitable, and five people suffered minor injuries, officials said. Many roads, including Interstate Highway 85, were blocked by debris.
Two tigers briefly escaped from their enclosures at Wild Animal Safari in Pine Mountain, Georgia, after the park sustained extensive tornado damage. "Both have now been found, tranquilized and safely returned to a secure enclosure," the park said on Facebook. None of its employees or animals were hurt, it said.
Outside of Rolling Fork, a tornado ripped apart the home where Kimberly Berry lived in the Delta flatlands. The twister left only a foundation and a few belongings — a toppled refrigerator, a dresser and nightstand, a bag of Christmas decorations, and some clothing.
Berry said she and her 12-year-old daughter huddled and prayed inside a nearby church as the storm roared outside.
"I didn't hear nothing but my own self praying and God answering my prayer. I mean, I can get another house, another furniture. But literally saving my life — I'm thankful," she said.
Following Biden's declaration, federal funding will be available for recovery efforts in Mississippi's Carroll, Humphreys, Monroe, and Sharkey counties, including temporary housing, home repairs, loans covering uninsured property losses, and other individual and business programs, the White House said in a statement.
The twister flattened entire blocks, obliterated houses, ripped a steeple off a church, and toppled a municipal water tower.
Based on early data, the tornado received a preliminary EF-4 rating, the National Weather Service office in Jackson said in a tweet. An EF-4 tornado has top wind gusts between 166 mph and 200 mph (265 kph and 320 kph).
In Rolling Fork, the tornado reduced homes to piles of rubble and flipped cars on their sides. Other parts of the Deep South were digging out from damage caused by other suspected twisters.
The Federal Emergency Management Agency said 25 people were confirmed killed in Mississippi, 55 people were injured and 2,000 homes were damaged or destroyed. High winds, hail, and strong storms were expected for parts of Alabama and Georgia on Sunday, the National Weather Service said.
The tornado that slammed into Rolling Fork tore across Mississippi for about 59 miles (95 kilometers) over a period that lasted more than one hour, the National Weather Service said in a preliminary report Sunday. The tornado was an estimated three-quarter of a mile wide at some points, according to the preliminary estimate.
The supercell that produced the deadly twister also appeared to produce tornadoes causing damage in northwest and north-central Alabama, said Brian Squitieri, a severe storms forecaster with the weather service's Storm Prediction Center in Norman, Oklahoma.
In Georgia, Rachel McMahon awoke Sunday to news from her father that the Troup County motel he'd been staying in was destroyed. She said her dad, who is disabled, took shelter in the bathtub when the tornado hit.
He was badly shaken up, but not injured. She had to walk the last half-mile to his motel because of downed trees.
"SO thankful my dad is ok," she posted on Facebook, along with photos and videos of the damage: houses with gaping holes in roofs, massive tree trunks snapped in half, and powerlines dangling every which way.
A quick-thinking woman saved herself and eight others by rushing everyone into a dairy cooler as an EF-4 tornado tore the building down around her.
Tracy Hardin is still cleaning up the lot where her business, Chuck's Dairy Barn, used to be in Rolling Fork, Mississippi. All that is left is a metal cooler that saved her life on Friday night. In just moments, the tornado tore apart what Hardin and her husband worked to build for 16 years.
"We knew we were going to have some storms," Hardin told FOX Weather's Katie Byrne, with a quivering voice. "We just didn't know it would be this bad."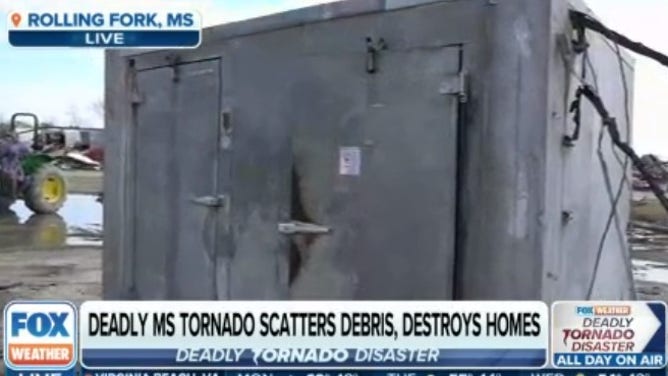 "I just hollered, 'Cooler!'"
She said her customers and employees were talking about the incoming weather all day and thinking the worst would go north of Rolling Fork. At 8:05 p.m., both her daughter and sister sent texts warning of a tornado in town.
"Then one of my cashiers came to me running and said, 'My mom is on the phone, and she said, there's a tornado,'" said Hardin. "And at that moment, the lights flickered, and I just hollered, 'Cooler!'"
She and her husband gathered the employees and customers and "shoved" them into the walk-in freezer, nine people in total. Hardin's husband battled with the winds to get the door closed.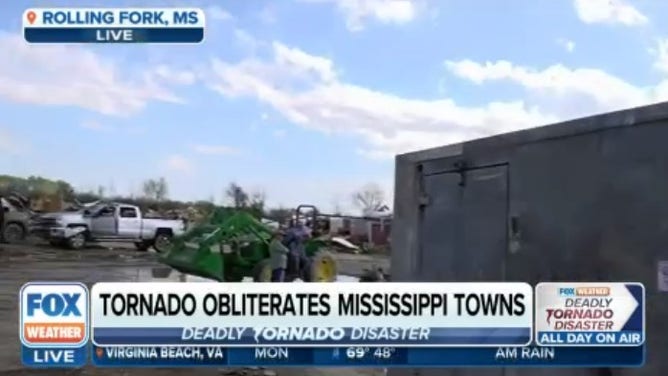 "Just as he was closing the door, he looked up, and he said, 'I see the sky.' And that just let us know that the roof was gone, and this is more serious than we could have imagined," she said.
Everyone was squeezed in tight, praying, screaming, and crying, she said. They heard the building moving, and all of a sudden, it stopped.
Trapped in the cooler after the storm
Once the storm had passed, her husband tried to push open the door, but it wouldn't budge. One of her customers from earlier in the day heard the group screaming when he got out of his shelter, Hardin recalls. With a broken arm, he cleared away bits and pieces of the dairy bar that blocked the cooler door and set them free.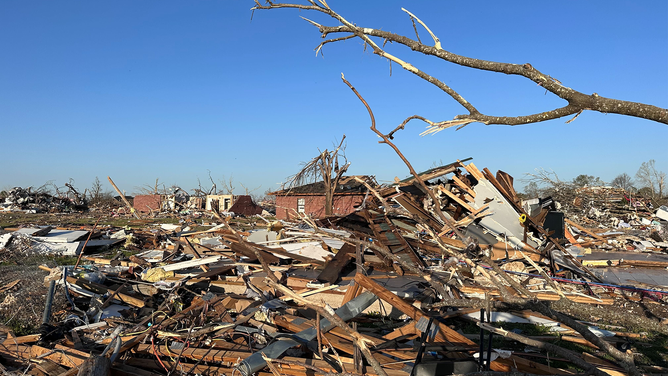 "We stepped out to the back of the building, which the building was gone, but we stepped out through what would have been the back door, and our vehicles were totaled. And that's what we saw first," she said of her first glimpse of Rolling Fork. "But then when we looked up, we just saw what used to be two motel buildings and 35 or more trailer houses are all gone, and they were all flattened."
'I'm in a situation where I can't help them. We just want to know where they are.'
She later learned that she lost neighbors and friends to the twister. She showed Byrne where the nearby mobile home park used to be. She said she got to know the kids because they would come into her store to wait for the school bus and visit for after-school snacks. But the mother will never return to the store.
"We have a family, 5 or 6 kids, and the mother's gone. She died back there," Hardin said. "She was holding her kids, and she was sucked out of the trailer."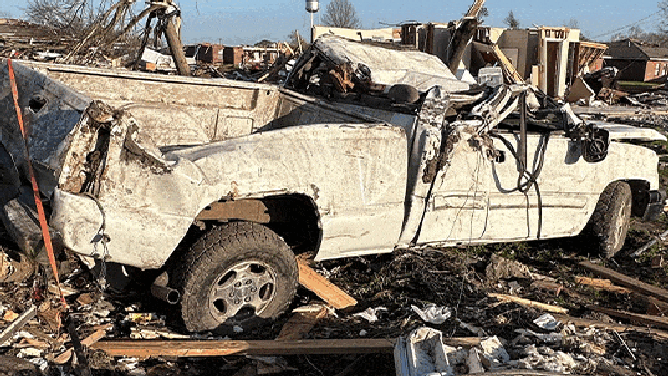 Hardin is expecting more tough news. Chuck's Dairy Bar was a meeting place for the town of just under 2,000 residents.
"This is the place in the community to go to and not just to eat, but if you're hurting or if you're happy, and they want to share their news. This is where they come," she said with a trembling voice. " And I've done this for 16 years, and this wasn't home to me, but they welcomed me with open arms 16 years ago. And they've been my family ever since. And we just want to try and get it back."
Twenty-five people were killed in Mississippi and one in Alabama by several tornadoes. One cut a path 100 miles long. The town's mayor told FOX Weather that every business on Highway 61, like Chuck's, was completely destroyed.
Monstrous tornadoes ripped across Mississippi on Friday night, killing more than two dozen people and decimating towns along their more than 100-mile-long path. The storms eventually moved into neighboring Alabama, where another person was killed.
One of the hardest-hit places was the western Mississippi town of Rolling Fork, where the terrifying night began. Many of the state's 25 fatalities happened in the town that has a population of just under 2,000 people.
"The west part of Rolling Fork is a residential area, and just a number of houses over there have been completely destroyed," Fred Miller, former mayor of Rolling Fork, told FOX Weather on Friday night. "Highway 61, where most of our businesses are, all of the businesses on 61 have been completely destroyed."
According to the National Weather Service office in Jackson, Mississippi, the Rolling Fork twister has been given a preliminary rating of EF-4 on the Enhanced Fujita Scale. That means it had winds of at least 166 mph. Officials said they are still determining the final rating. According to NOAA data, the last EF-4 tornado in Mississippi happened on April 19, 2020, in the town of St. Paul.
From there, the storm traveled northeast through the countryside and rural towns upending lives and livelihoods along the way. On the opposite side of the state from where the nightmare began, a second tornado appeared to drop out of the same storm and ripped through the town of Amory.
The storms later moved into Alabama and Tennessee, where more tornadoes were reported. The death of at least one person in Alabama was blamed on the storms.
Rolling Fork man says sister never stood a chance against storms
A man said he survived the Rolling Fork tornado by sheltering in a closet, but his sister, who was sleeping in her mobile home across town, didn't survive.
"Now, I didn't even go down there when they told me she had got killed," he said. "I didn't even want to go. She stayed in a mobile home right on the other side of that park right there. I didn't even go. I didn't want to see it. She never, she never got out of bed."
Storm chasers were some of the first people on the scene after tornadoes ripped through the towns. Some said they became first responders, rescuing people from the rubble.
Aaron Rigsby, of Live Storms Media, said he found people trapped amid significant damage in Rolling Fork.
"There were multiple cases where I was pulling debris up off of people, unburying them from the rubble where their house had collapsed on them," Rigsby told FOX Weather. "One lady tried to take cover, and she was with a walker when I found her, and she had been knocked over in her living room with a leg injury, but we were able to unbury her from that debris and get a medic over there and get her medical attention."
Aerial video from chasers showed block after block of destruction in towns along the path of Friday night's storms – splintered buildings, debarked trees, and vehicles that were tossed into piles like toys.
A storm surveyor from the National Weather Service office in Jackson, Mississippi, went to Rolling Fork to assess the damage after Friday night's tornado. He said the damage is at least of EF-3 intensity on the Enhanced Fujita Scale, but it may take a specialized team to make the final determination. Officials later said the tornado had received a preliminary rating of EF-4.
"I've been in the National Weather Service now for 28 years," NWS Jackson Meteorologist Bill Parker told FOX Weather on Saturday. "And this is probably the worst tornado damage assessment that I've ever seen. This is very catastrophic."
He was a part of just one of several survey teams that fanned out across the South on Saturday to make damage assessments.
Early Sunday morning, Pres. Joe Biden approved Mississippi's disaster declaration, which will now make federal funding available to the victims of the deadly tornadoes in Carrol, Humphreys, Monroe, and Sharkey counties.
That federal funding can include grants for temporary housing and home repairs, low-cost loans to cover uninsured property losses and other programs to help people and business owners recover from the effects of the storms.
Previously, Biden had expressed his condolences to the victims of the tornado outbreak and pledged "full federal support" for the recovery.
"The images from across Mississippi are heartbreaking," Biden said in a statement on Saturday. "While we are still assessing the full extent of the damage, we know that many of our fellow Americans are not only grieving for family and friends, they've lost their homes and businesses."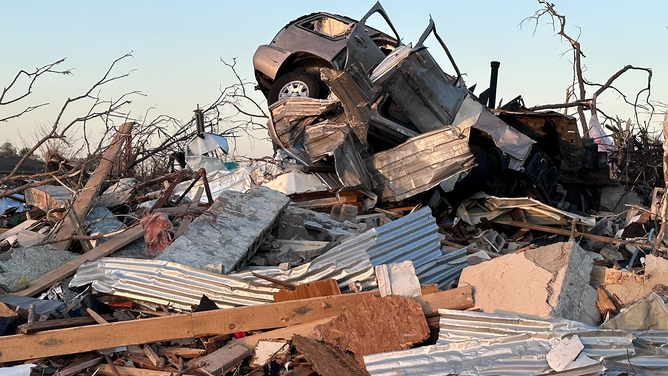 Federal Emergency Management Agency Administrator Deanne Criswell and Department of Homeland Security Secretary Alejandro Mayorkas were on the ground in affected communities on Saturday. They stood with Mississippi Gov. Tate Reeves and local officials to provide updates about the federal and local response to the devastating tornado.
"What we've seen over the last 36 hours in Mississippi, on the one hand, has been heartbreaking to see the loss and devastation of these communities," Reeves said. "But on the other hand, it's been inspiring and gives me great reason for optimism. And quite frankly makes me damn proud to be a Mississippian. Because Mississippians have done with Mississippians do. In times of tragedy, in times of crisis, they stand up, and they show up. And they're here to help themselves and help their neighbors."
After updating the public about the tornado response, FOX Weather correspondent spoke one-on-one with Reeves and Criswell, who assured victims they would not be forgotten.
"The most important thing is for everyone to know that help is on the way," Reeves told Ray. "We are going to provide resources both through public assistance and individual assistance for these individuals."
Reeves said resources that are being provided are for intermediate and long-term recovery.
"What you see is this isn't going to be a quick recovery," Reeves added. This isn't overnight. And so we've got to make sure that we get resources in their pockets soon."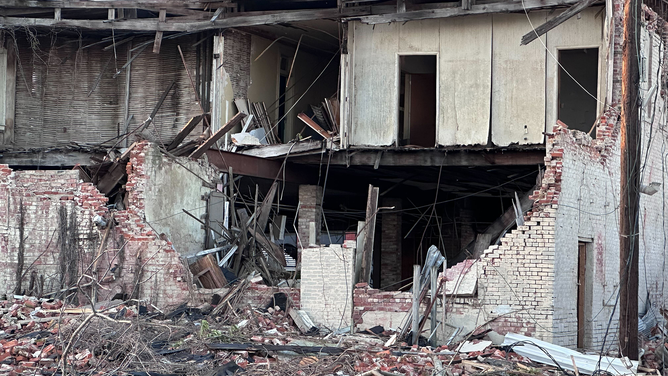 Criswell said members of the American Red Cross are also in the region providing food and shelter for those who lost everything they spent a lifetime building.
"We want to make sure that the people are safe," she told Ray. "That is the number one thing right now. Making sure people are safe. And what I would add to what the governor said is, as they're going through their homes right now, making sure they're very cognizant of the hazards that are in there and that we're keeping ware of the weather that's coming in because they want to start the recovery process, but they need to be cognizant of the things that are going to potentially harm them."
Since the end of 2022, severe weather has swept across the South, including Mississippi, week after week. And Reeves said he was thankful for FEMA mitigation programs to prepare for potential severe weather in the region.
"When you think about the things that FEMA's done, mitigation, long-term mitigation is the key," Reeves said. "I was with someone yesterday in Winona, Mississippi, that had a storm shelter that they had gotten some years ago through one of the FEMA mitigation programs. And those are the kinds of things that we have to do to prepare ourselves long-term for what are seemingly more and more events that are occurring."
Tornado victims urged to contact local officials for help
Criswell said she knows people are in immediate need of help, and the best way to get it is to contact local officials for guidance.
"There are a lot of volunteer agencies that are here on the ground providing a lot of different resources," she said. "And so, the local officials in these communities, they'll know how to connect them with those.
Criswell added that people could also contact the American Red Cross to find a local shelter.
"They have call centers, shelters that are set up, and then they need to start the (recover) process, right," Criswell added. "They need to either register for assistance through FEMA in the counties that are declared, or they need to file a claim with their insurance company to get them the funding moving in their direction."
Radar analysis by FOX Weather showed that one twister has been on the ground for at least 53 miles from the first debris detection near Rolling Fork about 8 p.m. CDT to just after 9 p.m. CDT northeast of Tchula. By 10 p.m. CDT, the tornado had been on the ground for about 80 miles.
Radar indicated the tornado may have weakened as the storm reached Winona, but a second tornado appeared to form from the same supercell before slamming into Amory and Smithville and moving into Alabama, likely pushing the overall path of tornado damage to more than 100 miles.
Radar scans estimated debris was tossed as high as 20,000 feet into the air over a 1.5-mile-wide swirl that tore across the state at 65 mph.