Board members from Hollywood's actor's union voted Friday to approve the deal with studios that ended their strike after nearly four months, with the union's leadership touting the gains made in weeks of methodical negotiations.
Duncan Crabtree-Ireland, Screen Actors Guild-American Federation of Television and Radio Artists' executive director and chief negotiator, announced at an afternoon news conference that the tentative agreement was approved with 86% of the vote.
The three-year contract agreement next goes to a vote from the union's members, who are now learning what they earned through spending the summer and early fall on picket lines instead of film and television sets. That vote begins Tuesday and continues into December.
Crabtree-Ireland said the deal "will keep the motion picture industry sustainable as a profession for working-class performers."
SAG-AFTRA President Fran Drescher said the studios believed they could outlast actors by waiting more than two months before initiating talks.
"What were they doing? Were they trying to smoke us out?" she said. "Well honey, I quit smoking a long time ago."
Crabtree-Ireland and Drescher would not give specifics on who disapproved of the deal, and why. The board vote was weighted, so it's not immediately clear how many people voted against approval.
Overall, the happy scene at SAG-AFTRA's Los Angeles headquarters was as different as can be from the defiant, angry tone of a news conference in the same room in July, when guild leaders announced that actors would join writers in a historic strike that shook the industry.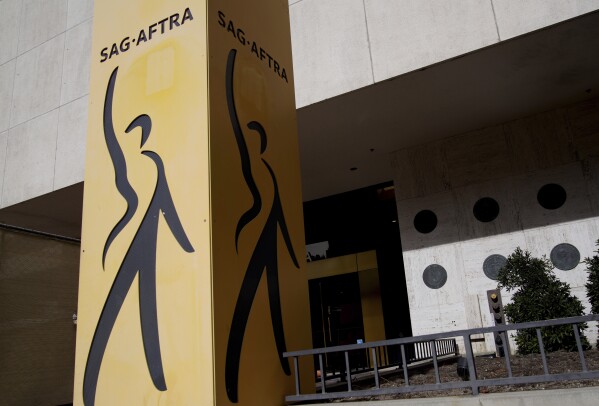 The successful vote from the board, whose members include actors Billy Porter, Jennifer Beals, Sean Astin, and Sharon Stone, was expected, as many of the same people were on the committee that negotiated the deal. And it was in some ways drained of its drama by union leaders declaring the strike over as soon as the tentative deal was reached with the Alliance of Motion Picture and Television Producers on Wednesday, rather than waiting for the approval.
But it was still an essential step in returning to business as usual in Hollywood if there is any such thing.
Actors need not wait for the ratification to start acting again — "in fact, some of them already have," Crabtree-Ireland said.
Contract provisions surrounding the control of artificial intelligence were among the last sticking points in the agreement.
"AI was a dealbreaker," Drescher said. "If we didn't get that package, then what are we doing to protect our members?"
Here's a look at those and some of the other contract gains that union leaders outlined Friday. A more detailed look at the terms will come next week, they said.
ON ARTIFICIAL INTELLIGENCE
Productions must get the informed consent of actors whose digital replicas are used. That means there will be a reasonably specific description of how an actor's image will be used — a vague, boilerplate sentence will not suffice. This includes the consent of background actors used for crowd scenes and similar simulations.
When artificial intelligence is used for a movie or show an actor is already working on, they will be compensated the same as if they'd actually performed what their digital likeness does, the guild said. Companies will need to negotiate new permission to use a likeness in a new project.
"The caveat to the consent is that it's only for the one job," Drescher told The Associated Press in an interview. "They have to come back if they want to use it for something else. That's kind of huge."
When it's a licensed image on a show where an actor, living or dead, is not otherwise performing, the license holders have a right to negotiate a rate.
In a hard-won provision that SAG-AFTRA said came on the final day of negotiations, when generative AI is used to create a synthetic character from the images of several different performers — be it Denzel Washington's eyes or Margot Robbie's hair — consent must be obtained from every person used, and the union must be able to negotiate pay for each.
ON COMPENSATION
The contract includes the creation of a new fund to pay performers for future viewings of their work on streaming services, in addition to traditional residuals paid for the showing of movies or series. The issue derailed talks for more than a week last month before studios returned to the table.
"They leaned pretty far because they were willing to accept that a new stream of revenue had to be established," Drescher told the AP.
A 7% general wage increase is effective immediately, with another 4% hike in July, and another 3.5% a year after that.
An 11% increase for background actors is effective immediately, with the same 4% and 3.5% increases in the coming years.
There will also be more money for the relocation of actors who have to move to appear in TV series.
OTHER FIRST-TIME GAINS
Productions will be required to hire intimacy coordinators for any scenes involving nudity or simulated sex. While this has become an increasingly common practice in recent years, it has not been mandatory.
Dancers asked to sing or singers asked to dance will be fully compensated for both skills, rather than productions getting a two-for-one when performers do double duty.
Sets must have proper hair and makeup artists for all performers who need them, and those artists must be able to properly serve the particular ethnicities and appearances of the performers.
The agreement also includes more protections and funding for the self-taping of auditions.
Streaming services will pay bonuses of roughly $40 million per year as part of the tentative labor agreement reached between the SAG-AFTRA actors union and major Hollywood studios, union leaders said on Friday after their board backed the deal.
The proposed three-year contract, which the union said was valued at more than $1 billion over three years, was endorsed by 86% of SAG-AFTRA's national board.
Union members now must vote on whether to ratify the agreement with Netflix (NFLX.O), Walt Disney (DIS.N), Warner Bros Discovery (WBD.O) and other members of the Alliance of Motion Picture and Television Producers (AMPTP).
Voting is expected to end in early December, chief negotiator Duncan Crabtree-Ireland said.
SAG-AFTRA President Fran Drescher said the union had partly achieved its goal of getting streaming services to share more revenue with actors. While companies rejected earlier proposals including a per-subscriber fee, they agreed to new bonus payments.
"We opened a new revenue stream," Drescher said at a press conference. "We got into another pocket."
Under the terms of the deal, 75% of the $40 million pool will go to actors on the most popular streaming shows. The remaining 25% will go to a fund that will be distributed to actors on other streaming shows.
The AMPTP said it was pleased that the SAG-AFTRA board had endorsed the deal.
"We are also grateful that the entire industry has enthusiastically returned to work," the group said in a statement.
Aside from the new bonus payment from streaming services, the agreement increases minimum salaries for rank-and-file actors and sets guardrails around the use of artificial intelligence(AI) in filmmaking.
AI was one of the issues resolved in the final hours of negotiations, Crabtree-Ireland said.
Studios must obtain an actor's consent before using their image to create a digital replica, and provide a specific description, he said. The actor would receive a payment equivalent to the type of work the digital replica is performing on screen.
The contract also protects background performers from the use of their digital replicas without consent, Crabtree-Ireland said.
The use of generative AI to create "synthetic, fake performers" provoked a "very serious fight," said Crabtree-Ireland.
Under the contract, companies must obtain the consent of performers whose facial features are used to create a synthetic performer, even if it is more than one performer.
The studios must give the union notice anytime they plan to use generative AI to create a synthetic performer, and the union won the right to negotiate for compensation on behalf of the actor whose features were used in the creation of that digital performer.
The deal was reached on Wednesday, ending the second of two overlapping strikes in the U.S. entertainment industry that cost the California economy more than $6 billion.
The first, by the Writers Guild of America (WGA), began in May and lasted 148 days. SAG-AFTRA walked off the job in July and ended its strike this week after 118 days.