Car shoppers are heading for a new round of sticker shock if the strike by the United Auto Workers doesn't end soon, particularly for popular vehicles that are already in short supply.
The number of vehicles on dealer lots will shrink the longer the walkout goes on. Dealers are likely to lose incentives that the manufacturers pay them to boost sales by cutting prices.
And consumers might make things worse with panic-buying.
Many analysts think it will take several weeks before dealer lots start to look a bit empty. Ford, General Motors and Stellantis built up inventories of vehicles ahead of Thursday night's strike, and the UAW decided to limit the walkout to just three plants – at least for now.
"Guys at the dealerships are going to tell you, 'The UAW this and that,' but their lots are full of cars now," says Ivan Drury, the director of insights at Edmunds, a provider of information about the auto industry. He estimates that at current inventory levels and the pace of vehicle sales, most car shoppers shouldn't notice much change for a couple of months.
Vehicles from the Detroit Three sat in inventory an average of 52 days before being sold in August, up from 31 days at the start of last year, according to Edmunds data.
The UAW began striking at factories that make only a few vehicles – Ford Broncos and Rangers, Jeep Wranglers, Chevrolet mid-size pickups, and GMC vans. Dealers have good inventories of those.
The union said it had "reasonably productive conversations" with Ford on Saturday, while Stellantis gave details about its most recent offer to the union.
Mark Stewart, chief operating officer for North America at Stellantis, also said his company has contingency plans to limit the impact on consumers, though he declined to give details about them.
"We really want to encourage customers: Don't be afraid," Stewart said while suggesting they see the deals available at dealerships.
If the strike isn't ended soon, however, there could be shortages of some makes and models –big sellers or vehicles that are already in short supply, such as Chevrolet Silverado and Tahoe, GMC Sierra, and Ford F-Series pickups. The car companies have plants in Mexico that could keep producing some models – as long as they have a supply of parts.
While the supply of cars from Detroit's Big Three will largely depend on how long the strike lasts and how quickly it spreads to other plants – there were rumors Friday that additional factories could be added next week – there are other factors.
Garrett Nelson, an auto analyst for CFRA Research, expects manufacturers to eliminate incentives they pay to dealers to boost sales. Those incentives let dealers reduce their sticker prices, and they're often targeted at slower-selling models.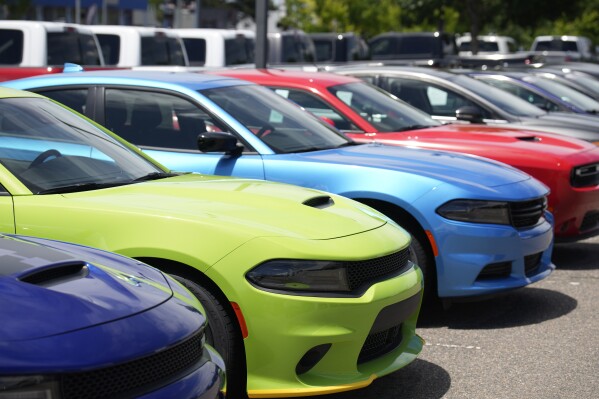 The biggest wild card could be consumer psychology – panic-buying that would drive up prices.
"The impact on prices would be almost instantaneous," Nelson says. "Dealers will say, 'Look, we're not sure how many additional vehicles we're going to be getting.' There could be somewhat of a panic effect that could stimulate consumers to make that purchase sooner rather than later."
As cars from Ford, GM, and Stellantis, the successor to Fiat Chrysler, become harder to find, there will be a ripple effect. Consumers who need a vehicle would likely turn to nonunion competitors like Toyota, Honda, and Tesla, who would be able to charge them more.
"You'll start to see that pricing gets affected everywhere — and not just on the new end of the business," Drury says. "Used-car values, which have been seeing a bit of a decline from last year's highs, could start going back up" as consumers look for an affordable alternative to new vehicles.
Consumers who lease their vehicles and are coming to the end of the term could be especially vulnerable. Drury says leasing companies want their cars back while the used-car market is hot, and might be unwilling to extend the lease.
Anyone shopping for a new, used, or leased car right now will also be hit by higher interest rates. The average rate for a new car loan this week stood at 7.46%, and for a used car, it was 8.06%, according to Bankrate.
High rates are contributing to a spike in rejections for consumers looking to buy a ride. The Federal Reserve Bank of New York said this month that the rejection rate for auto loans is now 14.2%, the highest since the bank started tracking figures in 2013 and up from 9.1% six months ago. (Rejections are also up for mortgages, credit cards, and other loans, as lenders recoil at the growing number of people falling behind on payments. Household debt is rising.)
Car prices were rising long before the auto workers even raised the possibility of a strike. A chip shortage, disruptions in the global supply chain, and strong demand pushed prices higher.
The average price for a new vehicle jumped from $39,919 in 2020 to $48,798 so far this year, according to Kelley Blue Book. Cheap cars have all but disappeared, and consumers are forced into ever-longer loans to limit their monthly payments. Prices for used cars rose sharply in 2021 and 2022, but have slipped slightly this year.
Prices are almost certain to rise even if the strike is settled quickly because the auto makers' labor costs will increase.
"It's almost a foregone conclusion that the UAW will succeed in getting substantial wage increases," says Patrick Anderson, the founder of Anderson Economic Group, a research firm that conducts market analysis. "Part of that is simply due to inflation, part of that is due to the profits of the automakers, and part of that is due to the leverage that the UAW has right now with a short inventory and an economy that still has a lot of people that want to buy cars."
The UAW is asking for a 36% increase in wages over four years, plus other demands that would increase expenses for the companies. On Saturday, Stellantis detailed its latest offer for cumulative raises of nearly 21% in hourly wages, roughly in line with proposals from Ford and GM.
Politicians also have been pushing automakers to consider workers who gave up pay and benefits to help their employers during the Great Recession.
"Now that our carmakers are enjoying robust profits, it's time to do right by those same workers so the industry can emerge more united and competitive than ever," former President Barack Obama said in a statement Saturday.
UAW President Shawn Fain is sensitive to the impression that the union's gains will come out of consumers' pocketbooks. He points out that prices were rising before the strike, and says labor accounts for a fraction of the Big Three's total costs.
"They could double our wages and not raise car prices and still make billions of dollars in profit," he said during an online presentation to union members this week.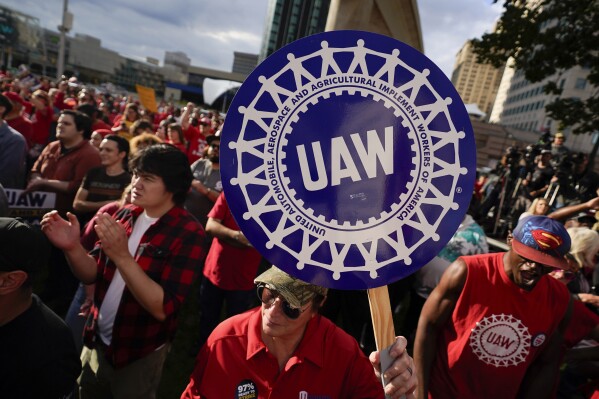 It's all enough to make many motorists consider avoiding the car lot and keeping their current car a while longer. Their bank accounts will be healthier without car payments.
"Holding on to your car is not a bad thing," said Drury, the Edmunds analyst. "It's a lot more durable than you think it is."
GM CEO Mary Barra's $29 million pay package is 362 times what her company's median employee makes. For Ford CEO Jim Farley, the ratio is 281 times. It's 365:1 for Stellantis CEO Carlos Tavares and his average employee.
The yawning pay gaps, a sore point among many rank-and-file workers across corporate America, is becoming one of the United Auto Workers' most potent political rallying cries as it kicks off an unprecedented strike at the Big Three auto manufacturers. The historic labor action puts an exclamation point on more than a decade of halting efforts by lawmakers in Washington — most of them Democrats — to expose and narrow the disparity between the country's wealthiest individuals and the vast majority of Americans.
More specifically, the strike threatens to fuel scrutiny of what critics say is excessive executive pay and how it contributes to risk-taking beyond the auto industry.
Midwestern lawmakers have started trumpeting the stats on Capitol Hill as they lean into solidarity with the striking workers. The UAW claims that the Big Three automakers saw their average CEO pay increase by 40 percent in the last four years while union members got 6 percent raises.
"I don't want to hear whining from these companies that they can't afford to pay workers what they're worth," Sen. Sherrod Brown (D-Ohio) said on the Senate floor Thursday.
Exploding executive compensation has bedeviled concerned policymakers for years, with attempts at imposing transparency measures and greater corporate accountability doing little to slow the trend. But the UAW strike is putting a fresh target on CEO pay at a precarious moment for big business, with populism holding sway on the left and the right.
Asked about her pay in a CNN interview Friday, Barra said 92 percent of her compensation is based on the performance of the company. She touted the profit-sharing that GM offers employees.
"So when the company does well, everyone does well," she said.
Likewise, a Ford spokesperson said that more than 90 percent of Farley's $21 million in compensation last year was made up of variable components based on how well the company performed. Farley's compensation was up by 21 percent compared to his predecessor Jim Hackett in 2019, according to Ford. GM and Stellantis did not respond to requests for comment.
Median CEO pay at the largest U.S. public companies hit $22.3 million last year, according to research firm Equilar — a 7.7 percent increase from 2021. And between 1978 and 2021, executive compensation at large American companies increased by more than 1,400 percent, the left-leaning Economic Policy Institute said.
It climbed 37 percent faster than stock market growth and 18 percent faster than average full-time worker pay over the same period, the EPI analysis found.
"There's no defensible argument that that's because CEOs have just gotten a lot smarter or more effective over time," said Sarah Anderson, director of the Global Economy Project at the Institute for Policy Studies, a progressive think tank.
Disgust with Wall Street executives after the 2008 financial crisis spurred a Democratic Congress and President Barack Obama to enact a series of measures to address C-suite pay in 2010. But regulations to restrict pay packages that encourage excessive risk-taking have yet to be finalized, thanks to bureaucratic gridlock among several agencies working on the rules as well as regulator turnover between the Obama and Trump administrations.
A separate requirement that public companies disclose CEO compensation in comparison to their median employee salary became effective in 2018. It has done little to rein in executive pay, according to an academic study released last year by researchers at the University at Buffalo and the University of Colorado.
At the heart of the tension between management and union members is executive pay that is tied to a company's stock price and becomes more valuable as market returns increase.
"Rank and file employees don't have such an immediate linkage, which leads to these compensation-related conflicts," said the University at Buffalo's Michael Dambra, who worked on the pay disclosure study.
"The argument that firms would make is that the job of a CEO has gotten exponentially more difficult in terms of responsibilities, litigation risks and outside pressure," Dambra added. "Stock-based compensation allows for an alignment of interests between shareholders and managers. These are market (i.e. competitive) prices, and CEOs that are underpaid relative to their peers would leave."
But Dambra said employee advocates would counter that "this explosion in CEO pay is extortion, and CEOs have captured boards, and they are earning more compensation than economically fair."
President Joe Biden said Friday that auto companies have profited in recent years thanks to the "extraordinary skill and sacrifices" of UAW workers and that profits "have not been shared fairly, in my view, with those workers."
This year's regional bank failures rekindled concern in Congress about executive risk-taking. It spurred Brown and Sen. Tim Scott (R-S.C.) to craft a bill that would enable regulators to claw back pay from the CEOs of failed lenders and also make it easier to remove executives.
Despite resistance from industry — which argues that the bill would make it harder to recruit top talent — the proposal attracted broad bipartisan support at the Senate Banking Committee and is awaiting Senate passage.
Other unions are trying to elevate the CEO pay issue in negotiations. The Writers Guild of America West, which represents striking Hollywood writers, waged a successful campaign to convince Netflix's shareholders to reject the company's executive pay package in a non-binding vote.
"Everybody understands the fundamental unfairness of people who contribute to profits of a company getting such a small fraction of what the handful of individuals at the top are making," said Anderson of the Institute for Policy Studies. "I think we're seeing a much brighter spotlight on this issue, and that strengthens the hand of these unions going into negotiations."
The ripple effects of the United Auto Workers' strike have started.
Ford sent home about 600 workers at its Michigan plant on Friday because of strike-related production issues. Citing similar reasons, General Motors has also warned that 2,000 workers at its Fairfax assembly plant in Kansas are expected to be out of work by early next week.
When a factory is idled because of supply chain issues, companies typically give partial pay to its non-striking workers. But in this case, Ford and General Motors said there would be no such compensation.
The UAW President Shawn Fain said the union will make sure that affected workers continue to have an income and called the temporary layoffs a strategic attack to hasten negotiations.
"Let's be clear: if the Big Three decide to lay people off who aren't on strike, that's them trying to put the squeeze on our members to settle for less," Fain said Saturday in a statement.
The prospect of temporary layoffs comes less than a day after the UAW launched its unprecedented strike against the Big Three automakers — Ford, General Motors, and Stellantis, the parent company of Chrysler, Jeep, and Ram. On Friday, about 13,000 workers at three Midwest plants walked off the job after the auto companies failed to reach a deal with the union on pay, pensions, and other benefits.
The union and the three auto makers returned to the bargaining table on Saturday.
"We had reasonably productive conversations with Ford today," the UAW said in a written statement provided to NPR.
The strike currently involves less than 9% of UAW membership at the three companies. But more workers may go on strike at a moment's notice, depending on how negotiations go.
Auto companies say layoffs are a direct consequence of UAW strike
About 600 workers at Ford's Michigan Assembly Plant's body construction department and south sub-assembly area of integrated stamping were told not to report to work on Friday because the components they produce require e-coating. According to Ford, e-coating is a protection measure completed by the facility's paint department, which went on strike.
"Our production system is highly interconnected, which means the UAW's targeted strike strategy will have knock-on effects for facilities that are not directly targeted for a work stoppage," Ford said in a statement.
General Motors similarly said the strike at Wentzville Assembly in Missouri was already having "a negative ripple effect" at the rest of its Fairfax assembly plant in Kansas.
"This is due to a shortage of critical stampings supplied by Wentzville's stamping operations to Fairfax," General Motors said in a statement. "We are working under an expired agreement at Fairfax. Unfortunately, there are no provisions that allow for company-provided SUB-pay in this circumstance."
But UAW president Fain argued that the auto companies can afford to avoid such temporary layoffs.
"With their record profits, they don't have to lay off a single employee. In fact, they could double every autoworker's pay, not raise car prices, and still rake in billions of dollars," he said in a statement on Saturday.
Negotiators for the United Auto Workers and Ford Motor had "reasonably productive discussions" toward a new contract, the union said on Saturday, while officials at Chrysler parent Stellantis said a proposal to resume work at an idled Illinois factory has fallen through.
About 12,700 UAW workers remained on strike for a second day as part of a coordinated labor action targeting three U.S. assembly plants - one at each of the Detroit Three automakers.
Union negotiators and representatives of General Motors (GM.N), Ford (F.N), and Stellantis (STLAM.MI) resumed talks on Saturday, a day after the UAW initiated the most ambitious U.S. industrial labor action in decades.
There was no sign of a breakthrough as of Saturday afternoon.
However, the UAW comment about the tenor of talks at Ford was more positive than the union's characterization of progress ahead of the kickoff of the strikes. On Thursday, Ford CEO Jim Farley said the UAW's proposals would push the company to bankruptcy, adding that there was "nothing going on" in negotiations.
"As we have said all along, Ford has bet on the UAW more than any other company. We are committed to reaching an agreement with UAW that rewards our workers and allows Ford to invest in the future. We have to win together," Mark Truby, Ford's chief communications officer, said in a statement.
Stellantis said on Saturday it had hiked its offer, proposing raises of 20% over a four-and-a-half-year contract term, including an immediate 10% hike. That matches proposals from GM and Ford. Stellantis said talks would resume on Monday.
The automakers said the proposals work out to a cumulative 21% hike over the period, but they are still significantly below the 40% wage hike the UAW is demanding through 2027. The union's wage demand includes a 20% immediate increase.
Mark Stewart, the North American chief operating officer for Stellantis, told reporters on Saturday the UAW rejected a proposal to resume operations at an assembly plant in Belvidere, Illinois, noting that the company's offer had been contingent on reaching an agreement before the contract expiration.
In late February, Stellantis indefinitely idled operations at the Belvidere plant, citing the rising costs of electric vehicle production.
The UAW criticized the company's position on the Illinois plant saying now "they are now taking it back. That's how they see these workers. A bargaining chip."
Stewart declined to offer specific details but added that Stellantis was still willing to talk about the facility's future. He described the company's latest overall contract offer as "very compelling."
Stellantis also said it is offering more than $1 billion in retirement security improvements and other increases in benefits.
"This is not about greed," he said, "This is about sharing success."
'GO THE DISTANCE'
The strikes have halted production at three plants in Michigan, Ohio, and Missouri that produce the Ford Bronco, Jeep Wrangler, and Chevrolet Colorado, along with other popular models.
Automakers have said they need cost-competitive contracts because of the multi-billion dollar transition to electric vehicles (EV), while workers note U.S. automakers have enjoyed robust profits over the last decade and have hiked CEO salaries by 40% on average since 2019.
On Friday, Ford said it was indefinitely laying off 600 workers at a Michigan plant because of the impact of the strike at the facility, which makes the Bronco SUV, and GM (GM.N) told some 2,000 workers at a Kansas car plant that their factory likely would be shut down next week for lack of parts, stemming from a strike at a Missouri plant.
Stellantis said on Saturday it does not anticipate any other plants being disrupted by the strike at its Jeep plant in Toledo, Ohio.
UAW President Shawn Fain called the reports of planned layoffs of non-striking workers an attempt by the automakers to "squeeze" union members into accepting a weaker settlement.
"Their plan won't work," Fain said in a statement. "We'll organize one day longer than they can, and go the distance to win economic and social justice at the Big Three."
Besides higher wages, the UAW is demanding shorter work weeks, restoration of defined benefit pensions, and stronger job security as automakers make the EV shift. The union also wants an end to so-called "two-tier" wages, while automakers have proposed cutting the number of years needed to reach top pay levels from eight to four years. The UAW said the automakers have rejected many key demands.
The automakers have said the UAW demands could hike the current mid-$60-per-hour labor cost to more than $150 an hour. GM said on Thursday that the UAW wage and benefits proposals would cost it $100 billion, while Ford's Farley said a 40% UAW wage hike would "put us out of business."
U.S. President Joe Biden, who faces re-election next year, called on Friday for the auto companies to reward workers just as executives' salaries have risen. "The companies have made some significant offers, but I believe they should go further to ensure record corporate profits mean record contracts," he said.