When people set out to become influencers, the first step is figuring out what their brand is. Not only their niche but also a way to stand out and attract attention. One way to do that is to pick a topic that is extremely personal. The question Amy Chan asked was how to become a certified relationship expert.
The content creator and entrepreneur Amy Chan got her start after struggling with a painful breakup. Left with a broken heart, Chan was looking for community. She wanted to create a space for others to heal after she couldn't find a safe and supportive space free of judgment.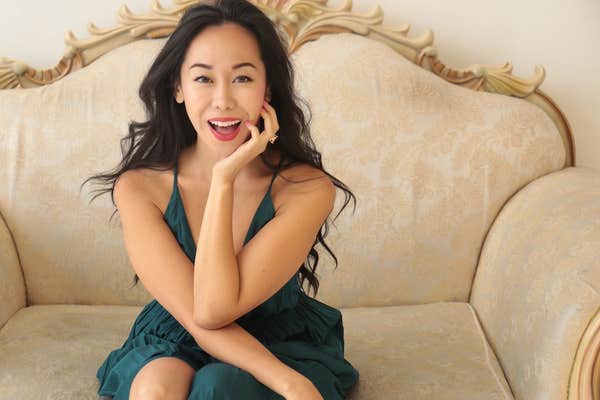 "There's a lot of shame that you feel when you go through a breakup," Chan told Passionfruit. "For some, they don't want to burden people with their pain." The silence wasn't the answer. "I feel that being vocal about it, seeing a broken heart as something as serious as a medical condition, and learning tools on how to navigate it are extremely important," said Chan.
She founded the Renew Breakup Boot Camp, a retreat that takes a scientific and spiritual approach to heal. The breakup boot camp features a team of experts ranging from psychologists and behavioral scientists to breathwork teachers. These instructors help participants through the process of healing from the past to change patterns for the future.
Chan has since become an entrepreneur and content creator in the heartbreak and breakup space. She's garnered over 90,000 followers and brought in over six figures yearly through her business and social media platforms. Here's how she did it:
Consistency is everything
After Chan launched her business, she decided to dive into the world of social media. To build a presence on different platforms, she knew she needed to put out content on a daily basis.
"At first, I didn't know what I was doing; making videos was intimidating and I felt strange. But I just got into the habit of creating and now, it's second nature," said Chan.
In this TikTok video, Chan points out that waiting for something to be perfect can be another way of procrastinating. Whether it's a piece of content or a new product for your business, your perfectionism may get in your way.
She said that in addition to consistent content, personal touches helped. That meant creating bite-sized videos that people could easily understand and listening to her audience on what they needed. Just as importantly, she answered every single message personally, helping build an authentic connection with her growing audience.
Find a way to stand out
If you notice a lot of other people putting out content that is similar to what you're sharing, it could be important to find a different way to stand out.
Chan said what makes her unique on social media is that most of the advice she shares is backed by research.
"I am able to distill complex theories and studies in layman's terms so people can understand them and also start applying them to their lives. I'm honest, practical, and back a lot of my teaching with research," Chan said.
In this Instagram reel with almost 30,000 likes, Chan breaks down why your brain gets cravings to check your ex's social media, in both an engaging and informative way.
Work with brands as authentically as possible
After building an audience of engaged and loyal followers, a lot of influencers will start to integrate brand deals into their content. Chan said when she first started, she noticed brands wanted to work with a creator who not only had a connection with their audience but who was authentic and could create content in a genuine way that showcased their personality.
Since Chan travels a lot for her work, she partnered with a luggage company to make an Instagram reel showing how she packs two weeks' worth of clothing in a carry-on bag.
She only takes on a handful of brand deals a year and makes sure that she is working only with the brands she genuinely likes. In the past, she's worked with companies whose products she used daily as a consumer, like HealthyLine and Cometeer Coffee.
Monetize social media
While some creators generate all of their income through their social media platforms via affiliate links and brand deals, Chan said that she monetizes her content and business in a handful of other ways.
"I have online masterclasses, workshops, and a book and workbook,' she said. "My content does a lot of brand building and delivers value through the lessons I teach. People naturally find ways to work with me in a deeper way."
Chan said she earns a big chunk of her income from her Renew Breakup Bootcamp, which offers courses and private mentorship to help people create healthy love and shift old patterns. She also does paid speaking engagements, including most recently at a college campus.
Treat being an influencer like it's a responsibility…because it is
In 2023, Chan said one of the biggest takeaways content creators can learn is that you have a responsibility for the influence you have and you can't be careless with what you post or the brands you work with.
If you're just starting out, Chan suggests narrowing your focus and don't try to be everything to everyone.
"Start creating content around that," said Chan. "Then look for brands that are aligned."