Never underestimate the power of an American brand. "The brand is the most indispensable thing," says
David Aaker
, a professor emeritus at UC Berkeley's Haas business school and author of more than a dozen books on branding strategy. "If you pull out the brand, you don't have a business."
American institutions such as Nasdaq, Radio Flyer, and Ralph Lauren are demonstrating how a storied brand can use that power not just to extend their businesses into adjacent markets but expand into emerging ones—and bring both existing and new customers along with them. Radio Flyer, the 106-year-old maker of children's wagons and toys, has made a big bet on e-bikes, its first adult offering in its history. The $2,000 Flyer L885 cargo e-bike and its follow-up Flyer Folding Cargo Electric Bike connect to the company's heritage with their family-friendly design flourishes. In introducing their new line of e-bikes, Aaker says that Radio Flyer is leveraging the visibility, likability, and nostalgia associated with the brand. The move puts the company in an enviable position to pioneer electric bikes for family use.
Similarly, since Nasdaq, the electronic stock exchange, acquired a majority stake in the carbon-removal platform Puro.earth in 2021, it has transformed Puro's CO2 Removal Certificates into a public, verifiable product. Anyone can now search via the Puro Registry to see if a company has purchased credits. In addition, Nasdaq created the first index family focused on tracking the price of carbon removal. These financial features create a larger, more transparent market. Nasdaq's brand has also helped attract 60 new carbon-removal suppliers in 27 countries to Puro's platform.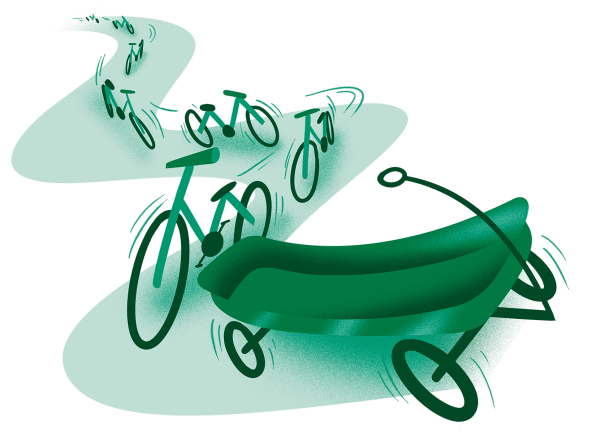 Ralph Lauren's clothing, meanwhile, has always had a timeless aesthetic, which has allowed the fashion house to reinterpret its classics consistently, now with an environmental edge. Ralph Lauren redesigned its signature cashmere sweaters to receive certification from Cradle to Cradle, a nonprofit that helped the company meet C2C's standards for using safe materials, employing fair labor practices, and enabling the garment to be recycled into a new one. "Having a legacy brand," says UC Berkeley's Aaker, "gives you credibility" to push into new spaces.
Beyond the brand, the most innovative North American companies are, like Nasdaq, seeking novel ways to mitigate climate catastrophe. GHGSat can identify greenhouse gas emissions from its Earth observation satellites, helping companies comply with regulations and governments identify problems. Footprint, the compostable packaging pioneer, expanded to shelf-stable microwaveable meals, and Oxford Properties keeps finding new means to prioritize sustainability across its developments.
Scientific advancement continues to be a heartening theme in American innovation as well. Benchling enables researchers to take advantage of the most advanced biotech platforms—from DeepMind's AlphaFold to mRNA to CRISPR—and accelerate the possibility of drug discovery. While Benchling works with everyone from AstraZeneca and Gilead to emerging biotechs, Flagship Pioneering creates the companies that may be the next big thing in bio.
1. RAMP
For easing the eternal hassles of expense reporting
Ramp, which became one of the fastest-growing business software startups with its spending-management credit card during the bull market, is now more vital than ever amid a more recessionary environment. The company, which was last valued at $8.1 billion, significantly expanded its product line over the course of 2022.
In late 2021, it created Bill Pay, which uses AI to read invoices and automatically cull such info as line items and due dates before they enter the approval process, saving customers time and energy. Bill Pay quickly surpassed the growth rate of its credit card, generating more than $1 billion in annualized volume, according to the company. Ramp also introduced its own travel booking solution in February 2022, which lets employees book corporate travel through any channel; it then automates the expense report, collating all travel-related receipts. It also integrated with Gmail to alleviate the expense reporting process, automatically scanning for receipts and matching them to business transactions. Receipts using the Gmail, Outlook, Amazon, and Lyft integrations are typically processed before the transaction has even cleared. This integration is being used by more than 40,000 users, with Ramp reporting to have saved employees over 60 working years.
Quebec-based GHGSat uses its Earth observation satellites to measure greenhouse gas emissions emitted from industrial sites, with a particular focus on methane. The company doubled its constellation to six commercial satellites in 2022, with six more planned for 2023.
In September 2022, GHG's satellites were the first ones to produce high-resolution images of the Nord Stream 2 pipeline leak in the Baltic Sea. It was the company's largest emissions discovery from a single source in its seven-year history of monitoring. The company was also able to capture views of methane plumes from a coal mine in Kazakhstan and in the Gulf of Mexico in 2022.
Methane is a colorless gas, but the GHG satellites use spectrometers to pick up differences in light waveforms as they travel through a plume of gas. Approximately two-thirds of the company's customers are oil and gas businesses seeking to identify problems and comply with regulations;
the rest are governments and climate change researchers. GHGSat's revenues increased 240% from August 2021 to 2022, and in October it won a contract with NASA.
3. BENCHLING
For accelerating the next generation of drug development
Benchling is scientists' research partner in the cloud. The San Francisco-based company makes software tools to accelerate the creation and testing of the most advanced biotech therapeutic platforms. In May 2022, it added support for DeepMind's AlphaFold breakthrough, which can predict the 3D structure of a protein and has the potential to bring new levels of insight and understanding into drug discovery, drug interaction, and so forth. Benchling's software lets scientists choose any amino acid sequence in the company's R&D Cloud platform, run the AlphaFold algorithm, and get back a prediction of its protein structure. In September, Benchling introduced support for RNA and mRNA R&D, giving biologists and chemists visualization tools for designing and modifying mRNA sequences and collaborating with one another, in service of identifying drug candidates more quickly.
For a sense of why adding tools and support for these advanced scientific platforms matters, Benchling first added CRISPR gene-editing technology to its cloud in 2014. Five years later, a startup named Verve Therapeutics started work on a novel CRISPR-based therapy for heart disease, using Benchling's software to support its development. In July 2022, Verve started human trials, the first time that a person has received this type of treatment during a clinical trial.
4. NASDAQ
For investing in a carbon removal marketplace
Nasdaq, the stock exchange, acquired a majority stake in the carbon removal marketplace Puro.earth in June 2021. Puro.earth identifies and verifies CO2 removal processes that are net-negative in terms of emissions and stores that CO2. In January, the minimum storage time was increased from 50 to 100 years. It also provides a registry of CO2 Removal Certificates (CORCs) in an online marketplace where corporate buyers can purchase carbon removal credits. The value of the combination of the financial market and the carbon market started to come into view when Nasdaq launched the Puro Registry in February 2022. The platform allows companies who have used CORCs to make them public, transparent, and verifiable—and for anyone to search if a company has purchased CORCs. The following month, Nasdaq introduced the first commodity reference price indexes to track the cost of carbon removal. As more companies make net-zero carbon commitments and the SEC considers standardizing carbon disclosure rules, Nasdaq's moves provide transparency to help companies understand the cost of carbon removal certificates as well as provide the ability to purchase advance commitments. Microsoft, Snap, and Zurich Insurance Group are all customers. Nasdaq reports that in 2022, Puro.earth issued 225,000 CORCs (225,000 tons of CO2 removed), more than triple that of the 74,000 it issued in each of the two prior years. It has also added more than 60 new carbon-removal suppliers in 27 countries since the acquisition.
5. FLAGSHIP PIONEERING
For fostering the intersection of business, science, and public health
Flagship Pioneering, which is in the business of founding, funding, and fostering companies with new approaches to persistent problems, continues to launch transformative life science companies—and, among other things, get ahead of the next pandemic. Best known for its role in backing Moderna and mRNA vaccine development technology, Flagship continued to try to get ahead of where virality (the bad kind) is going. Apriori Bio, launched in July 2022, seeks to identify the protection needed for future virus variants before they exist and, using its AI platform Octavia, model their behavior. The goal: build variant-proof vaccines and antibodies before they emerge. Apriori is currently focused on HIV, Influenza, and SARS-Cov-2 (the virus that causes COVID-19). Apriori was but one of four companies launched in 2022, along with more than 65 new clinical programs, 130 therapeutics in preclinical and discovery programs, and more than 550 patent applications from its Flagship Labs division.
6. RALPH LAUREN
For designing products that let customers pass down a healthier planet to the next generation
American fashion brand Ralph Lauren's clothing has always had a timeless aesthetic, but the articles themselves were not being made with the same spirit toward the planet. Lauren debuted a number of textile breakthroughs throughout 2022 that embody its adoption of a more holistic interpretation of its ethos.
For the 2022 Australian Open tennis tournament, its RLX Clarus polo shirt, created with Natural Fiber Welding (which is honored as one of the most innovative Energy and Sustainability companies), gives cotton fibers the breathability and quick-drying qualities that garment makers typically turn to synthetic (plastic-based) fabrics like nylon to achieve. In June 2022, the company committed to making some of its most iconic products, starting with a women's crewneck cashmere sweater, according to the standards of the Cradle to Cradle Products Innovation Institute. Each garment is made with regenerative soil and water practices and can be recycled into a future one. These certified products are a showcase for the company's commitment to growing regenerative practices and making all of its products according to circularity principles by 2025. For the nine months ending December 31, 2022, Ralph Lauren delivered $4.9 billion in revenue and $490.4 million in profits.
7. OXFORD PROPERTIES
For placing sustainability above occupancy
Toronto-based Oxford Properties manages 165 million square feet of commercial real estate space and $82 billion of assets, predominantly across Canada and the United States. The firm, which has built a reputation for erecting large net-zero buildings, is now taking multiple steps to prioritize sustainability during development rather than hoping for tenants to embrace it later. Oxford completed Riverbend Business Park in Vancouver, where it removed over 300,000 cubic meters of waste and debris and converted the former mill into Canada's first large-scale two-story industrial facility. The project is fully leased after signing on Amazon in March 2022. At Oxford's The Hub in Toronto, the company helped successfully change city policy to reduce mandated parking spaces by 70%, encouraging tenants to use more sustainable modes of transportation like biking, walking, or public transport. It further encouraged green transit by making bike stalls, high-quality changing rooms, and showers (including toiletries) standard for all new office projects.
Oxford also initiated an impressive array of socially conscious and sustainably led projects in 2022. In March, it broke ground on 3 million square feet of properties in Philadelphia's Navy Yard, whose foundation is a $1 billion commitment to creating spaces for Black-owned businesses and using Black contractors in the development process. This was followed in September by the commencement of a project in Southern Ontario, which will install 400,000 square feet of solar photovoltaic arrays in the first phase of development, ensuring that tenants will use clean energy from day one, a significant departure from developers' typical practice of waiting for tenant cooperation before installing. The company's focus on sustainability is also proving to be good business: Oxford had a 9.9% return in the first half of 2022.
8. FOOTPRINT
For giving plastic an expiration date
We all know plastic is bad—and hiding everywhere. Footprint, a packaging innovation firm that first made its name with its plant fiber–based trays for frozen dinners and premade hamburger patties, has turned its attention to another grocery aisle: shelf-stable microwaveable meals. In 2022, Kraft, Annie's, and Walmart's Great Value brands all refreshed the packaging of their macaroni and cheese cups, replacing plastic with Footprint's fully recyclable or compostable alternative. The cups use both Footprint's Barrier Technology (which allows the food not to saturate the paper, replacing the plastic liner inside paper cups) and its Print-to-Fiber Technology, so companies can render their branding in the color graphics of their choosing without the need to add a plastic label. Footprint estimates the shelf-stable cup market uses more than 42 million pounds of plastic annually. In October 2022, the company won deals with Sambazon to make a fiber cup for its açai bowls and with F'real for its milkshake cups.
Footprint had planned to go public via a SPAC but rescinded the deal in December 2022 due to market conditions. The company had previously told investors that it would generate $135 million in 2022 revenue and end the year with $924 million in revenue under contract.
9. ROKU
For helping you find your lost remote
Roku, the streaming media devices and software company, brought a variety of successful new products and platforms to market in 2022. In May, the Roku Ultra, the highest-end version of its streaming hardware, bundled the Roku Voice Remote Pro that includes a voice-powered lost remote function ("Hey Roku, find my remote"). That same month it teamed up with a company called Element to make its first outdoor TV outfitted with anti-glare and weather protection. The TV sold out at Walmart.
On the software side, the company's free advertising-supported Roku Channel closed partnerships with Lionsgate for theatrical releases, NBCUniversal Local to add local news shows, and the National Hockey League for game highlights, condensed classic games, and original programming. Roku debuted its first original movie in November 2022—Weird: The Al Yankovic Story, starring Daniel Radcliffe—to great acclaim.
Although Roku's stock was down 82% for 2022 (amid the market's large sell-off of growth-oriented tech equities), the company's 2022 revenue grew 13% year over year, to $3.1 billion, and active accounts rose to 70 million. Those users watched 87.4 billion hours of streaming TV, an increase of 14.3 billion hours from 2021.
10. RADIO FLYER
For racing to a micro mobility future
The maker of the Little Red Wagon entered the e-bike market in 2022, the first adult product in Radio Flyer's century-plus history. The Flyer L885 ($2,000) includes a carrier accessory, making it a family-friendly e-bike that can easily switch its rear area from kid mode, which can fit two children, to cargo mode to carry groceries, bags, or gear. The bike includes a number of thoughtful design flourishes, including an easy-to-clean fabric that covers the carrier and folds down to protect a child's legs during a ride. The Flyers have been highly acclaimed (the private company does not release sales figures), and Radio Flyer followed up with its next product, a folding cargo bike, in October 2022. It, too, is replete with clever touches such as a hidden compartment to house a tracking tag, such as an Apple AirTag, to locate the bike in the event it's lost or stolen. The company also became the first toy or e-bike manufacturer to earn B Corp status, receiving its certification in August 2022.