Adrienne Koleszar was dubbed the "World's Hottest Cop" after she began posting sexy snapshots on her Instagram page.
The problem was that the blond beauty was still a sworn police officer in her native Dresden, Germany. As a result, her army of fans began asking the Teutonic temptress to arrest them.
Her police chief boss found nothing funny about her after-hours antics and Koleszar regretfully quit the police force. But that regret didn't last and the 38-year-old former cop is delighted with her life as a model and influencer.
"I have never regretted leaving the police force," she recently told the German tabloid Bild. "I'm not the desk job type."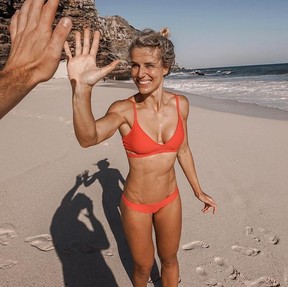 Still, the transition wasn't easy. Koleszar went on a six-month trip around the world to get back in contact with her inner self.
But switching from the police force to modeling was a no-brainer and she began influencing full-time. Now, she has more than 530,000 Instagram followers.
Among her offerings are skimpy bikini photos on the beaches of Italy and the tropical paradise of Bali. She also frequently posts photos of herself in the gym showing off her ripped body.
Koleszar, however, paid a price for her newfound fame. The travel and online attention played a starring role in torpedoing her 10-year relationship. The 2019 split was covered extensively in the German media.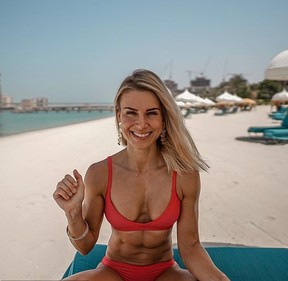 She wrote a heartfelt message to her former lover: "You were in the public eye, in a world you never wanted. But I wanted it. Absolutely. At any price."
Today, the main man in her life is personal trainer Alex Vinz, 32. The couple is planning to leave Germany for warmer climes and away from the spotlight at home.
But being an influencer isn't all glory. Koleszar said too many of that ilk "present a false reality."
"I let myself be blinded by it too. It doesn't just need the display of luxury goods," she told Bild. "You can never be happier with more money."
She added: "Sometimes I'd like to give up, get a regular job and work somewhere — in some coffee shop, probably in Bali."