(AP) — Florida Gov. Ron DeSantis on Monday signed a bill that gives him control of Walt Disney World's self-governing district, punishing the company over its opposition to the so-called "Don't Say Gay" law.
The bill requires DeSantis, a Republican, to appoint a five-member board to oversee the government services that the Disney district provides in its sprawling theme park properties in Florida.
"Today the corporate kingdom finally comes to an end," he said at a bill signing ceremony in Lake Buena Vista. "There's a new sheriff in town, and accountability will be the order of the day."
The signing came as DeSantis gears up for an expected presidential run and marks a high-profile legislative victory for a governor whose leveraging of cultural and political divides has pushed him to the fore of national Republican politics.
The takeover of the Disney district began last year when the entertainment giant, facing intense pressure, publicly opposed "Don't Say, Gay," which bars instruction on sexual orientation and gender identity in kindergarten through third grade and lessons deemed not age-appropriate.
DeSantis moved quickly to penalize the company, directing lawmakers in the GOP-dominated Legislature to dissolve Disney's self-governing district during a special legislative session, beginning a closely watched restructuring process. DeSantis and other Republican critics of Disney slammed the company for coming out against the education law, calling it a purveyor of "woke" ideology that injects inappropriate subjects into children's entertainment.
This month, the governor called on lawmakers to return to the Capitol for another special session to finalize state control of the district, as well as approve legislation around some of his other key legislative priorities on immigration and voter fraud.
In taking on Disney, DeSantis furthered his reputation as a culture warrior willing to battle perceived political enemies and wield the power of state government to accomplish political goals, a strategy that is expected to continue ahead of his potential White House run.
The feud also reinforced the governor's brash, go-it-alone leadership style, penalizing a massive employer, tourism driver, and political donor in the state over the company's stance on a piece of legislative policy.
DeSantis, whose book, "The Courage to be Free," is coming out Tuesday, has moved in recent weeks to expand his political network through fundraisers and meetings with donors, elected officials, and conservative influencers, adding to the speculation around his larger political aspirations.
The coming months will be critical to DeSantis as he builds his profile out beyond Florida. He is expected to utilize the coming regular legislative session, which begins next week, to bolster his conservative agenda before he announces his candidacy for president.
The new law changes the district's name from the Reedy Creek Improvement District to the Central Florida Tourism Oversight District and subjects it to various layers of state oversight. Board members were previously named through entities controlled by Disney.
It leaves the district and its financial abilities and debt obligations intact, addressing a chief concern of surrounding governments. It also prevents people who have worked with or contracted with a theme park in the past three years from serving on the district's new governing board.
At his news conference, DeSantis said he would appoint Tampa attorney Martin Garcia as the chairman of the district's new governing board, along with new board members Bridget Ziegler, a conservative school board member and wife of the Florida Republican party chairman Christian Ziegler; Brian Aungst Jr., an attorney and son of a former two-term Republican mayor of Clearwater; Mike Sasso, an attorney; and Ron Peri, head of The Gathering USA ministry.
Having a separate government allows the district to issue bonds and provide zoning, fire protection, utilities, and infrastructure services on its land. Republican critics of the district argue it gives Disney a commercial advantage unavailable to others.
Disney did not immediately return an emailed request for comment.
The creation of the self-governing district was instrumental in Disney's decision to build near Orlando in the 1960s. The company had told the state it planned to build a futuristic city that would include a transit system and urban planning innovations, so the company needed autonomy in building and deciding how to use the land. The futuristic city never materialized and instead morphed into a second theme park that opened in 1982.
As Florida Gov. Ron DeSantis signs into law a bill stripping Disney of its longtime self-governing status in the state, his new book reveals he warned the entertainment giant about its political activities.
In "The Courage to Be Free: Florida's Blueprint for America's Revival," DeSantis argues that former Disney CEO Bob Chapek "understood the risk that the company faced" when it weighed in against DeSantis' efforts to restrict teaching about sexuality and "gender ideology" to Florida students from kindergarten to third grade.
But Chapek was facing pressure from, among others, his predecessor as CEO — and eventual successor — Robert Iger.
Iger, DeSantis notes, had already publicly come out against the bill. "Somehow," the Florida governor writes, Iger said the bill would "put vulnerable, young LGBTQ people in jeopardy."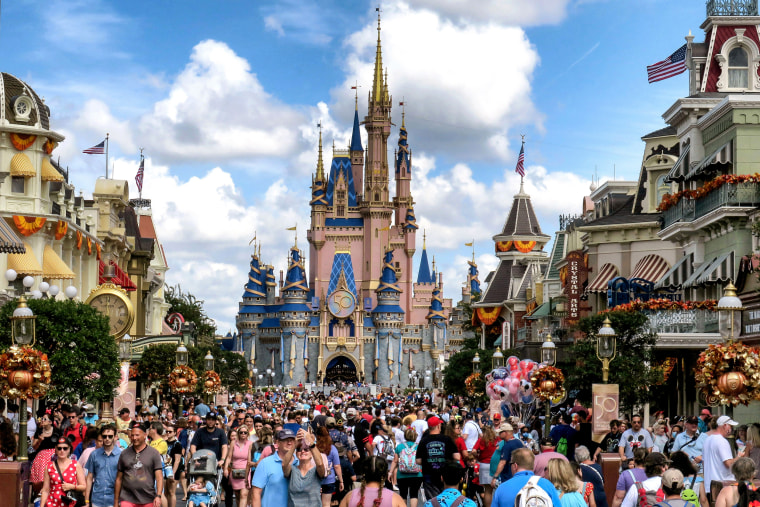 Opponents have warned about the consequences of the bill, including Lilian Bowen, a bisexual actress who starred in "Andi Mack," Disney Channel's first show to feature an LGBTQ character.
DeSantis writes that Chapek ultimately called him directly as he weighed how the company should respond. While DeSantis did not want Disney to get involved, the governor writes, Chapek said he was facing unprecedented pressure to weigh in against the bill.
"'We get pressured all the time,' he (Chapek) told me. 'But this time is different. I haven't seen anything like this before,'" DeSantis writes of his conversation with Chapek.
"Do not get involved with this legislation," DeSantis says he responded. "You will end up putting yourself in an untenable position. People like me will say, 'Gee, how come Disney has never said anything about China, where they make a fortune?'"
Where things stand now
Fast forward to Monday: DeSantis touted his victory on Twitter over what he called Disney's "corporate kingdom" as he signed into law a bill taking over the company's special governing area. For decades, the area, known as the Reedy Creek Improvement District, had let Disney make its own planning and zoning decisions. The company also had its own taxing and bonding authority.
Among those who will now oversee the district, now known as the Central Florida Tourism Oversight District, is Bridget Ziegler, a co-founder and former co-director of Moms for Liberty, a conservative activist group based in Florida that has helped turn school board meetings into political battlegrounds. Ziegler is also the wife of Christian Ziegler, vice chairman of the Florida Republican Party.
As for Chapek, he stepped down as Disney CEO in November and was replaced by Iger, who now serves as interim chief executive.
Disney did not immediately respond to a request for comment. The company previously stated it was monitoring the legislation.
"Disney works under a number of different models and jurisdictions around the world, and regardless of the outcome, we remain committed to providing the highest quality experience for the millions of guests who visit each year," a company spokesman said in early February.