President Joe Biden exhorted Congress Tuesday night to work with him to "finish the job" of rebuilding the economy and uniting the nation as he delivered a State of the Union address aimed at reassuring a country beset by pessimism and fraught political divisions.
In his 73-minute speech, Biden sought to portray a nation dramatically improved from the one he took charge of two years ago: from a reeling economy to one prosperous with new jobs; from a crippled, pandemic-weary nation to one that has now reopened, and a democracy that has survived its biggest test since the Civil War.
"The story of America is a story of progress and resilience. Of always moving forward. Of never giving up," Biden said. "We are the only country that has emerged from every crisis stronger than when we entered it. That is what we are doing again."
"We're not finished yet by any stretch of the imagination," he declared.
The backdrop for the annual address was markedly different from the previous two years, with a Republican speaker now sitting expressionless behind Biden and newly empowered GOP lawmakers in the chamber sometimes shouting criticism of him and his administration.
As Biden, 80, prepares for a likely reelection bid, he sought to prove to a skeptical nation that his stewardship has delivered results both at home and abroad. He highlighted record job creation during his tenure as the country has emerged from the COVID-19 pandemic and pointed to areas of bipartisan progress in his first two years in office, including on states' vital infrastructure projects and high-tech manufacturing. And he said, "There is no reason we can't work together in this new Congress."
"The people sent us a clear message. Fighting for the sake of fighting, power for the sake of power, conflict for the sake of conflict, gets us nowhere," Biden said. "And that's always been my vision for the country: to restore the soul of the nation, to rebuild the backbone of America — the middle class — to unite the country."
"We've been sent here to finish the job!"
But the challenges for Biden are many: economic uncertainty, a wearying war in Ukraine, growing tensions with China, and more. Signs of past trauma at the Capitol, most notably the Jan. 6, 2021 insurrection, were unavoidable: A large fence encircled the complex, and lawmakers and those in attendance faced tighter-than-usual security.
From the start, the heightened partisan divisions were clear. Democrats — including Vice President Kamala Harris — jumped to applause as Biden began his speech. New Republican House Speaker Kevin McCarthy, though he had greeted the president warmly when he entered the chamber, stayed in his seat.
The speech came as Biden has shifted his sights after spending his first two years pushing through major bills such as the bipartisan infrastructure package, legislation to promote high-tech manufacturing and climate measures. With Republicans now in control of the House, and even meeting the government's fiscal obligations far from certain, Biden is turning his focus to implementing those massive laws and making sure voters credit him for the improvements.
Instead of flashy proposals, the president offered an encouraging assessment of the nation's condition, declaring that two years after the Capitol attack, America's democracy was "unbowed and unbroken."
The president took to the House rostrum at a time when just a quarter of U.S. adults say things are headed in the right direction, according to a new poll by The Associated Press-NORC Center for Public Affairs Research. About three-quarters say things are on the wrong track. And a majority of Democrats don't want Biden to seek another term.
He sought to confront those sentiments head-on.
"You wonder whether a path even exists anymore for you and your children to get ahead without moving away, I get it," Biden said. "That's why we're building an economy where no one is left behind. Jobs are coming back, pride is coming back because of the choices we made in the last two years."
Biden on Wednesday was to travel to Wisconsin, as he and members of his Cabinet embark on a two-day, 20-state blitz to highlight economic progress in his first two years in office.
Arkansas Gov. Sarah Huckabee Sanders, who gained a national profile as former President Donald Trump's press secretary, delivered the Republican response to Biden's speech.
She focused much of her remarks on social issues, including race in business and education, and alleged big-tech censorship of conservatives.
"While you reap the consequences of their failures, the Biden administration seems more interested in woke fantasies than the hard reality Americans face every day," she said. "Most Americans simply want to live their lives in freedom and peace, but we are under attack in a left-wing culture war we didn't start and never wanted to fight."
"The choice is between normal and crazy," she added.
With COVID-19 restrictions now lifted, the White House and legislators from both parties invited guests designed to drive home political messages with their presence in the House chamber. The mother and stepfather of Tyre Nichols, who was severely beaten by police officers in Memphis and later died, were among those seated with first lady Jill Biden. Other Biden guests included the rock star/humanitarian Bono and 26-year-old Brandon Tsay, who disarmed a gunman in last month's Monterey Park, California, shooting.
"There are no words to describe the heartbreak and grief of losing a child," Biden said after introducing RowVaughn and Rodney Wells to a standing ovation. He called on Congress to "rise to the moment" to make meaningful changes in policing.
Biden drew bipartisan applause when he praised most law enforcement officers as "good, decent people" but added that "when police officers or police departments violate the public's trust, we must hold them accountable."
Members of the Congressional Black Caucus invited family members of those involved in police incidents, as they sought to press for action on police reform in the wake of Nichols' death.
Biden, not known for his lofty oratory, appeared relaxed and confident as he delivered his address. He casually adlibbed jokes and rejoinders, seeming to feed off the responses from Democratic lawmakers who frequently stood with thunderous ovations and playfully engaged with Republican critics.
Addressing Republicans who voted against the big bipartisan infrastructure law, Biden said he'd still ensure their pet projects received federal support. "I promised to be the president for all Americans," he said. "We'll fund these projects. And I'll see you at the ground-breaking."
Occasional Republican heckling — some drawing hushes from McCarthy — reflected the newly empowered GOP that is itching to undo many of Biden's achievements and vowing to pursue a multitude of investigations — including looking into the recent discoveries of classified documents from his time as vice president at his home and former office.
Though he pledged bipartisanship where possible, Biden also underscored the sharp tensions that exist: He discussed GOP efforts to repeal the Democrats' 2022 climate change and healthcare law and their reluctance to increase the federal debt limit, the nation's legal borrowing authority that must be raised later this year or risk default.
"Instead of making the wealthy pay their fair share, some Republicans want Medicare and Social Security to sunset every five years," Biden said. "Other Republicans say if we don't cut Social Security and Medicare, they'll let America default on its debt for the first time in our history.
"I won't let that happen."
Biden's comments on entitlement programs prompted an outcry from some Republicans, as Rep. Marjorie Taylor Greene, R-Ga., and others jumped to their feet, some yelling "Liar!"
The president answered back, "Stand up and show them: We will not cut Social Security! We will not cut Medicare!"
As Republicans continued to protest his accusations, he said, "We've got unanimity."
While hopes for large-scale bipartisanship are slim, Biden reissued his 2022 appeal for Congress to get behind his "unity agenda" of actions to address the opioid epidemic, mental health, veterans' health, and cancer.
In fiery refrains, Biden said the phrase "finish the job" 13 times, challenging lawmakers to complete the work of his administration on capping insulin costs for all Americans, confronting climate change, raising taxes on the wealthy and corporations, and banning assault-style weapons. But on all of those fronts, the divided government is even less likely to yield than the Congress under sole Democratic control.
The speech came days after Biden ordered the military to shoot down a suspected Chinese spy balloon that flew brazenly across the country, captivating the nation and serving as a reminder of tense relations between the two global powers.
"Make no mistake: As we made clear last week, if China threatens our sovereignty, we will act to protect our country," Biden said. "And we did."
Last year's address occurred just days after Russia launched its invasion of Ukraine and many in the West doubted Kyiv's ability to withstand the onslaught. Over the past year, the U.S. and other allies have sent tens of billions of dollars in military and economic assistance to bolster Ukraine's defenses. Now, Biden must make the case — both at home and abroad — for sustaining that coalition as the war drags on.
"Together, we did what America always does at our best," Biden said. "We led. We united NATO and built a global coalition. We stood against Putin's aggression. We stood with the Ukrainian people."
President Joe Biden avoided any overt mention of a potential 2024 reelection campaign in his State of the Union address Tuesday night, but nevertheless clearly set the stakes for the upcoming election, conveying a message of optimism while arguing that America needs to choose "stability over chaos."
There is a lot of reason for optimism: Democrats just had one of the best midterm elections ever for the party of the incumbent president, a recent jobs report suggests that the US economy may actually be good, inflation is falling, and the end of the Covid-19 national emergency is nigh.
But polling suggests most Americans still aren't enthusiastic about the economy or the direction the US is headed. And even most Democrats are wary about the prospect of Biden running again at the age of 80, nor are they excited at the prospect of a Biden-Trump redux. Biden had some of the lowest approval ratings of any second-year president, behind only Trump, the New York Times noted. Tuesday night was an opportunity for Biden to remind the nation of his accomplishments — and to make the case for why he's still Democrats' best bet.
During the speech, he touted his biggest legislative accomplishments during the first half of his term, including the passage of a bipartisan infrastructure bill, the Inflation Reduction Act, and the bipartisan CHIPS Act, which aims to increase semiconductor production in the US. And he called for police reform; protection for abortion rights and voting rights; a federal assault weapons ban; reducing costs associated with health care, child care, and education; and preserving Medicare and Social Security while raising taxes on the wealthiest Americans and corporations.
"Jobs are coming back, pride is coming back because of the choices we made in the last two years. This is a blue-collar blueprint to rebuild America and make a real difference in your lives," Biden said.
But whether that's enough to convince Democratic primary voters thirsting for a fresh face remains to be seen.
Here are the biggest winners and losers of the night.
Winner: The ad-libbing old-school Joe Biden
No one can handle booing like Scranton Joe. Though it took him a minute to warm up at the start of his address, the Biden on display Tuesday night felt like a flashback to the Obama-era vice president that inspired a thousand memes and proved his mastery of retail politics. He quickly veered off the script of his prepared remarks, ad-libbing jokes, snapping back at Republican heckles, and flashing a smile before speaking over jeers.
For example, when he referenced some Republican promises to repeal his signature Inflation Reduction Act and they clapped, he let them finish before delivering a stinging joke: "That's okay. As my coach would say, 'lots of luck in your senior year.'" Even House Speaker Kevin McCarthy couldn't help but smile.
Like in the old days, some of his ad-libs didn't land. One of his loudest shouts came after contrasting American democracy and alliances with Chinese President Xi Jinping's tenure. "Name me a world leader who's changed places with Xi Jinping. Name me one!" Biden shouted. But the moment didn't really go anywhere.
For the most part, Biden was quick with his comebacks. Republicans booed when he suggested they would try to place restrictions on Social Security and Medicare. Biden's response to being called a "liar" by Republicans in the audience? "I'm politely not naming them, but it's been proposed by some individuals." —Christian Paz
Winner: Long-shot bills on gun control and police reform
With the family of Tyre Nichols in the audience, Biden spoke emotionally about the enduring problem of police violence, particularly its disproportionate effect on Black Americans. After explaining "the talk" — guidelines for conduct many Black American parents give their children to reduce their chances of being killed by police — Biden called for "more resources to reduce violent crime and gun crime; more community intervention programs; more investments in housing, education, and job training."
Biden highlighted the executive order he signed on policing, which limited no-knock warrants and chokeholds by federal law enforcement and mandated better record-keeping on police misconduct. And he called on Congress to "finish the job on police reform" by passing legislation like the George Floyd Justice in Policing act.
But Biden also walked the moderate line on policing he has maintained since the 2020 campaign, arguing both that "most cops and their families are decent honorable people" who need more, not fewer, resources to maintain public safety and that "when police departments violate the public trust, they must be held accountable."
Biden used his segment on policing to segue into a discussion of gun violence, echoing the call of Uvalde parents to "do something." He again called for a federal ban on assault weapons like those used in recent mass shootings in California, which are designed to kill efficiently, without the shooter having to reload frequently. "Ban assault weapons now. Ban them once and for all," Biden said.
Last year, Congress passed its first federal gun safety law in nearly three decades, making strides in preventing guns from falling into the hands of dangerous individuals. But the chance that the currently Republican-controlled House goes any further is slim, making the proposal more of a signal of what might be included in Biden's platform for reelection. —Sean Collins and Nicole Narea
Winner: Great power competition
The balloon was there in spirit. Tonight, President Biden said he was committed to countering China by "modernizing our military to safeguard stability and deter aggression." He described China as "intent on dominating" in industry and technology. He talked about protecting the US position on supply chains and manufacturing, which is all about countering China. He also called Russian President Vladimir Putin's invasion of Ukraine "a test for the ages."
Biden's speech exemplifies his foreign policy focus on Russia and China, two great powers challenging the US. (After a generation of American interventions in the Middle East and South Asia, it's no longer State-of-the-Union-worthy.) The framework of Great Power Competition has become a bipartisan consensus in Washington, often expressed with hawkish rhetoric. So Biden's point that "I've made clear with President Xi that we seek competition, not conflict" is an important one.
Biden says, "winning the competition should unite all of us." That's only part of the equation, however. He'll need to tackle global problems — like the climate crisis, which he also emphasized — and that will take partnerships with many international countries and complex coalitions. Competing with China and Russia may be necessary to win the political conversation in Washington, but it's not sufficient to address the bigger issues over the horizon. —Jonathan Guyer
Loser: Protection for abortion rights
Biden said he'd veto any national abortion ban that crosses his desk, such as the 15-week ban proposed by Republican Sen. Lindsey Graham last year. And he called on Congress to codify Roe v. Wade, an unlikely prospect given the GOP-controlled House and a slim Democratic majority in the Senate.
But beyond that, Biden didn't talk much about abortion at all — a puzzling choice is given that Democrats owe their midterm performance, including historic wins at the state level in places like Michigan and Kansas, in no small part to voters who came out in support of abortion access.
Abortion has never been a subject that Biden, a practicing Catholic, has been particularly comfortable talking about. He was previously criticized for never saying the word "abortion," and activists called on him to push Congress to abolish the filibuster in order to codify Roe. But in 2020, he did reverse his support for the Hyde Amendment, which prevents federal dollars from being used to fund abortions.
Abortion will likely continue to animate Democratic voters in 2024, with abortion activists already gearing up to pass more ballot initiatives shoring up abortion rights. —Nicole Narea
Loser: The energy transition
Biden predictably took a victory lap on the Inflation Reduction Act's climate investments in electric vehicles, energy-efficient appliances, charging stations, and infrastructure, while noting how much there is left to do. "The climate crisis doesn't care if your state is red or blue," he said. "It is an existential threat." But there was an important nuance to Biden's comments about Big Oil's record-breaking year of profits, which totaled about $200 billion for 2022. He slammed the oil industry for its profiteering, but also for investing "too little of that profit to increase domestic production and keep gas prices down." He went off script here as well, saying, "We're going to need oil and gas for a while," and "at least another decade" to rowdy laughter from the congressional Republicans.
That confusing, improvised line aside, it was an important signal from Biden. Big Oil profits are a popular punching bag in Democratic presidential speeches and were familiar in the Obama era too. But instead of calling for more investment in the clean energy sector, Biden instead had the summer's high gas prices top of mind. Of course, the president doesn't control oil and gas prices. But his speech does signal that Biden has no interest in pursuing the more aggressive actions climate groups are still calling for — like blocking permitting for gas export terminals (these terminals compress natural gas into liquified natural gas that's easier to ship), and new permitting. Ironically, economists say those gas export terminals are what's currently driving up natural gas prices. —Rebecca Leber
Winner: Taxing the rich
Biden has spent much of the last two years talking up his efforts to reduce the federal deficit without cutting many of the social welfare programs that he and his party have championed. Tuesday night, he made a passionate case for taxing billionaires and Fortune 500 companies that Biden said are reaping record profits without paying "their fair share."
"I'm a capitalist," the president said. "But I think a lot of you at home agree with me that our tax system is not fair."
In a nod to Sen. Elizabeth Warren's efforts to pass a corporate minimum tax and her ultra-millionaire tax proposal during the 2020 primary, Biden spoke about the corporate tax hikes that are a part of the Inflation Reduction Act. Republicans interrupted him with jeers, but he made an additional plea to tax the rich: "Let's finish the job. Reward work, not just wealth. Pass my proposal for a billionaire minimum tax."
Details aren't too clear on whether that would look like his previous proposal in the 2023 budget. That plan called for a 20 percent tax on taxpayers with a net worth of over $100 million. But his message to Republicans was clear: Taxing the rich is popular, so why not do it? —Christian Paz
Winner: Current Social Security and Medicare beneficiaries
The biggest looming legislative crisis this year is House Republicans' stated opposition to raising the federal debt ceiling unless Biden and Senate Democrats agree to major spending cuts. But those hypothetical spending cuts apparently won't include Medicare or Social Security — at least if you take seriously Biden's live "negotiating" with Republicans on Tuesday night.
"All of you at home should know what their plans are," Biden said, before going on to claim some Republicans want to take the two programs away from seniors. "Some Republicans want Medicare and Social Security to sunset every five years." This was a reference to the much-disavowed 2022 plan by Sen. Rick Scott (R-FL) to sunset all federal laws every five years, which GOP leader Mitch McConnell denounced just days later, but which was repeatedly used as a club by Democrats against Republicans during campaign season.
So in the House chamber, Republicans were understandably a bit irked to hear Biden characterize this as their party's plan, and interrupted him with boos. Biden seemed to recognize that this was a bit of a dirty pool on his part, so he started ad-libbing: "Not saying a majority of you! I don't think it's significant — it is being proposed by individuals. I'm not naming them!"
In the end, Biden decided to declare victory. "Folks, as we all apparently agree, Social Security and Medicare are off the books now," he said, to widespread cheers and applause. "All right, we've got unanimity." After more cheers, added, "If anyone tries to cut Social Security, which apparently no one is going to do, I will stop them."
It was a telling moment. On one hand, Republicans argue that spending and the debt must be addressed; while on the other they do not want to be associated in any way, shape, or form with cutting Social Security or Medicare for current beneficiaries, which together make up about a third of yearly federal spending.
Now, some Republicans still occasionally open up a bit more about how "reforms" (cuts) may be necessary for future beneficiaries — Kevin McCarthy nods to this on his website, and key House committee chairs have talked about creating a commission to study changes like increasing the retirement age — but it seems that current seniors have nothing to worry about. —Andrew Prokop
President Biden was scolded by a wide swath of Republican lawmakers for dubiously claiming they want to cut Social Security and Medicare.
During his second State of the Union address Tuesday night, Biden face strong resistance from the GOP, who he accused of wanting to take the economy "hostage."
"Some of my Republican friends want to take the economy hostage, which I get it unless I agree with their economic plans," Biden said. "All of you know should know what those plans are."
"Instead of making the wealthy pay their fair share, some Republicans, some Republicans want Medicare and Social Security sunset," Biden said before clarifying, "I'm not saying it's a majority."
That was met with resounding boos with lawmakers waving their hands and shaking their heads.
Rep. Marjorie Taylor Greene, R-Ga., was seen shouting, "Liar!" at the president.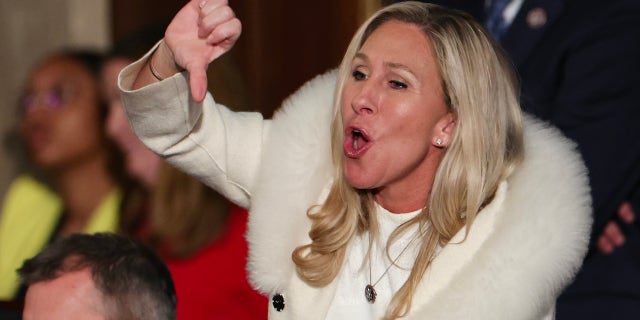 "Well I'm glad - I'll tell ya, I enjoy conversion," Biden joked. "It means if Congress doesn't keep the programs the way they are, they'd go away. Other Republicans say - I'm not saying it's a majority of you… but it's being proposed by an individual."
"I'm politely not naming them, but it is being proposed by somebody," Biden added.
Biden was likely referring to an agenda proposal introduced last year by Sen. Rick Scott, R-Fla., who suggested "All federal legislation sunsets in 5 years. If a law is worth keeping, Congress can pass it again."
Scott's proposal, which was widely rejected even by Republicans, was made in his failed bid to challenge Senate Minority Leader Mitch McConnell, R-Ky.
Even the liberal Washington Post declared the Democrats' claim that Republicans want to end Social Security and Medicare as "false."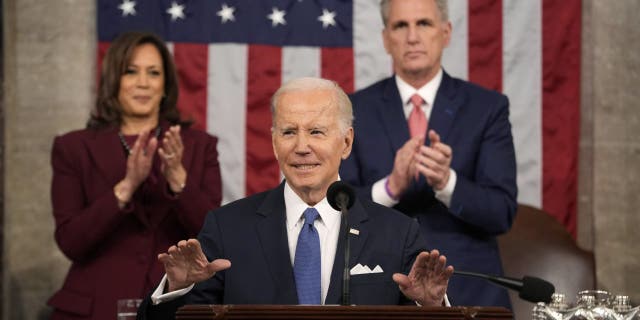 Before that, the first boos at the State of the Union came as Biden mentioned the amount of debt added by the Trump administration.
"Nearly 25% of the entire national debt that took over 200 years to accumulate was added by just one administration alone – the last one," Biden said as Republicans grumbled. "They're the facts. Check it out. Check it out."
The idea that in 2020, 55 of the biggest companies in America made $40 billion in profits and paid zero in federal income taxes?

Not fair.

Let's close the loopholes that allow it to happen. pic.twitter.com/zjEEsbHaxg

— President Biden (@POTUS) February 8, 2023