Don't weep for former WWE star Mandy Rose.
The 32-year-old former grappler who was booted by the promotion after details of her raunchy FanTime sideline emerged claims she has made more than $1 million in the past month.
Rose — real name Amanda Rose Saccomanno — had her 413-day reign as NXT Women's Champion come to a crushing end at the hands of Roxanne Perez in December. It would get much worse.
On Dec. 14, 2022, the WWE cut her loose, claiming the star breached her contract by having the FanTime account. On her page, she posts sexy, occasionally explicit photos and videos — for a price.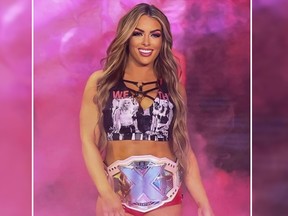 Some of the racy content had begun circulating online. These include snaps of her skinny-dipping and enjoying a shower with her fiance, Tino Sabbatelli.
"I wasn't told about racy images," Rose told the New York Post of her firing. "I wasn't told about anything else. I was told about the subscription-based platform."
Rose signed on with the WWE in 2015 when she nabbed a spot on the promotion's Tough Enough reality series. She also signed on to the E! reality show Total Divas.
She told the tabloid she was devastated when WWE let her go.
"Of course I was disappointed," Rose told the Post. "But the emotions really set in after the match."
Fans of sports entertainment weren't about to take the exile lying down and soon hashtags such as #JusticeForMandyRose and #RehireMandyRose began appearing on social media.
One fan tweeted: "How are you going to fire a woman who carried the entire division for over a year? Mandy Rose deserves better for working so hard."
For some, it amounted to hypocrisy and a gross double standard. At the time she was kicked to the curb, the WWE reposted a nude photo of the star covered only in title belts.
"What's the definition of racy? The photo of me with two titles – I was completely naked underneath, that's considered a racy photo, right?" Rose said.
WWE also fired Zelina Vega in November 2020 for her OnlyFans account, which was G-Rated. Vega returned in 2021.
However, not everyone is on Team Mandy.
"She's had the subscription service, and it got popular and lucrative. She went further and further, and the feeling was that she way, way, way crossed the line," Dave Meltzer wrote in the Wrestling Observer Newsletter.
WWE legend and podcaster Booker T agrees: "The bigger her [Rose's] star would have risen in the WWE, the more money she would have been able to demand going forward in life. Out of sight, out of mind."
He added: "Being on TV is so important to be relevant. These days, they say, 'We don't need TV, we can do our own thing.' Of course, you can, but your star is not going to shine as bright."
She said: "I am grateful and very humbled with everything I've done and made at the company [WWE], but in today's day and age, there are so many other avenues and so many other marketing opportunities, it's like why can't I do both?"