Between the first quarter of 2021 and the same quarter of 2022, the occupation (according to
ISCO
) that saw the sharpest percentage increase in the number of employed people in the
EU
was food preparation assistants, with a 25.1% rise, jumping from almost 1.1 to almost 1.4 million people.
The second-largest increase, 15.6%, was in the personal service workers group, which relates to travel attendants, conductors, guides, cooks, waiters and bartenders, hairdressers, beauticians, and building and housekeeping supervisors. In Q1 2022, this occupational group had 7.6 million workers.
Information and communications technology professionals came in third, with a 9.6% increase from Q1 2021 to Q1 2022. Between these two quarters, this group (that relates to software and applications developers and analysts and database and network professionals) increased from 4.1 to 4.5 million people.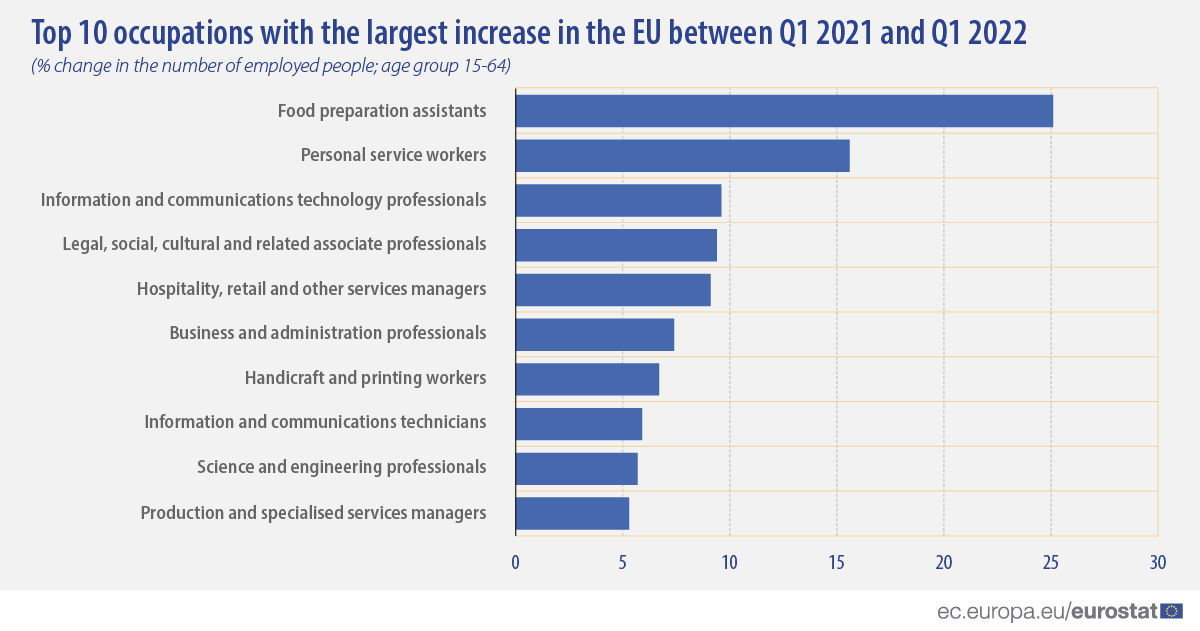 Source dataset: special LFS data extraction
There were two occupational groups with a 9% increase in the number of workers from Q1 2021 to Q1 2022: legal, social, cultural, and related associate professionals (+9.4%), as well as hospitality, retail, and other services managers (+9.1%). In Q1 2022, these groups counted 3.5 and 2.4 million workers, respectively.
Next on the list of leading occupations with the sharpest percentage increases in the number of employed people were business and administration professionals (+7.4%), handicraft and printing workers (+6.7%), information and communications technicians (+5.9%), science and engineering professionals (+5.7%) and production and specialized services managers (+5.3%).
By contrast, agricultural, forestry, and fishery laborers recorded the most sizeable decrease in the EU from Q1 2021 to Q1 2022 (-12.6 %).