CODA
was named best picture at the 94th Academy Awards on Sunday night at the Dolby Theatre in Hollywood.
With his best-supporting actor win, the film's Troy Kotsur became only the second deaf person ever to win an Oscar, following in the footsteps of his co-star Marlee Matlin, who won in 1987 for Children of a Lesser God.
VIA JAPANESE TELEVISION: The uncensored exchange between Will Smith and Chris Rock pic.twitter.com/j0Z184ZyXa

— Timothy Burke (@bubbaprog) March 28, 2022
CODA also won the best-adapted screenplay, with Siân Heder taking home the trophy.
Will Smith was named best leading actor for King Richard. The actor had previously taken the stage to slap presenter Chris Rock after the latter had made a joke about Smith's wife, Jada Pinkett Smith. He used his speech to apologize.
Jessica Chastain was named best actress for The Eyes of Tammy Faye. Ariana DeBose won best supporting actress for West Side Story, becoming the first openly queer woman of color to win any category.
Belfast was named best original screenplay, scoring a win for Kenneth Branagh. Jane Campion went home with the best director Oscar for The Power of the Dog, becoming only the third woman ever to win the award, following in the footsteps of Kathryn Bigelow and Chloe Zhao.
Encanto was named best-animated feature, while Japan's Drive My Car won the best international feature. Summer of Soul won the best documentary feature.
Billie Eilish and Finneas O'Connell won the Oscar for best original song for "No Time to Die" from the James Bond movie of the same name.
Regina Hall, Amy Schumer, and Wanda Sykes hosted, while Will Packer and Shayla Cowan produced the show.
Oscars were handed out in 23 categories, from best picture to best director, along with the acting categories and crafts categories including best sound, best production design, best makeup and hairstyling, and best visual effects. This year, a best popular film category was added to recognize a film chosen by fans, based on Twitter votes; that award went to Zack Snyder's Army of the Dead.
In addition, the Academy moved forward with its controversial plan to present winners in eight categories — documentary short, film editing, makeup/hairstyling, original score, production design, animated short, live-action short, and sound — ahead of the live telecast. Those Oscars were handed out inside the Dolby from 4-5 p.m. PT, before the live telecast, with the presentations recorded and edited into the broadcast. Among those early categories, Dune went home with four awards: best sound, film editing, original score, and production design. It also won the best cinematography and best visual effects during the live broadcast.
A full list of winners follows.
BEST PICTURE
CODA (Philippe Rousselet, Fabrice Gianfermi and Patrick Wachsberger, Producers) (WINNER)
Belfast (Laura Berwick, Kenneth Branagh, Becca Kovacik, and Tamar Thomas, Producers)
Don't Look Up (Adam McKay and Kevin Messick, Producers)
Drive My Car (Teruhisa Yamamoto, Producer)
Dune (Mary Parent, Denis Villeneuve, and Cale Boyter, Producers)
King Richard (Tim White, Trevor White and Will Smith, Producers)
Licorice Pizza (Sara Murphy, Adam Somner and Paul Thomas Anderson, Producers)
Nightmare Alley (Guillermo del Toro, J. Miles Dale, and Bradley Cooper, Producers)
The Power of the Dog (Jane Campion, Tanya Seghatchian, Emile Sherman, Iain Canning, and Roger Frappier, Producers)
West Side Story (Steven Spielberg and Kristie Macosko Krieger, Producers)
BEST DIRECTOR
Jane Campion (The Power of the Dog) (WINNER)
Paul Thomas Anderson (Licorice Pizza)
Kenneth Branagh (Belfast)
Ryûsuke Hamaguchi (Drive My Car)
Steven Spielberg (West Side Story)
BEST ACTRESS
Jessica Chastain (The Eyes of Tammy Faye) (WINNER)
Olivia Colman (The Lost Daughter)
Penélope Cruz (Parallel Mothers)
Nicole Kidman (Being the Ricardos)
Kristen Stewart (Spencer)
BEST ACTOR
Will Smith (King Richard) (WINNER)
Javier Bardem (Being the Ricardos)
Benedict Cumberbatch (The Power of the Dog)
Andrew Garfield (Tick, Tick … Boom!)
Denzel Washington (The Tragedy of Macbeth)
BEST SUPPORTING ACTRESS
Ariana DeBose (West Side Story) (WINNER)
Jessie Buckley (The Lost Daughter)
Judi Dench (Belfast)
Kirsten Dunst (The Power of the Dog)
Aunjanue Ellis (King Richard)
BEST SUPPORTING ACTOR
Troy Kotsur (CODA) (WINNER)
Ciarán Hinds (Belfast)
Jesse Plemons (The Power of the Dog)
J.K. Simmons (Being the Ricardos)
Kodi Smit-McPhee (The Power of the Dog)
BEST COSTUME DESIGN
Cruella (Jenny Beavan) (WINNER)
Cyrano (Massimo Cantini Parrini and Jacqueline Durran)
Dune (Jacqueline West and Robert Morgan)
Nightmare Alley (Luis Sequeira)
West Side Story (Paul Tazewell)
BEST SOUND
Dune (Mac Ruth, Mark Mangini, Theo Green, Doug Hemphill, and Ron Bartlett) (WINNER)
Belfast (Denise Yarde, Simon Chase, James Mather, and Niv Adiri)
No Time to Die (Simon Hayes, Oliver Tarney, James Harrison, Paul Massey, and Mark Taylor)
The Power of the Dog (Richard Flynn, Robert Mackenzie, and Tara Webb)
West Side Story (Tod A. Maitland, Gary Rydstrom, Brian Chumney, Andy Nelson and Shawn Murphy)
BEST ORIGINAL SCORE
Dune (Hans Zimmer) (WINNER)
Don't Look Up (Nicholas Britell)
Encanto (Germaine Franco)
Parallel Mothers (Alberto Iglesias)
The Power of the Dog (Jonny Greenwood)
BEST ADAPTED SCREENPLAY
CODA (screenplay by Siân Heder) (WINNER)
Drive My Car (screenplay by Ryusuke Hamaguchi, Takamasa Oe)
Dune (screenplay by Jon Spaihts and Denis Villeneuve and Eric Roth)
The Lost Daughter (written by Maggie Gyllenhaal)
The Power of the Dog (written by Jane Campion)
BEST ORIGINAL SCREENPLAY
Belfast (written by Kenneth Branagh) (WINNER)
Don't Look Up (screenplay by Adam McKay; story by Adam McKay & David Sirota)
King Richard (written by Zach Baylin)
Licorice Pizza (written by Paul Thomas Anderson)
The Worst Person in the World (written by Eskil Vogt, Joachim Trier)
BEST ANIMATED SHORT
The Windshield Wiper (Alberto Mielgo and Leo Sanchez) (WINNER)
Affairs of the Art (Joanna Quinn and Les Mills)
Bestia (Hugo Covarrubias and Tevo Díaz)
Boxballet (Anton Dyakov)
Robin Robin (Dan Ojari and Mikey Please)
BEST LIVE-ACTION SHORT
The Long Goodbye (Aneil Karia and Riz Ahmed) (WINNER)
Ala Kachuu — Take and Run (Maria Brendle and Nadine Lüchinger)
The Dress (Tadeusz Lysiak and Maciej Ślesicki)
On My Mind (Martin Strange-Hansen and Kim Magnusson)
Please Hold (K.D. Dávila and Levin Menekse)
BEST FILM EDITING
Dune (Joe Walker) (WINNER)
Don't Look Up (Hank Corwin)
King Richard (Pamela Martin)
The Power of the Dog (Peter Sciberras)
Tick, Tick … Boom! (Myron Kerstein and Andrew Weisblum)
BEST MAKEUP AND HAIRSTYLING
The Eyes of Tammy Faye (Linda Dowds, Stephanie Ingram, and Justin Raleigh) (WINNER)
Coming 2 America (Mike Marino, Stacey Morris, and Carla Farmer)
Cruella (Nadia Stacey, Naomi Donne, and Julia Vernon)
Dune (Donald Mowat, Love Larson, and Eva von Bahr)
House of Gucci (Göran Lundström, Anna Carin Lock and Frederic Aspiras)
BEST ANIMATED FEATURE
Encanto (Jared Bush, Byron Howard, Yvett Merino, and Clark Spencer) (WINNER)
Flee (Jonas Poher Rasmussen, Monica Hellström, Signe Byrge Sørensen and Charlotte De La Gournerie)
Luca (Enrico Casarosa and Andrea Warren)
The Mitchells vs. the Machines (Mike Rianda, Phil Lord, Christopher Miller, and Kurt Albrecht)
Raya and the Last Dragon (Don Hall, Carlos López Estrada, Osnat Shurer
and Peter Del Vecho)
BEST DOCUMENTARY FEATURE
Summer of Soul (Ahmir "Questlove" Thompson, Joseph Patel, Robert Fyvolent and David Dinerstein) (WINNER)
Ascension (Jessica Kingdon, Kira Simon-Kennedy, and Nathan Truesdell)
Attica (Stanley Nelson and Traci A. Curry)
Flee (Jonas Poher Rasmussen, Monica Hellström, Signe Byrge Sorensen and Charlotte De La Gournerie)
Writing With Fire (Rintu Thomas and Sushmit Ghosh)
BEST DOCUMENTARY SHORT
The Queen of Basketball (Ben Proudfoot) (WINNER)
Audible (Matt Ogens and Geoff McLean)
Lead Me Home (Pedro Kos and Jon Shenk)
Three Songs for Benazir (Elizabeth Mirzaei and Gulistan Mirzaei)
When We Were Bullies (Jay Rosenblatt)
BEST ORIGINAL SONG
"No Time to Die" — music and lyrics by Billie Eilish and Finneas O'Connell (No Time to Die) (WINNER)
"Be Alive" — music and lyrics by DIXSON and Beyoncé Knowles-Carter (King Richard)
"Dos Oruguitas" — music and lyrics by Lin-Manuel Miranda (Encanto)
"Down to Joy" — music and lyrics by Van Morrison (Belfast)
"Somehow You Do" — music and lyrics by Diane Warren (Four Good Days)
BEST CINEMATOGRAPHY
Dune (Greig Fraser) (WINNER)
Nightmare Alley (Dan Laustsen)
The Power of the Dog (Ari Wegner)
The Tragedy of Macbeth (Bruno Delbonnel)
West Side Story (Janusz Kaminski)
BEST INTERNATIONAL FEATURE
Drive My Car (Japan) (WINNER)
Flee (Denmark)
The Hand of God (Italy)
Lunana: A Yak in the Classroom (Bhutan)
The Worst Person in the World (Norway)
BEST PRODUCTION DESIGN
Dune (production design: Patrice Vermette; set decoration: Zsuzsanna Sipos) (WINNER)
Nightmare Alley (production design: Tamara Deverell; set decoration: Shane Vieau)
The Power of the Dog (production design: Grant Major; set decoration: Amber Richards)
The Tragedy of Macbeth (production design: Stefan Dechant; set decoration: Nancy Haigh)
West Side Story (production design: Adam Stockhausen; set decoration: Rena DeAngelo)
BEST VISUAL EFFECTS
Dune (Paul Lambert, Tristan Myles, Brian Connor, and Gerd Nefzer) (WINNER)
Free Guy (Swen Gillberg, Bryan Grill, Nikos Kalaitzidis and Dan Sudick)
No Time to Die (Charlie Noble, Joel Green, Jonathan Fawkner, and Chris Corbould)
Shang-Chi and the Legend of the Ten Rings (Christopher Townsend, Joe Farrell, Sean Noel Walker, and Dan Oliver)
Spider-Man: No Way Home (Kelly Port, Chris Waegner, Scott Edelstein and Dan Sudick
As the late André Leon Talley once said, my eyes are starving for beauty. Can celebrities on the Oscars red carpet deliver? It's been three years since the show had a proper host, so this year they're making up for lost time with Amy Schumer, Regina Hall, and Wanda Sykes all sharing the job. So that's three looks right there — plus plenty of outfit changes throughout the course of the night, and a performance from Beyoncé. With Kristen Stewart, Zendaya, Timothée Chalamet, and so many other stylish celebrities nominated as well, the show surely won't disappoint. Below, are the best, hottest, and most glamorous looks from the 94th Academy Awards ceremony, from hot pants to shimmering gowns.
Hottest Hot Pants: Kristen Stewart in Chanel
Kristen Stewart has many talents, and one of them is breaking red carpet rules. She's kicked off her heels before, and on Sunday, she wore shorts with her suit. Pharrell has worn shorts to the Oscars before, and Demi Moore also once wore bike shorts to the ceremony as a part of her dress, but this might be the first time an actress has worn hot pants on the red carpet — certainly ones this hot. Her fiancé, Dylan Meyer also looked smokin'.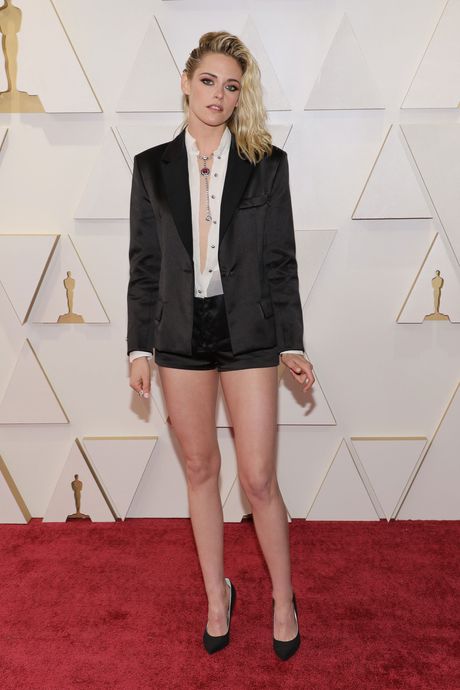 Best Throwback: Zendaya In Valentino
If Zendaya's Oscars look seemed familiar on Sunday night, that's because you've actually seen it before. Well, if you were alive and watching the Academy Awards in 1998 when Sharon Stone wore something similar on the red carpet, then you've definitely seen it before. (Zendaya was 2.) But the look, which consists of a Gap shirt and a Vera Wang skirt, has since gone down in history as one of the greatest red-carpet looks of all time.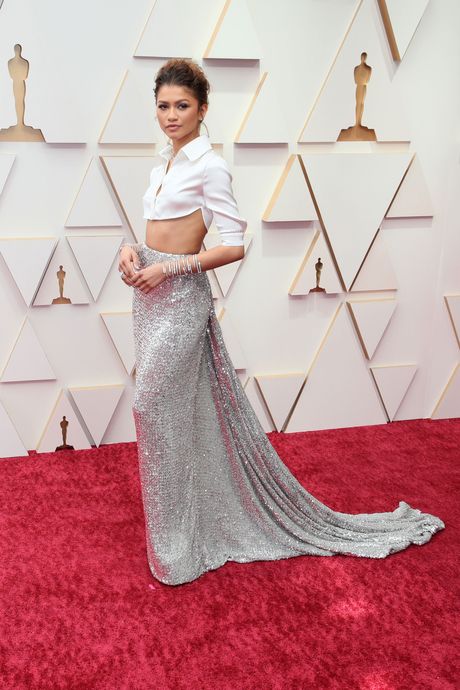 Best Use of a Steamer: Uma Thurman in Bottega Veneta
This look also seemed somewhat inspired by Sharon Stone's 1998 Oscar's outfit, but it is stunningly wrinkle-free and tailored with such incredible precision that it's arguably one of the sharpest looks of the night, beating out the men in their suits. (Seriously, though, where can I get stylist Kate Young's steamer?)
Best Vintage: Kirsten Dunst in Christian Lacroix
As Vogue's global director of social media, Steff Yotka pointed out on Twitter, Dunst's ruffled red gown is actually Christian Lacroix couture from 2002. More celebrities should wear vintage. It's so much more surprising.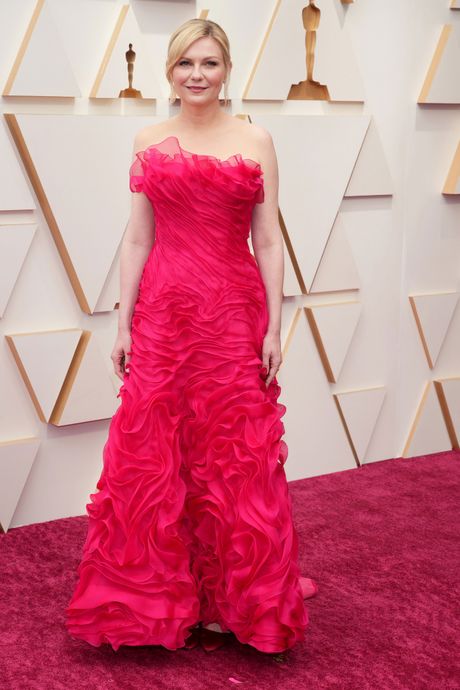 The outfit I'd Most Like to Wear at Home: Maya Rudolph in Valentino
Nothing will likely ever top Rudolph's red Valentino turtleneck from 2018, but I'd be very happy to wear this orange feather caftan around my apartment when I work from home. Maybe even as a nap dress.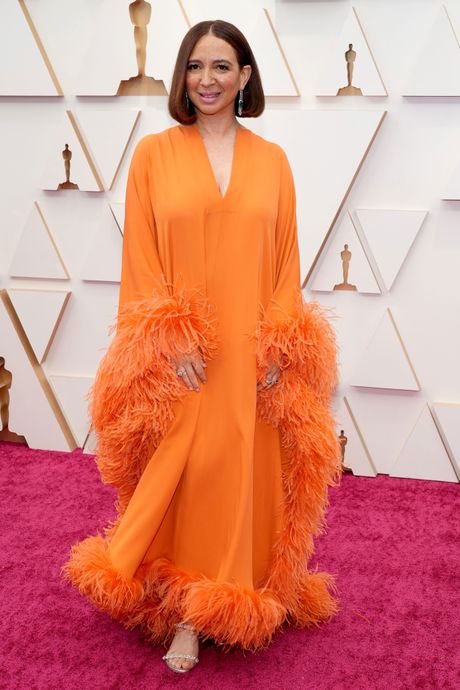 Best Case for a Landscape Image: Jada Pinkett Smith in Jean Paul Gaultier Couture
Jada Pinkett Smith's train is so long and substantial, it simply could not be captured vertically. I'm not entirely sure how she'll sit down while wearing it — she might have to go horizontal herself.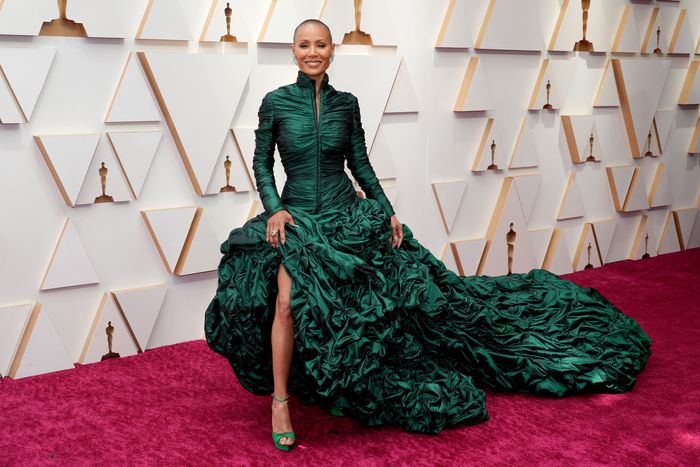 BiggestVibe Shift: Zoë Kravitz in Saint Laurent
After seeing Zoë Kravitz in all-black Catwoman attire for Batman, and her subsequent press tour, it's lovely to now see her in something so sweet. It can be hard to get a bow right, but this subtle silhouette adds a layer of sophistication.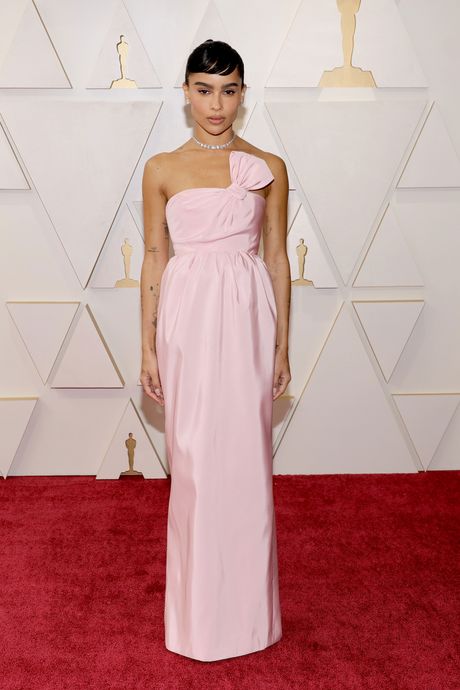 A Dress You Could Get Married In Alana Haim in Louis Vuitton
Hopefully, she doesn't have to give it back, and can just wear it again when the time comes.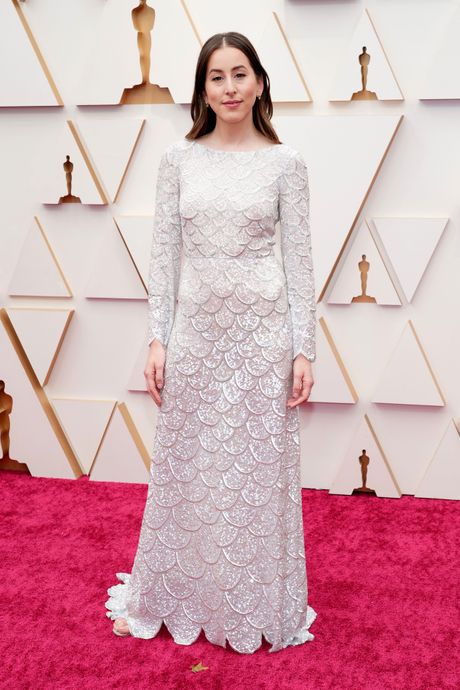 Best Pants: Ariana DeBose in Valentino
These pants are not wearing Ariana DeBose; Ariana DeBose is wearing these pants. You can tell she has style by the way she carries herself.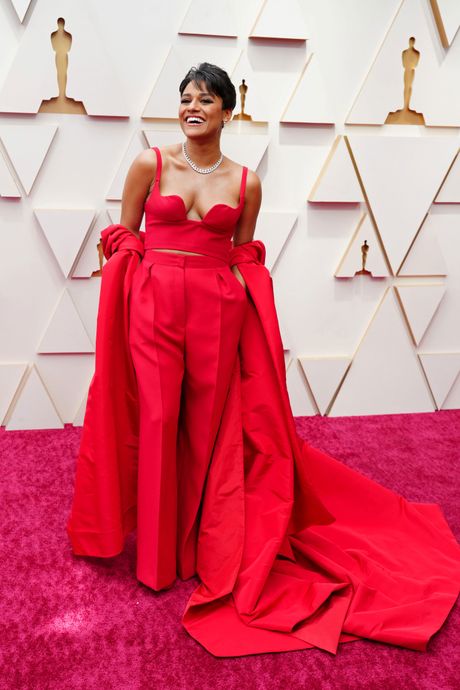 Best Jewelry: Venus Williams
Elsa Peretti's Tiffany Bone Cuff bracelets are timeless pieces of jewelry, but I especially love how Williams found a dress to match.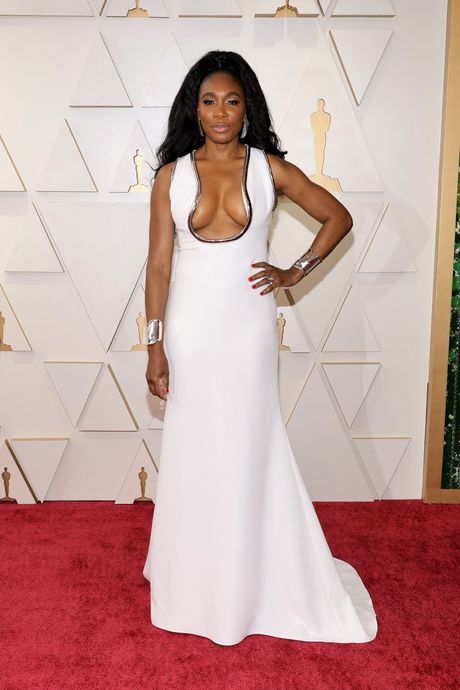 Best Handbag: Eva von Bahr
The Swedish makeup artist who worked on Dune knows a thing or two about prosthetics, so I'd like to think she made this bust herself. Her dress, meanwhile, features a Renaissance painting by Raphael.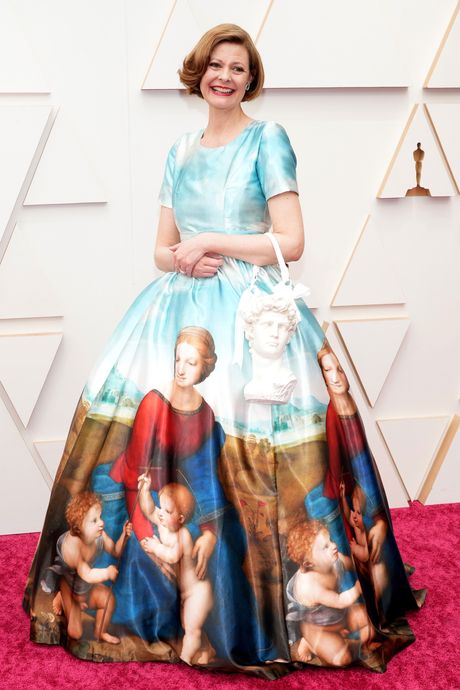 Best Dress to Hang Your Handbag On: Maggie Gyllenhaal in Schiaparelli
Another example of someone wearing a work of art on the red carpet, only I'm afraid people are going to try to use it as a coat rack throughout the night. (Maybe Gyllenhaal herself.)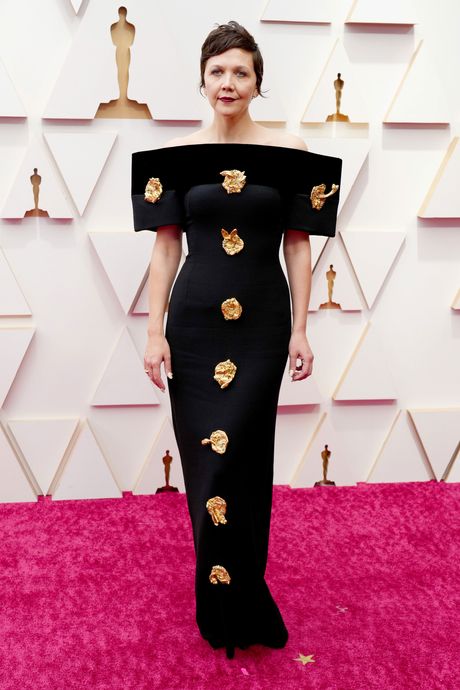 Best Midriff: Timothée Chalamet in Louis Vuitton
It seems Chalamet forgot something when he left the house tonight. Or maybe he was just in a hurry. Either way, he's giving the Miu Miu midriff some competition. Does this mean we can go shirtless now to work events?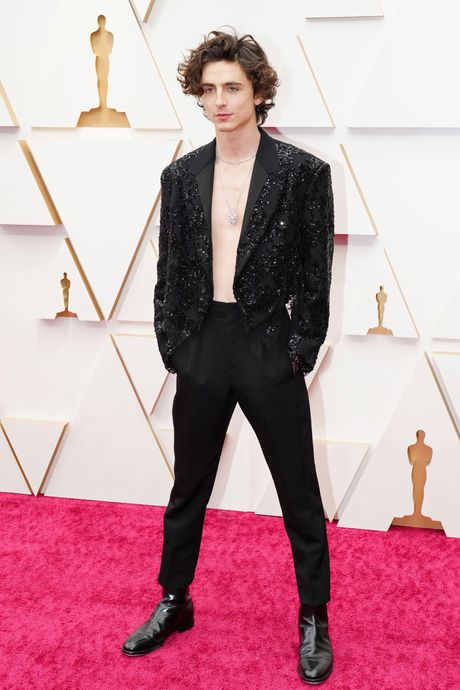 Best Miu Miu That Wasn't THAT Miu Miu: Demi Singleton in Miu Miu
Yes, the brand makes other things besides mini skirts — and they're lovely!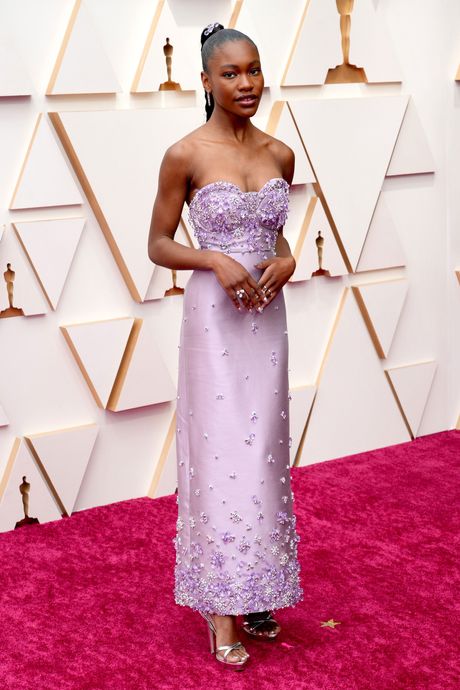 Best Monochrome: Kodi Smit-McPhee In Bottega Veneta
There was a lot of red, metallic, and pastel pinks on the carpet tonight, but Kodi Smit-McPhee stood out in pale blue. I appreciated the studs on his boots — they have this otherwise innocent color some edge.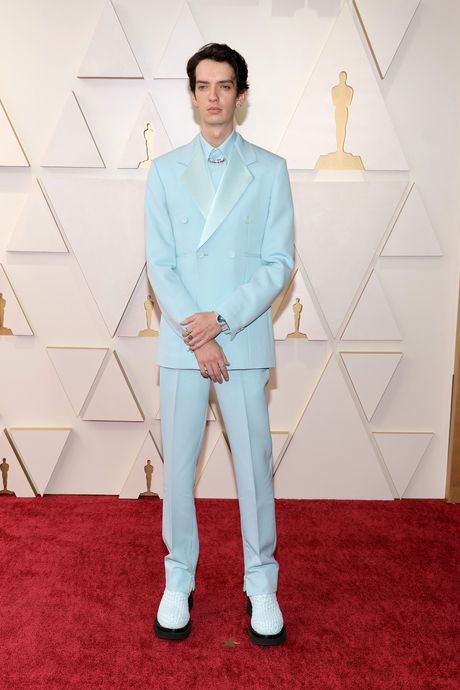 Best Hat Thing: Rita Moreno in Carolina Herrera
No one can describe this look better than Rita Moreno herself, so I'm not even going to try: She thought, "What the hell?" and simply threw it atop her head. "I love the way I look," she told E! on the carpet. "I can't get over myself. I love the way I look. Kill me. Sue me."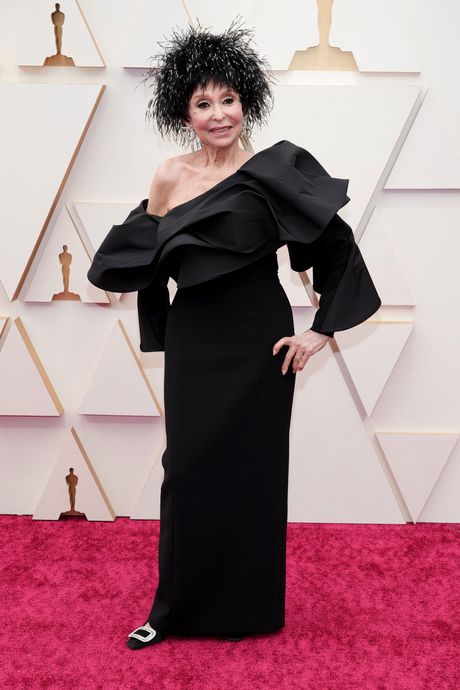 Most Glamorous: Jessica Chastain in Gucci
I love the colors in this dress — they aren't ones you usually see together, and they compliment Chastain's complexion so well. I also appreciate the amount of shimmer here — a good amount, but not to the point of ridiculous.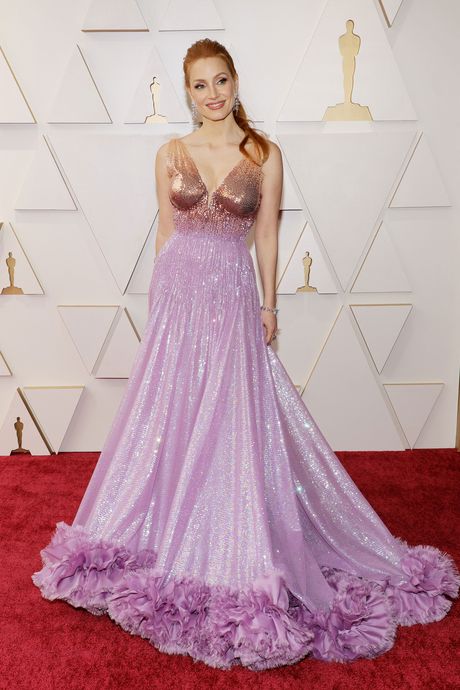 Best Use of Boob Tape: Tracee Ellis Ross in Carolina Herrera
Personally, I never want to wear a bra again, so I appreciate this look.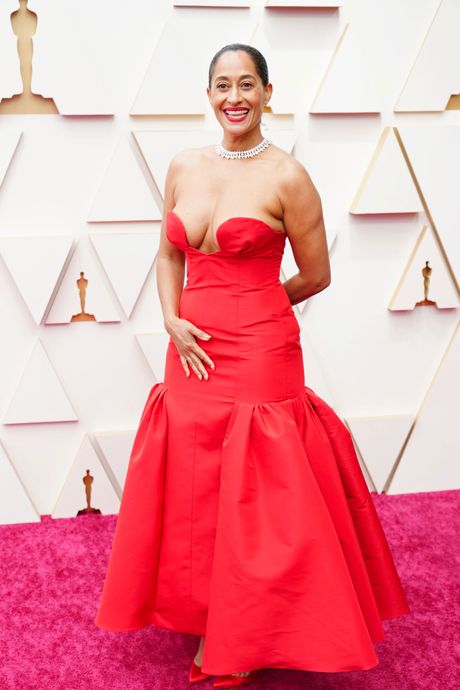 Most Somber: Billie Eilish
As someone who wears a lot of black all the time, I'm sad to have to admit that it's maybe possible to wear too much of the color, and that might be the case here?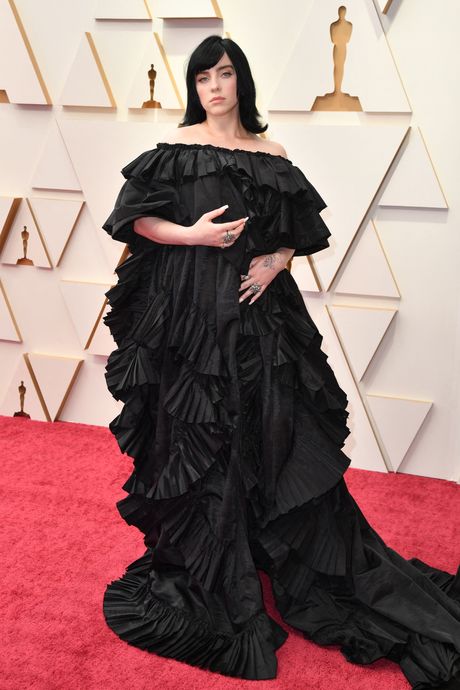 Best Newcomer: Renate Reinsve in Louis Vuitton
The star of The Worst Person in the World is ironically one of the best dressed. She looks like a mermaid who became a really cool pirate or something.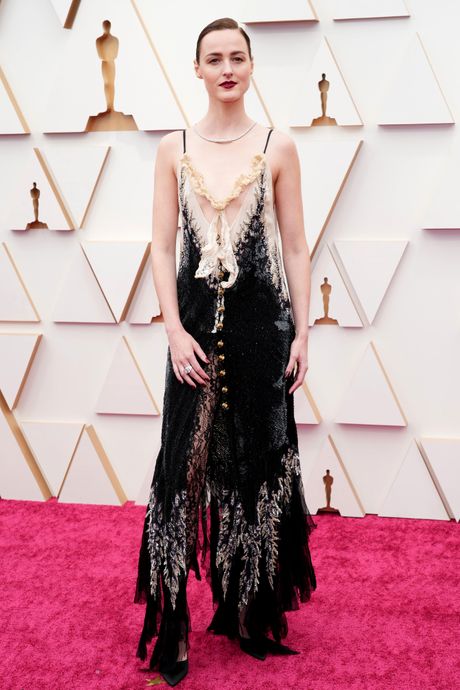 Honorable Mention: Hans Zimmer in a Bathrobe
This one's for the rest of us at home. Cheers!
#Oscars holds moment of silence in support of Ukraine. https://t.co/1H1Y9jC9bl#oscars pic.twitter.com/eIdWgcGAom

— ABC News (@ABC) March 28, 2022