While much of the attention on closing the gender wage gap is focused on helping women concentrate on their careers, an argument can be made that helping men focus less on theirs could play a pivotal role. Each family has to make its own choice with what the child care approach is best for them, but when companies offer maternity leave and no paternity leave, new parents may be forced to adhere to more traditional gender norms when it comes to work-life balance.
However, when companies like ConsumerTrack or Accenture recognize that fathers play just as large a role in raising children as their partners do, it gives working families the flexibility to forge their own paths when it comes to child care. The result is not just more dads being able to play larger roles in the lives of their kids, but also more ambitious mothers who can aggressively pursue their career aspirations because they're getting the help they need at home.
That's likely why Working Mother makes a point of offering up a list of the best companies for working dads alongside its annual Best Companies list. The organization has been a leading proponent of supporting working parents for years, and its 2019 edition of top employers helps identify those firms offering benefits to make the work-life balance more manageable. The company started to filter their Best Companies list with a specific focus on benefits geared towards fathers like paternity leave, adoption leave, and others in 2018. The result is a list of 50 employers that are among the most committed to helping American dads navigate the often difficult path between being a good employee and being a good father.
Here's a look at the 50 companies highlighted by Working Mother as being the most supportive of working dads in the United States.
Chicago-based management consulting firm A.T. Kearney employs just 867 people, but their workers who are also dads appear to have lucked out. They offer backup as well as sick child care to their working parents.
Another Illinois company, Abbott is a biotech firm based out of Abbott Park. The company employs over 25,000 people and offers a Vacation Buy program, which allows its employees to "buy" vacation days at a discounted rate. The company has also landed in the Working Mother Hall of Fame for appearing on the Best Company list at least 15 times.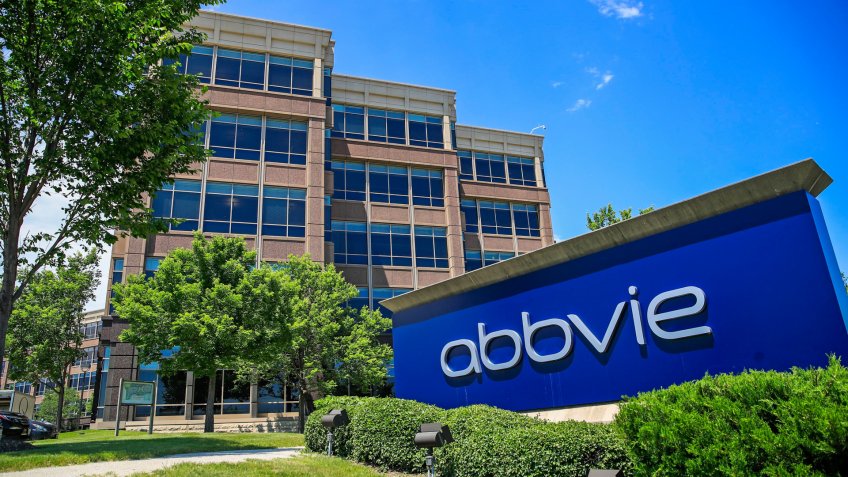 TANNEN MAURY/EPA-EFE / Shutterstock.com
Staying in both Illinois and in the healthcare sector, AbbVie is a North Chicago-based drugmaker that is among the best places for working dads. The company was also among the top 10 as ranked by Working Mother, and its nearly 15,000 employees can enjoy access to backup child care and care for sick children.
As a professional services company, you would hope Accenture would excel at ensuring its own professionals are taken care of — especially given that their workforce exceeds 50,000. Regardless of gender, parents get at least eight weeks of parental leave at Accenture and it's been offering better parental benefits for long enough to be in the Working Mother Hall of Fame for 15 years of inclusion on their list.
This software company is doing what it can to ensure that new dads won't have to do major acrobatics in handling both their personal and professional responsibilities. The company offers a minimum of four months of parental leave that's gender-neutral, so working dads can take the time they need with their new child.
The famous credit card company's slogan might be refined when talking about paternity leave: "don't go to work without it." The company's 20,000+ employees can get a minimum of 20 weeks paid parental leave, regardless of gender.
This global law firm helps its clients with a wide variety of legal issues, from global law and public policy to class action lawsuits. The company only employs about 1,700 people and they offer backup child care for their employees who are parents or guardians.
Although Astellas Pharma is based out of Tokyo, its U.S. arm calls Northbrook, Illinois, home and employs a little over 2,500 people. Those employees enjoy access to backup or sick child care. That's just part of how the company landed among the top 10 by Working Mother's rankings.
Anyone who has spent time researching companies that offer the best benefits to their employees has undoubtedly come across Bain & Company before. The 2019 Employee's Choice for a top large company to work at per Glassdoor, Bain & Company offers a minimum of eight weeks paid leave for new parents, regardless of gender.
Bank of America is one of the largest companies in the country, employing nearly 170,000 people. That means that their strong policies for working dads — which includes backup and sick child care — is affecting an enormous number of people. The company's been on the Working Mother list for 25 years.
Barclays is a British banking institution with a long, storied history — it's been around longer than America — but that doesn't mean they're not embracing new ideas about the nature of the workplace. In addition to landing on the best workplaces for dads and moms, Working Mother also named it among the best employers for multicultural women.
12. Baxter Healthcare Corp.
Baxter Healthcare Corporation might offer a minimum of just two weeks of paid parental leave, but it scores points for offering them independent of the gender of the worker. Add to that the availability of child care options when something unexpected happens or a kid gets sick and working dads should find plenty to like about working at Baxter.
The 25,000-plus employees of Booz Allen Hamilton — the management consulting firm that essentially gave birth to the industry in 1914 — are likely to have less reason to hit the bottle after work than most, especially if they're working dads. New dads can claim up to two weeks of paternity leave. This is four weeks less than new mothers but still more than many other working fathers can expect.
14. Boston Consulting Group
Global Consulting Group serves clients around the world, but it's based in, get this, Boston. The company's roughly 5,000 employees enjoy options for child care when their normal plans fall through.
Boston Scientific is one of the larger and more prominent medical device companies in the world, with its 15,000+ employees working to develop, make, market and sell life-saving devices the world over. That includes everything from heart monitors and defibrillator systems to drainage catheters employed to treat various cancers.
Bristol-Myers Squibb is a biopharmaceutical firm with a history that dates back to 1845. Today, it employs over 11,000 people and offers some generous benefits for new parents. New parents of either gender have a minimum of two months paid leave waiting for them, with mothers having another six weeks on top of that.
Ceridian is a provider of human resources technology, helping companies across the country better manage their employees to make the most of their human capital. As such, it's not surprising that they understand the importance of putting people first when it comes to their policies regarding new parents. The company currently employs over 5,000 people.
Deloitte is a well-known advisory firm that deals with a wide variety of professional services. The company's nearly 65,000 employees probably understand the importance a supportive workplace is to a successful business: the company has landed on the Working Mother list for 25 years and ranks among its top 10 this year.
While the name of liquor company Diageo might not look familiar, you've probably encountered it through its broad portfolio of brands that includes Don Julio, Captain Morgan, and Bulleit. And although less than 2,000 of the company's employees are work in the North America branch (which accounts for about a third of their overall sales), those workers can enjoy perks like backup child care and care for sick children.
The nearly 50,000 employees of the legendary professional consulting firm Ernst & Young can expect to enjoy an environment that makes becoming a parent that much easier to fit into your work life. Ranking among Working Mother's top 10, the company has a minimum of four months of paid parental leave available to all of its employees.
21. Federal Reserve Bank of San Francisco
The San Francisco Fed appears to at least be outpacing the other regional Federal Reserve Banks — none of whom appeared on this list — in terms of how their policies benefit working dads. Those Fed employees located in San Francisco can expect three months of paid parental leave, regardless of their gender.
22. Financial Industry Regulatory Authority
Better known by the acronym FINRA, the group plays a crucial role in regulating and managing the network of brokers and dealers who help facilitate access to markets for the general public. This company is also ensuring that its employees who have recently become dads are getting the support they need — including access to backup and sick child care.
23. Finnegan, Henderson, Farabow, Garrett & Dunner
Just under 700 people work at this law firm that specializes in intellectual property cases, so there are relatively fewer new dads who will be able to take advantage of their policy. Those that can, though, can expect access to emergency child care options when their regular child care plans fall through.
General Mills does plenty to support working dads. Not only does it produce a wide variety of cold cereals that make for quick, easy breakfasts when you're trying to get the kids out the door to school in a hurry, but, if you're one of the 13,000+ people employed by this company in the U.S., you can also access backup child care options to help you balance work and life.
Legendary investment banking firm Goldman Sachs has been a key part of the American economy for decades, and it's also one of the better companies for a working dad to clock in every morning. New moms and dads can draw on a minimum of four weeks of parental leave when they welcome a new child.
Accounting firm Grant Thornton offers a wide variety of business services to corporations of all sizes since it was first founded in Chicago in the 1920s. The company currently employs over 7,500 people and offers services like emergency child care to its employees.
27. Horizon Blue Cross Blue Shield of New Jersey
The roughly 5,500 employees of this Garden State health insurance provider enjoy a solid environment for fathers trying to balance their parental duties and their work. That includes offering backup child care for parents.
Big Blue has been an essential piece of the business landscape in America for a very, very long time. And the benefits they have for working fathers — of which there's plenty among its 350,000 employees across the country — are generous. New dads can expect a minimum of three months paid leave, which is about eight weeks less than new mothers but still among the leaders on this list.
Processor-maker Intel has provided the core technology that's powered a lot of the digital revolution still changing America today. They're also providing benefits that make it easier for the working dads in the ranks of their 50,000+ employees. New fathers get a minimum of two months paid leave.
If there was one company that needed to stand out for how it treats working parents, it was Johnson & Johnson. After all, with so many different products marketed and produced specifically for child care, a weak policy on parental leave would be a PR disaster. No worries there, though. Johnson & Johnson was the outright winner of Working Mother's 2019 100 Best Companies list. As well as being one of the companies with 25 years of being included on the list, it landed among the 50 best companies for working dads as well.
31. Kaiser Permanente Medical Group
California-based healthcare company Kaiser Permanente often plays a key part in the benefits packages employers offer to attract talent. And they treat their employees well too. The non-profit organization is among Working Mother's top 10 and they extend a minimum of six weeks paid leave to new fathers.
32. L.E.K. Consulting Group
The company L.E.K. Consulting is yet another management consulting firm to land on this list, showing that solid benefits appear to be the norm for its industry leaders. The company's working fathers can get access to backup child care when an emergency hits, as well as care for sick children.
Offering solid benefits to working parents is one of the key building blocks to a productive workforce and one company that appears to really understand this is Lego. The famed toymaker helps working dads make ends meet by offering backup child care when everyday plans fall through. As if kids needed any more reasons for having parents work for Lego!
Another management consulting firm with solid benefits for working parents, McKinsey & Company's 9,000 employees can expect several perks that help balance home life and office life. That includes a minimum of two months paid leave for new parents, including dads.
Pharmaceutical giant Merck has been on Working Mother's top 100 list for a quarter-century, showing an ongoing commitment to the overall health of their employees as well as their customers. That includes offering backup child care as well as optional care for sick children, should the need arise.
The nearly 75,000 employees of the software firm founded by Bill Gates are blessed with some excellent benefits for working parents. Working dads can't expect the full 20 weeks of paid parental leave that represent the minimum available to new mothers, but there is three months of gender-neutral paid leave available to new fathers.
Credit-rating agency Moody's has been a fixture within the financial industry for quite some time, and they are staying in the mix when it comes to attracting top talent with generous benefits. These include additional child care options to help fill the gaps when regular plans fall through.
Say what you will about the investment banks, but the presence of many of the biggest members in the industry on Working Mother's list should indicate that the industry's leaders are making an effort to accommodate working parents among its ranks. Anyone with child-rearing responsibilities that's also one of Morgan Stanley's 40,000+ employees can count on four full months of paid leave when a new child arrives.
One of the major public accounting firms in America, Moss Adams is also one of the companies offering solid benefits to its employees who are also parents — particularly if you're a dad. Although just two weeks of minimum paid parental leave is available to its 3,000 workers, it's gender-neutral, so moms and dads alike can take advantage.
The massive consumer goods conglomerate Procter & Gamble caters to a wide variety of customer needs through its massive brand portfolio — from Pampers to Tide to Old Spice. The Cincinnati-based company was initially founded in 1837, giving it over 180 years of history in the market.
Here's one company that finds it prudent to provide good benefits to working parents. The financial services firm is in the business of helping other companies with benefits to employees, so it shouldn't come as a surprise that they understand how that applies within their own ranks. The company offers 10 weeks of paid parental leave, regardless of gender.
42. Price Waterhouse Cooper
Another professional services company with a solid benefits package, PwC is one of the members of Working Mother's "Quarter-Century Club" for appearing among the Top 100 Best Companies at least 25 times. The company gives a minimum of two months paid leave to new parents regardless of gender.
A global network of accounting firms, RSM offers its clients a variety of audit and tax consulting services to help companies manage their books efficiently. Internally, they're also one of the winners for working dads with their 10,000 employees enjoying benefits like backup child care to help them balance their work with their life.
This New Jersey-based pharmaceutical giant employs over 12,000 people and offers benefits that put it among the 50 strongest companies for supporting working dads. There's eight weeks minimum of paid leave for new parents, a benefit that extends to new moms and new dads alike.
45. Sony Electronics Inc.
With just under 1,500 employees stateside, Sony's footprint in the United States is smaller than it is worldwide. However, working dads employed here in America by the electronics giant are enjoying options like backup child care to help them juggle their various responsibilities.
A biopharmaceutical firm with a global reach and a focus on R&D, Takeda employs just under 5,000 people in the United States. They landed among the top 10 for Working Mother for the benefits they offer to working parents, including sick and backup child care to help ease the burden of managing a busy family life.
Media giant Viacom employs about 6,000 people and lands among the top companies for working dads, per Working Mother. The company — which operates some 314 locally-programmed television channels as well as a large portfolio of cable stations — offers benefits like backup child care to aid its working parents.
Wireless provider Verizon has just under 130,000 American employees and offers a package of benefit programs that should help keep their working parents balancing home and work life. That includes making additional child care options available for those occasions when your regular planning falls through.
Unilever is a massive Dutch consumer goods conglomerate that offers customers a wide variety of products through a robust brand portfolio that includes Dove and Vaseline. It's also among the top 10 best companies, per Working Mother, for the robust benefits it offers employees. That includes two months of paid leave for new parents at a minimum, regardless of their gender.
50. Wellstar Health System
The just under 20,000 American employees of WellStar Health System — a Georgia-based not-for-profit healthcare provider — enjoy benefits that make it easier to balance their families with their work. That includes a paid month off for new parents, regardless of gender.
Photos are for illustrative purposes only. As a result, some of the images may not reflect the companies listed in this article.
Disclaimer: GOBankingRates is owned and operated by ConsumerTrack Inc. The companies featured on this list were sourced from the 2019 Working Mother 100 Best Companies list. However, some of the information was sourced from individual company websites when applicable.