Since the start of the coronavirus pandemic, 54 million Americans have lost their jobs. And Mark Vitner of Wells Fargo Securities believes another round of layoffs is "inevitable" due to issues with the Paycheck Protection Program and a still-suffering economy, telling CNBC in late July that the new wave of layoffs in the U.S. will go beyond the service industry.
Losing a job can be traumatic and throw a major wrench into your financial well-being, but fortunately, there are things you can do now to be prepared in the event of a layoff.
If you don't have money saved in an emergency fund, now is the time to focus your efforts on building one.
"We typically recommend three to six months of expenses, but there isn't a magic number to hit as that number is based on your needs," said Lacey Cobb, CFA, CFP, director of advice solutions at Personal Capital.
Many people don't have enough to cover living expenses for three months, and if that's the case for you, putting effort into building savings should be a priority.
"In a recent study Personal Capital conducted, the median savings amount for users in their 20s is $3,740, which is barely enough for three month's expenses (rent, bills, groceries, health insurance, etc.) when you see that the average rent for a one-bed is $1,216," Cobb said.
Put Your Stimulus Check Into Your Emergency Fund
Capitol Hill lawmakers are still ironing out the details of a second economic stimulus package, but Democrats and Republicans have both called for another round of $1,200 checks in their legislative proposals, CNBC reported. If a new package passes and you qualify for the stimulus check, Daniel Lee, senior wealth manager at Plancorp, said to put it into your emergency fund.
"Use your tax refund, cash bonus or your rebate check to build your emergency fund faster," he said.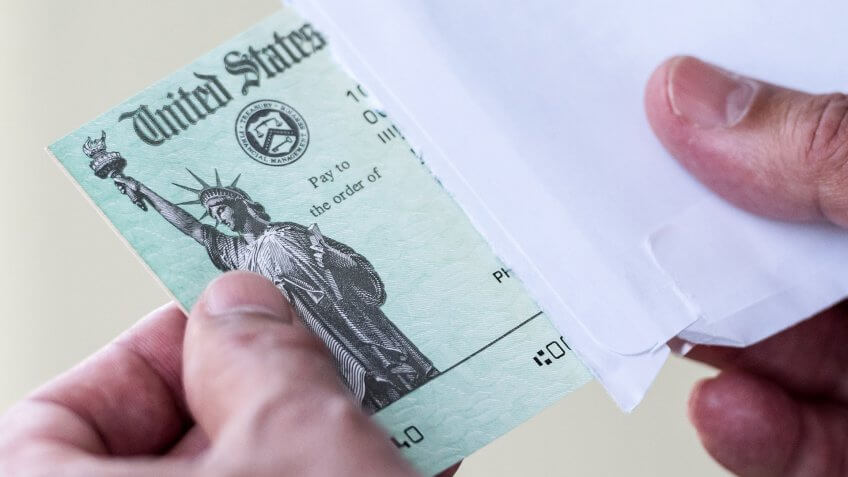 Juanmonino / istockphoto.com
Deposit Your Emergency Savings in a High-Yield Account
"Keep your savings in an account where your money is liquid, such as a high-yield savings account," said Aly Russo, outreach specialist at FinanceBuzz. "These accounts typically have higher interest rates, so your money does some extra work for you."
The quickest way to build your emergency fund is to reduce the amount you spend.
"Strive to live off 70% of your take-home pay, and bank the difference," said Fred Hubler, president of Creative Capital Wealth Management Group.
If You're Now Working Remotely, Put the Extra Savings Into Your Emergency Fund
Many people who typically go into an office are now working from home, which can be a big money saver.
"Put any money you're saving while working from home – such as commuting, restaurant meals, travel or childcare – in an emergency fund," said Meredith Stoddard, experience lead, life event planning at Fidelity Investments. "This precautionary measure allows those who can leverage it to live within the same means as you did before these uncertain times while building an emergency fund and having a plan in place."
Set Up Automatic Transfers to Your Emergency Fund
However much you plan to save from each paycheck, make the contribution automatic so you don't even have the opportunity to spend that amount.
"The best way to accumulate [a financial] safety net is forced savings," said Earl Rubinoff, founder of The Rubinoff Group. "We are trained like animals. We'll spend what we have. If we put more into savings automatically, then we have less in our pocket to spend. Set up an EFT/ACH where each month your checking account puts a certain amount into savings."
Lower Your 401(k) Contributions
While you work on saving three to six months of living expenses, you might want to decrease your 401(k) contributions and commit those funds to savings instead.
"In an ideal scenario, I would still recommend contributing the minimum amount you would need in order to maximize any employer match you may be eligible for, but you can feel confident dropping your contributions down to that amount knowing the short-term cash is more important to you in the event you lose your job," said Lauren Anastasio, a certified financial planner at SoFi.
Differentiate Your 'Wants' From Your 'Needs'
Get a clear picture of how much you are spending, and how much is actually needed to cover your necessities. Then, try to cut back your spending on any "wants."
"Sure, that $15 a month premium TV streaming subscription is entertaining, but is it worth almost $200 a year for content that can grow stale? Evaluate and prioritize your spending habits and try to cut as many 'wants' from your budget to provide you with more wiggle room for the 'needs,'" said Leslie Tayne, founder and head attorney at the debt solutions law firm Tayne Law Group.
Reduce Any Bill That You Can
Call all your service providers and lenders, and try to renegotiate your rates.
"Ask if there are any ways to reduce your bills, either temporarily, permanently, or both," Tayne said. "Nobody wants to contact their credit card or utility company, especially with increased wait times due to the pandemic, but doing so will allow you to reach your emergency savings goal faster and have less to worry about regarding your monthly expenses."
Shop Around for Car and Home Insurance
"This is an excellent time to shop around for auto and homeowner rates, which could potentially reduce your expenses in the long run," said Steve Sexton, financial consultant and CEO of Sexton Advisory Group.
If you're no longer commuting to an office, be sure to bring this to the attention of your auto insurance provider as you may qualify for a lower rate without having to switch companies.
Consider Refinancing Your Mortgage
Another way to reduce your monthly spending could be to refinance your mortgage.
"[You could] benefit from current low rates, which could lower your monthly loan payment," said Andrea Woroch, a consumer and money-saving expert.
Mortgage rates have been hovering around 3% — and have dropped to a record low just below it — so be sure to take advantage of these historically low rates if you can.
Look Into Your Health Insurance Options
If you receive your health insurance through your employer, research your options now so that you can find the best, low-cost option that will keep you covered until you can get insurance through your next employer.
"COBRA can be prohibitively expensive, so consider other options so you're prepared if you lose your job," Tayne said. "Depending on income and family size, you might be eligible for Medicaid in the event of unemployment. Another option is the U.S. government's health insurance marketplace website. Keep in mind that you'll still be able to apply for coverage through the marketplace despite open enrollment being closed because the government considers job loss as a special enrollment qualifying life change."
Take Advantage of Your Benefits While You Have Them
Schedule any essential doctor's visits and fill any outstanding prescriptions now while you are still on your employer's healthcare plan.
Research What Financial Assistance You Might Be Eligible For
"Spend time learning about financial assistance programs in your area and how to access them," said Jean Wilczynski, CFP, senior wealth advisor at Exencial Wealth Advisors in Old Lyme, Connecticut. "Keep a detailed list of these resources so the information is easily accessible if needed."
Depending on where you live, you also might be able to defer certain payments if need be.
"Find out what rules are currently in place for deferring or delaying payments for rent, mortgage, electricity or other utilities," she continued. "How long are these programs in place? What are the eligibility criteria and application processes?"
Be Prepared To File For Unemployment
"Learn about the process of applying for unemployment insurance payments and what information you will need to do so," Wilczynski said. "Determine under what circumstances you might be eligible. If you are self-employed, research programs for obtaining small business loans, grants, or other programs that might be available."
"Avoid overspending during this time to maintain your savings and avoid additional financial-related stress that debt can add to a situation or life event," Tayne said. "Stay mindful of your budget and spending habits, and encourage loved ones to do the same and be on the same page as you."
One way to set a budget and ensure that you're staying on track with your goals is to use a budgeting app.
"Explore online budgeting apps like Mint or YNAB," said Matthew Armstrong, a financial advisor at Savant Capital Management. "There may be some potential savings you find in your current budget."
Don't Rack Up New Credit Card Debt
Even if you're buying essentials, don't put anything you can't afford to pay back in full on your credit card during this time.
"Avoid overspending on credit cards as this could lead to high-interest-rate debt," Sexton said. "If you need to dip into your backup reserves, it's best to pull from low-interest rate savings or CD accounts first. Withdrawing from your 401(k) and IRA to cover expenses is now a penalty-free option via the stimulus bill, but this should be seen as a last resort."
Pay Off Any Debt You Already Have
The longer debt lingers, the more the amount you owe will grow. While you're still earning an income, prioritize debt repayment so that you're debt-free — or close to it — in the event you lose your job and money becomes tighter.
"Having a few different income streams means you have other options to fall back on when one becomes hit during a recession," Woroch said.
"There are so many options for earning extra income," she continued. "You can become a virtual tutor through sites like Varsity Tutors online or make up to $1,000 extra a month by pet sitting and dog walking through sites like Rover.com. There are plenty of people, such as healthcare workers and first responders, who are putting in extra hours right now and need help caring for their fur babies, so this is a viable option for anyone who likes animals. Other ideas include freelancing through Flexjobs.com or becoming a virtual assistant. You can also find remote jobs via Remote.co."
Make as Much Money as You Can at Your Current Job
"If you can work additional hours to boost your income, now would be a good time to do so," Wilczynski said.
In addition to getting a side gig and working overtime, selling unused items around your home is another way to bring in some extra money.
"Now might be a time to assess what you have that you could sell to raise cash," Stoddard said. "Many apps make it easy to sell clothes or jewelry you no longer wear, exercise equipment, kitchenware, etc. It can take some work to go through it, but if you discount your items enough, you can often move them quickly and build up some cash reserves."
Make Your Money Work for You
Sponsors of
Don't Make Any Long-Term Financial Commitments
Put any major financial purchases on pause, Stoddard said.
"Now is not the time to sign a new car lease, move to a more expensive home or make any long-term financial commitments," she said. "During these times, it's vital that you take care of yourself and make time for what is most important to you — family, friends, simple pleasures."
Don't Make Any Risky Investments
With stock prices low, you might see investing as a "get rich quick" scenario, but Anastasio does not recommend taking big risks when your cash flow could soon be cut off.
"There is a lot of buzz around what's happening in the stock market right now and many novice investors are curious about trying to capitalize on the down market by buying stocks for the first time. Avoid the lure of the investment opportunity and focus on your personal circumstances," she said. "If you don't have money you can afford to gamble, you don't have money to buy individual stocks. It's best to save your cash because you're going to need it. You shouldn't be taking any risk with it by trying to invest it."
Plan Ahead for the Next Step in Your Career
Use that extra time you would have spent commuting to invest in yourself and expand your career prospects.
"Take this as an opportunity to build up your skill sets if you're in a career that requires you to keep learning," said Bobbi Rebell, CFP, personal finance expert and brand ambassador at Tally.
You should also ensure your resume and LinkedIn profile are up to date so that you're ready to hit the ground running if you need to apply for a new job.
The thought of losing a job can be overwhelming, and you might have unique circumstances that make it difficult to clearly see the best financial plan for you to be prepared. Seeking professional help might be a worthy investment.
"There is no shame in asking for financial help or guidance," Wilczynski said. "Most financial advisors who I know are happy to act as a sounding board even for folks who are not clients, so don't hesitate to reach out to one in your area — we are all hard at work and willing to help."