At first glance, the June employment report was a blockbuster.
The U.S. economy produced a record 4.8 million added jobs last month, walloping expectations. And the unemployment rate sank from 13.3% all the way to 11.1%.
"Today's announcement," President Donald Trump declared Thursday after the report was released, "proves that our economy is roaring back."
Maybe. But most economists warn that the risks ahead outweigh the reasons to cheer as the economy and the job market struggle to emerge from a devastating meltdown triggered by the coronavirus.
Further hiring gains are imperiled by a resurgence of COVID-19 cases throughout the South and West. And despite a solid rebound in employment, the job market remains badly damaged — by the pandemic itself, by the lockdowns imposed to contain it and by a loss of confidence among Americans fearful of returning to shops and restaurants until a vaccine or an effective treatment for the virus is available.
Even after superb hiring reports for May and June, the economy has regained only about one-third of the 22 million jobs it lost to the pandemic recession, according to Thursday's jobs report. And the unemployment rate still exceeds the highest rate during the 2009-2009 Great Recession.
Here are five major takeaways from a jobs report that was surprisingly robust yet may not fully reflect a fast-evolving employment market.
THE GOOD NEWS MAY BE OLD NEWS
Just as the economy seemed to be gathering momentum after springtime lockdowns of businesses, confirmed virus cases began resurging throughout the South and the West. The spike in cases forced state and local governments that had allowed many businesses to reopen to suddenly suspend or reverse those plans.
Many bars and restaurants, newly reopened in late May and early June, shut down again and laid off workers — again. The June report didn't include those job cuts.
"Remember that the (June jobs) data are capturing the data from the middle of May through the middle of June, given the survey period," economists at Bank of America Global Research cautioned. "It captures the state of the labor market before the economy was hit by the rise in virus cases in the Sun Belt."
Researchers who track business activity in real-time have detected evidence of a slump. Homebase, a provider of time-tracking software for small businesses, discovered that the number of hours worked at its client companies has leveled off after having risen sharply in May and early June.
Likewise, the data firm Womply found that the proportion of bars that are closed in Texas, Florida, Tennessee, and some other states grew last week after having declined steadily since April or early May.
What's more, the government reported Thursday that the number of laid-off Americans seeking unemployment benefits last week remained at an elevated pace — 1.43 million, down slightly from the previous week but alarmingly high by historical standards.
"With the number of COVID-19 cases accelerating and some states delaying re-opening or imposing new restrictions, we are concerned that a significant number of individuals may become furloughed again, "Jay Bryson, chief economist at Wells Fargo Securities, wrote in a research report. "The outsized gains in payrolls that were registered in May and June likely won't be repeated in the next few months."
JOB MARKET FACES A LONG CLIMB BACK
Despite the April-May bounce-back, the employment market remains in dire shape: 137.8 million Americans were working in June — 14.7 million fewer than in February, before the pandemic began to inflict deep economic damage. Even May's 11.1% unemployment rate was the third-highest, behind April and May, in monthly records that go back to 1948.
And the vast majority of May's job gains appeared to come from businesses that had recalled employees who were provisionally let go during the virus lockdowns: The number of Americans on temporary layoffs sank by a record 4.8 million last month.
Ominously, by contrast, the number of people labeled "permanent job losers" surged by 588,000 last month. That was the biggest such jump since February 2009, in the depths of the Great Recession. These people will likely find it more difficult to regain employment.
Joe Biden, the presumptive Democratic presidential nominee, denounced Trump for declaring what Biden said was a premature victory over job losses:
"President Trump has spiked the ball and made this about him. He doesn't seem to realize he's not even on the 50-yard line."
RACIAL DISPARITIES PERSIST
White workers continue to fare better than Black workers.
In June, the jobless rate for white Americans fell from 12.4% in May to 10.1%. For African Americans, the rate dropped less, from 16.8% to 15.4% Historically, the unemployment rate for Black workers has been 1.5 to 2 times the rate for white workers.
That gap had narrowed in the early stages of the pandemic because African Americans work disproportionately in many front-line jobs in warehouses, grocery stores, and takeout eateries. Such businesses were generally regarded as "essential" and so managed to retain most of their employees.
But in the past couple of months, the racial gap has widened again.
"The pandemic has really shone a spotlight on how lopsided our economic system is, particularly in terms of the labor market," said Steve Rick, chief economist at the insurer CUNA Mutual Group. "It's clear that Black communities have been disproportionately affected by this recession."
Average hourly earnings at private companies fell from 1.2% to $29.39 in June. For rank-and-file workers specifically, hourly earnings dropped 0.9% to $24.74.
The reason wasn't so much that employers imposed pay cuts. Rather, the workers who were rehired in June, at bars, restaurants, and other such establishments, disproportionately work in lower-paying occupations. That trend pulled down average wages for the month.
"The decline reflects the extent to which June's job gains were skewed toward lower-wage, lower-hour industry groups, such as retail trade and leisure and hospitality services," said Richard Moody, chief economist at Regions Financial.
A job-quality index produced by Cornell University's law school found that nearly 87% of June's growth in private sector hiring came from "low quality" jobs — non-management positions that offer below-average weekly earnings.
JOB GAINS WERE BROAD-BASED
Employers were hiring all over the economy last month.
Restaurants, bars, hotels, and other leisure and hospitality businesses, hard hit by closures in the spring, added 2.1 million jobs in June. Even so, they employ 4.8 million fewer people than they did in February.
Retailers added 740,000 jobs, health care 475,000, manufacturers 356,000 and construction firms 158,000.
"Job gains in June were broad-based across 75% of the private sector," noted Kathy Bostjancic of Oxford Economics.
The U.S. economy added back millions of jobs in June thanks to rehiring in hard-hit industries like leisure and hospitality.
But for some sectors, the road to pre-coronavirus employment recovery may take years — or worse, never occur. Some now say that the coronavirus and efforts to contain its spread could act as a catalyst for layoffs that may not be fully recouped.
CNBC studied both the short-term and long-term employment changes in a variety of the economy's sub-industries to isolate the recent impact of Covid-19 from more-enduring trends.
One industry that could have a particularly hard time bouncing back is apparel retail. Economists have for years documented a marked decline in U.S. brick-and-mortar retail jobs at the hands of online shopping.
And now, despite a sizable rebound of 202,000 clothing retail jobs in June, it remains to be seen whether the broader retail sector will be able to make a complete recovery in employment figures.
The most recent data studied by CNBC came in the Labor Department's monthly jobs report, which showed U.S. employers added some 4.8 million back to payrolls in June and pushed the unemployment rate down to 11.1%.
But both stocks and bond yields moved off their session highs within a couple of hours of the report as economists and investors alike began to doubt the longevity of the headline jobs strength and uneven rehiring.
A grim prognosis for clothing retailers came Thursday morning from Betsey Stevenson, the former chief economist at the Labor Department.
Stevenson, who also served on former President Barack Obama's Council of Economic Advisers, wrote on Twitter that June's bounce in clothing store employment won't do much to stanch the long-term decline in apparel retail jobs.
"Employment in clothing stores is up 202K! But it's still down 40% compared to last year," she wrote. "Many of those jobs are never coming back."
Another industry that may have a more difficult time returning to prior employment levels is mining, and specifically coal mining.
The coal mining industry, which employed some 70,000 people at the end of 2014, lost 27% of its workforce through January 2020 before the Covid-19 layoffs.
But between January and June, the coal industry has lost another 14% of workers. Halfway through last month, the sub-industry had just under 44,000 workers.
Other industries, though hard hit amid Covid-19 lockdowns, are showing signs of a more robust employment rebound.
Leisure and hospitality, which includes restaurants and bars, perhaps bore the worst of the coronavirus layoffs amid an eye-popping contraction in travel and dining out. In early May, the Labor Department reported that the leisure and hospitality industry had lost 47% of its entire workforce during the month of April alone.
But many of those workers were likely placed on temporary leave, or furloughed, and appear to be returning to work at a faster rate than those in other industries.
Bars and restaurants employed 12.3 million Americans in February 2020, only to see that figure collapse to 6.2 million in April. It's since rebounded 47% off that low and for June rose to 9.2 million jobs.
Another industry that has shown resiliency in recent months — and strength in recent years — is couriers and messengers. This sub-industry includes the U.S. employees who deliver parcels and mail both across states and on a local basis.
In fact, the demand for e-commerce amid the coronavirus has corresponded to a net increase in the number of people working in the industry. The courier and messenger industry employed 859,000 people in January, 861,000 people in April, and 904,000 in June, according to the Labor Department.
Stocks closed broadly higher on Wall Street Thursday as investors welcomed a report showing the U.S. job market continues to climb out of the crater created by the coronavirus pandemic.
The S&P 500 rose 0.5%, its fourth-straight gain. The index ended the holiday-shortened week with a gain of 4%. The Nasdaq composite climbed to another all-time high, aided by more gains in technology companies. Energy companies notched some of the biggest gains as oil prices strengthened in hopes that a recovering economy will mean more demand.
The rally wasn't impervious to worry about the virus outbreak. News that Florida had another sharp increase in confirmed cases helped cut the S&P 500′s early gains by more than half. The bond market also signaled caution, as yields moved broadly lower.
A recent surge in new confirmed cases of the coronavirus in Florida, Texas, and several other states has led some governors to halt the reopening of their economies or to order some businesses, such as restaurants and bars, to reclose. That has dimmed some of the optimism for a relatively quick economic turnaround, especially for travel-related sectors like cruise lines.
Even so, investors continue to bet that the recovery will proceed, despite the worrying rise in new cases.
"Right now, I don't see a national outbreak coming, I don't see a national shutdown," said Brad McMillan, chief investment officer for Commonwealth Financial Network. "The risks are still there, but the market has kind of already taken that into account."
The S&P 500 rose 14.15 points to 3,130.01. The Dow Jones Industrial Average gained 92.39 points, or 0.4%, to 25,827.36. The Nasdaq climbed 53 points, or 0.5%, to 10,207.63. The Russell 2000 index of small-company stocks also rose, adding 4.55 points, or 0.3%, to 1,431.86. Markets in Europe and Asia also closed broadly higher.
The indexes were up even more at the start of the day's trading after the U.S. government said employers added 4.8 million jobs to their payrolls in June for the second-straight month of growth. The unemployment rate remains very high at 11.1%, but last month's improvement was much better than economists expected.
The pandemic has made collecting data on the economy unusually difficult, which leaves economists uncertain about the numbers' accuracy. But they say it's clear that the job market is improving after collapsing in the spring amid widespread shutdowns. That bolsters investors' hopes that the economy can recover from its recession relatively quickly as governments relax restrictions.
Such hopes have lifted the S&P 500 to within roughly 8% of the record set in February, after an earlier drop of nearly 34% when recession worries peaked.
"We're starting to see the real economic data say, 'Yes, the recovery is here, and it's real,'" McMillan said.
The next step, he said, is to see the job gains translate into lasting growth for workers' incomes and for how much they spend.
The market's morning gains began to fade after Florida reported more than 10,000 new confirmed cases for the first time. It underlined how fragile the recovery is, and the bond market was also showing more caution than stocks as Treasury yields ticked lower.
Many workers across the country are still experiencing economic pain, with only about a third of the 22 million jobs lost to the recession recovered so far. And worries are rising that worsening levels of infections in not just Florida but across swaths of the U.S. South and West could choke off the budding economic improvements. Such concerns have held the market in check since early June following a months-long rocket ride.
Thursday's reports on the economy also weren't uniformly encouraging. The number of workers filing for unemployment benefits last week dipped by less than economists expected, for example. The number of workers continuing to get jobless claims were also higher than expected.
Stocks nevertheless moved higher Thursday. Oil companies, raw-material producers and other companies whose profits are very closely tied to the strength of the economy had the market's biggest gains.
Materials stocks in the S&P 500 rose 1.9%, the biggest gain among the 11 sectors that make up the index. Vulcan Materials led the pack, adding 4.2%. Energy stocks also notched solid gains. Noble Energy jumped 7.8%.
The energy stocks benefited from hopes that a recovering economy will restore some of the demand for oil that vanished in the spring as people stopped driving, airplanes were left parked in the desert and factories went idle. Benchmark U.S. crude oil for August delivery rose 83 cents to settle at $40.65 a barrel. Brent crude oil for September delivery rose $1.11 to $43.14 a barrel.
Bond investors showed less enthusiasm, though. The yield on the 10-year Treasury note dipped to 0.67% from 0.68% late Wednesday. It tends to move with investors' expectations for the economy and inflation.
U.S. markets will be closed Friday in observance of Independence Day.
The U.S. economy just posted its best single-month job gain in history.
U.S. unemployment is at one of its worst points since the Great Depression.
As Republicans and Democrats fought to spin Thursday's jobs numbers to their advantage, both sides face tremendous political risks in navigating a delicate and defining issue heading into the presidential campaign's final months.
Democrats, led by presumptive nominee Joe Biden, seized on the growing threat presented by coronavirus after the better-than-expected numbers were released, a stance the Republicans called rooting against America's recovery. President Donald Trump claimed a major economic victory and played down the health threat, even as an explosion of new infections threatened to stall, or even reverse, the economic gains.
Deep uncertainty lies ahead, experts warn, despite two months of record job growth. And with only two more monthly jobs reports expected before the Nov. 3 election, the dueling visions of America's economy establish a new frame for the high-stakes debate ahead.
"Today's announcement proves that our economy is roaring back," Trump exulted to reporters at the White House after the June numbers were released. He later added, "The crisis is being handled."
Two hours later, Biden offered a darker assessment.
"There's no victory to be celebrated," the former vice president said in a video recorded at his home in Delaware. "We're still down nearly 15 million jobs and the pandemic is getting worse, not better."
"Today's report is positive news and I'm thankful for it -- for real," Biden continued. "But make no mistake, we're still in a deep, deep job hole because Donald Trump has so badly bungled the response to coronavirus."
Thursday's data showed a surge of 4.8 million new jobs last month, a snapshot of the economy as of three weeks ago. The U.S. unemployment rate improved from 13.3% in May to 11.1% in June as many Americans threw out of work by COVID-19 were called back.
But the jobs numbers were announced just as the nation's confirmed coronavirus infections soared to an all-time daily high of 50,700, more than doubling over the past month, according to the count kept by Johns Hopkins University.
The spike, centered primarily in the South and West, has led states such as California, Texas, Arizona, and Florida to re-close or otherwise clamp down again on bars, restaurants, movie theaters, beaches, and swimming pools, throwing some workers out of jobs for a second time. Those losses will show up in next month's government unemployment report.
The Trump campaign believes that nothing matters more to the president's reelection than the state of the economy. With many Americans reporting that the country is moving in the wrong direction under his leadership, he has a lot of work to do.
Still, the president's strongest ratings center on the economy, as has been the case throughout his tenure. About half of Americans say they approve of Trump's handling of the economy, according to a poll released last month from The Associated Press-NORC Center for Public Affairs Research.
Justin Wolfers, a professor of economics and public policy at the University of Michigan, said that Thursday's numbers confirmed that the economy is in "slightly less" of a "dreadful economic hole."
"You just look out the window and you know things are grim," he said. "The first, second and third most important things for the economy right now are the progress of the disease."
Michael Strain, director of economic policy studies at the American Enterprise Institute, said the virus continues to pose a "major potential threat" to the nation's economic comeback, especially in light of new reports that hospital systems in some states are reaching capacity.
Given the uncertainty, Strain said he's confused by Trump's apparent resistance to plans from both Republicans and Democrats to inject another round of major economic stimulus into what he called "a fragile economy."
Trump highlighted his support for a Social Security tax cut on Thursday, but Vice President Mike Pence, in an interview with CNBC, reiterated the administration's opposition to extending enhanced unemployment payments to out-of-work Americans when they expire at the end of July.
Biden, meanwhile, has yet to come out with a specific jobs plan, which his campaign said Thursday would be released in a matter of weeks. Jared Bernstein, a Biden economic adviser, encouraged Congress to adopt a new round of fiscal stimulus for unemployed Americans immediately.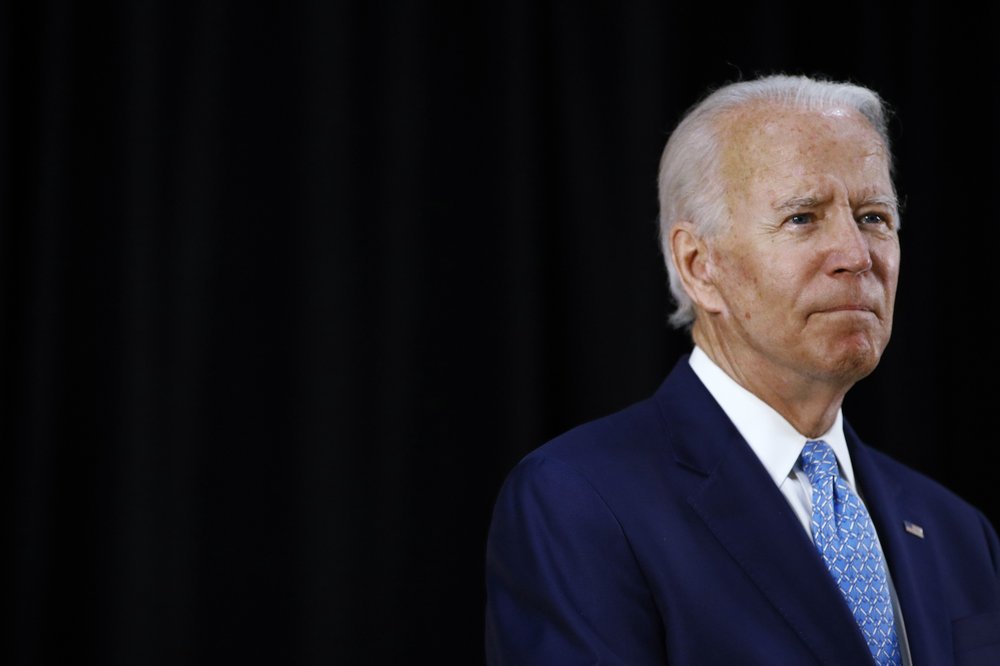 Bernstein predicted the pace of economic growth would slow considerably in the coming months because of the Trump administration's inability to contain the pandemic. Trump has not employed a coordinated national response to the health threat, preferring instead to let state and local leaders adapt their own strategies.
Biden has released his own plan to combat coronavirus, which calls for a massive surge in testing and required face masks for all people in public.
"The absence of effective virus control from the top is reversing reopenings in states across the land, and my grave concern is that that will be reflected in upcoming jobs reports," Bernstein said.
Trump, however, focused on the best of the new news, declaring that it would die with a Biden victory in November.
"These are not numbers that other presidents will have. They won't have it," Trump said from the White House. "The only thing that can kill it is a bad president."
He added, patting himself and his administration on the back: "This is not just lucked what's happening. This is a lot of talent. "