It's no secret that people are every company's most valuable (and expensive) asset.
From their salaries and benefits to the office space, they sit in and the technology that they use. To protect this massive investment, human resource professionals turn to HR analytics to find out what's going on in their workforce and how to best deploy resources.
What is HR analytics?
HR analytics is the data HR teams gather and analyze to understand their company's workforce. It includes everything from headcount, compensation, job title and function, work location (e.g. in-office or

remote), hiring, onboarding, turnover, employee engagement, diversity and inclusion, learning and development, and more.
These analytics are gathered from multiple sources, including employee surveys,

applicant tracking systems

(ATS), HR information systems (HRIS), human capital management (HCM), and human resource management systems (HRMS).
Like a marketer would use data to shape an ad campaign or a company would use analytics to determine where to open a new office, HR teams use HR analytics to:
Understand their workforce

Efficiently deploy resources

Plan for the future
This is especially critical for large companies with thousands of employees and multiple locations. HR analytics can help HR teams monitor employee performance and engagement to reduce turnover and build a more productive workforce.
Companies are built upon the strength and innovation of their workforce. Without HR analytics, human resource professionals risk missing important trends, like bad managers or lack of professional development. Unhappy or unfulfilled employees will cost any company dearly in terms of lost productivity and money.
What kind of questions can human resources analytics answer?
How can we speed up our hiring process? When is the right time to promote someone? How can we make sure our workforce is diverse and inclusive? These are just a few of the many questions HR analytics are designed to answer. From submitting an application to retirement, HR analytics offers insights on an employee's entire work journey.
1. Recruitment
Human resources professionals work hard to hire the best people for the right position in the shortest amount of time. To do this efficiently, recruiters often use HR analytics to not only find talent but also to evaluate the recruiting process and quality of candidates.
How can HR analytics help?
Recruiters and hiring managers use HR analytics for the entire recruitment process. For example, when writing job postings, they can use HR tech and skills data to

write better job postings that attract the right people. Without HR analytics, it's hard to know what job title, description, and required skills and experience to include in a job posting.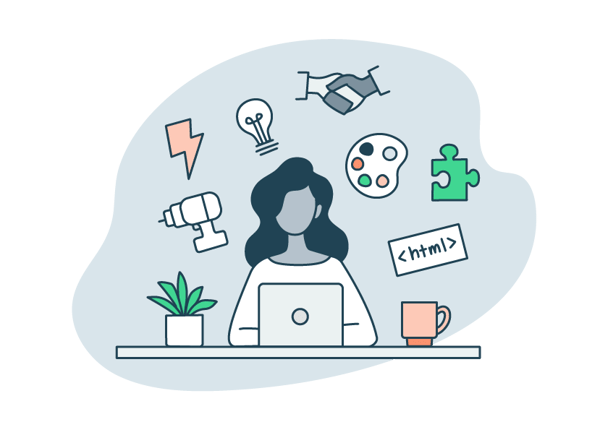 HR analytics can also help recruiters and hiring managers to figure out where they should be recruiting for any given job. For example, if you wanted to

hire web developers for the best price, you could use data from an HR tech tool to build a recruitment strategy. This could include compensation, supply, demand, competition, turnover rates, diversity, and more – all for any given region.
HR analytics also helps HR teams determine where to post their open jobs. Which job boards should they use? Where should they spend their money to get their postings in front of the right people? Tracking the performance of past job postings can inform future ones.
Finally, after employees have been hired, recruiters and hiring managers can use HR analytics to evaluate the quality of those hires. For example, were there any "quick quits" aka employees who left within the first six or 12 months.
2. Time-to-hire
Like the name suggests,

time-to-hire is metric

HR teams use to measure how long it takes to get someone in a role. This process includes getting the job description approved, posting the job, screening applicants, interviews, making an offer, background checks, and finally, signing the final paperwork.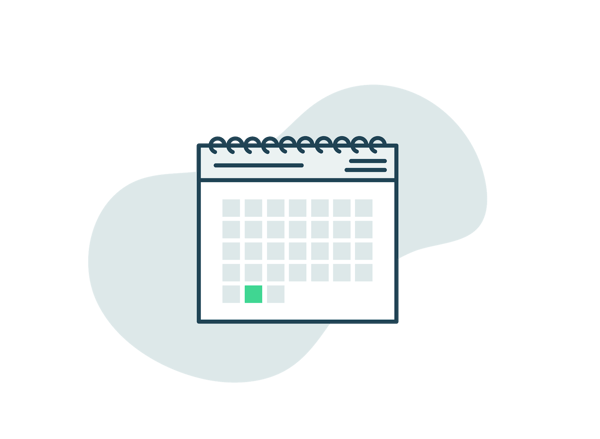 How can HR analytics help?
Companies lose money and productivity every day a job goes unfilled. That's why it's so critical that HR teams keep time-to-hire as minimal as possible. HR analytics can track the entire time-to-hire workflow, noting how long each step of the process took. Using this data, HR teams can identify backlogs (like challenges with scheduling interviews with busy hiring managers) and develop a solution.
For example, some companies set up automated emails to keep candidates engaged in the process. HR analytics can help inform the timing of those emails. How long after a screening interview should the candidate get a follow-up email?
The hiring process can leave new employees with a bad taste in their mouth or it can create happy candidates that are excited to work for you. HR analytics helps keep the process smooth and informed.
3. Employee onboarding
As new hires settle into your company, they will need to get set up with technology and equipment, complete training, fill out paperwork, meet their colleagues, and get up to speed in their role. As we all know, this process can take some time. In fact, some HR pros say

onboarding should take at least three months. With that much time (and money) invested, it makes sense to use HR analytics to ensure it's an effective process.
How can HR analytics help?
There are many ways HR analytics can help with onboarding, including dashboards to help managers track a new hire's progress. But an increasingly popular one is

organizational network analysis

(ONA). Deloitte defines this as "a structured way to visualize how communications, information, and decisions flow through an organization."
We all have our go-to people in each department, the ones we know will have the answers. ONA helps HR teams track those interactions. They get a feel for how employees interact with each other and who those go-to people are in each department and at every level of management. That way, HR knows who to connect new employees with to streamline their onboarding and learning process.
If you're wondering how HR teams track such a nebulous thing, there are two ways. One (the non-creepy way) usually involves a network analysis survey. Employees answer questions regarding who they talk with most often, who they've met on the team, who their go-to people are, etc. Then, HR creates a network map based on those surveys.
The second (significantly creepier way) involves HR teams tracking employee calendars to see who they're meeting with and how often. Just another reminder that nothing is ever really private.
4. Retention and turnover patterns
Since personnel is most companies' largest expense, it's important to track how long employees stay with your company. And if they leave, why? HR analytics can help HR teams answer those questions and create strategies to improve retention and decrease turnover.

How can HR analytics help?
With HRIS tools, HR teams can track the movement of every employee in their organization. When they're hired, if they get promoted or move to a different department, how long they were in their role, what their performance rating was, and when they leave the company. Using HR analytics (paired with exit interviews), HR teams can evaluate all of those patterns to identify the drivers of turnover.
For example, if employees consistently leave one team, it might indicate a bad manager or an unreasonable workload. If people consistently leave after a year or two, the HR team might need to look at adjusting pay rates, work environment, professional development and promotion opportunities.
Turnover is expensive. Not just because of the loss of productivity, but also the loss of institutional knowledge. HR analytics can help HR teams identify problems and intervene appropriately.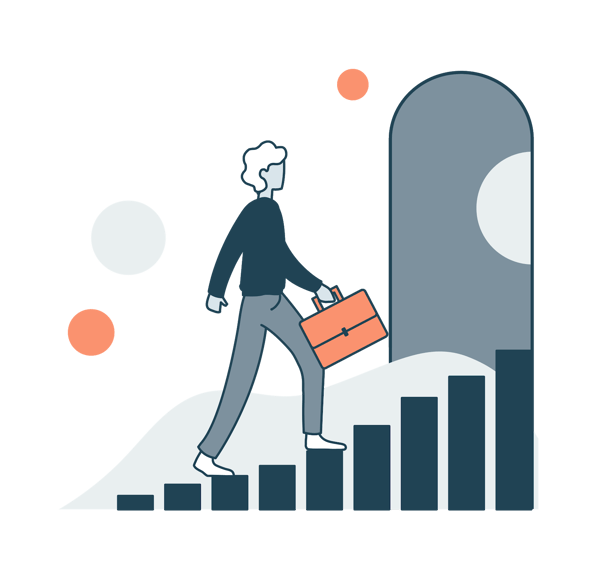 5. Performance and skill-building needed
Professional development is one of the best ways to build and retain great employees. Employees who don't feel like they're moving up or making progress toward their career goals will eventually leave. But what kind of professional development should companies offer? And to whom? And when?
How can HR analytics help?
Most companies have some kind of performance review system, whether it's annual, bi-annual, or quarterly. HR teams can use these reviews to track which employees are performing well. And if they're not performing well, HR teams can try to figure out why.
Performance reviews are also a chance for the company to learn about their employees' goals. How can the company help them excel in their role and career? Do they need more skills and professional development? Many companies use talent management systems (often modules built into an HRIS or separate LMS or HCM solution) to house learning and development resources.
Some organizations will build their own in-house learning content and courses. Others link to open online courses like Coursera, Udemy, and edX or partner with education providers, colleges and universities, boot camps, etc.
Companies that analyze the current skills of their workforce and provide resources for employees to develop more skills will have better retention rates. Plus, this kind of development and analytics also helps with succession planning. Who might be ready for management? When a longtime employee retires, who can take their place? HR analytics helps HR teams plan for these big changes.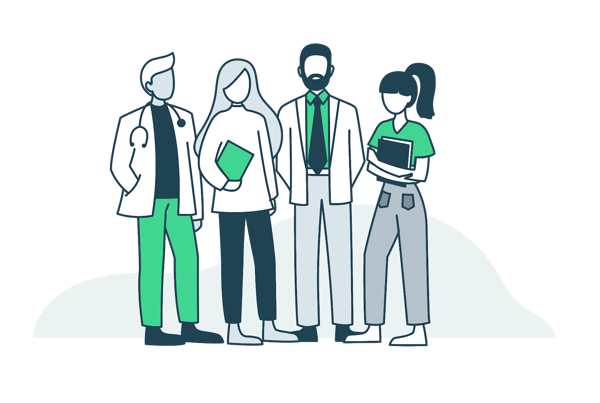 6. Diversity and inclusion
Not only is building a diverse team the right thing to do, but it's also the profitable thing to do. According to a

2018 McKinsey report:
"Companies in the top-quartile for gender diversity on executive teams were 21% more likely to outperform on profitability and 27% more likely to have superior value creation." And "companies in the top-quartile for ethnic/cultural diversity on executive teams were 33% more likely to have industry-leading profitability."
Most companies have diversity and inclusion (D&I) initiatives to increase diversity in their workforce, particularly with race and gender. HR analytics plays a critical role in D&I, allowing HR teams to set goals and track progress.
How can HR analytics help?
HR teams use HR analytics to track diversity data so they know how many women and minorities apply for jobs at their company, get interviewed, and get hired. And once they're hired, how many move into management or executive leadership? How much are they paid? How often are they promoted or given a raise?
Having this data keeps companies accountable and helps HR teams make all processes, assessments, and systems as inclusive as possible, whether it's addressing implicit biases in the hiring process or eliminating any pay inequality.
Most companies start by setting benchmark diversity goals based on the demographics of the region in which they're recruiting. Using their diversity data, HR teams can also flag job codes that are typically underrepresented by minorities. Then they'll take steps to diversify the applicant pool by posting jobs on job boards targeting minorities, like the

National Black MBA Association

or

Women Who Code.
Understanding the HR analytics process
Now that we've talked about the different ways HR teams can use HR analytics, let's walk through each step of the data collection and analysis process.
Collecting data
Most HR analytics data is collected via three tiers of HR systems. Here's a breakdown:
Human resource information system (HRIS).

The HRIS collects and stores data on a company's employees, including their name, age, address, salary, benefits, attendance, performance reviews, and more. It also usually houses the applicant tracking system (ATS), which is built to streamline a company's hiring process. An ATS houses all candidate data, including their applications, resumes, cover letters, interview notes, and feedback from team members.
Human capital management (HCM). An HCM solution will include everything in the HRIS, plus onboarding, performance, position control/tracking, succession data, salary/bonus planning, rewards systems, etc. The HCM also typically includes the talent management system, which collects data regarding employee skills, goals, professional development, etc.
Human resources management system (HRMS). The HRMS houses everything in the HRIS and HCM, plus payroll and time and labor tracking.
Measuring and analyzing data
HR teams often use an ETL (extract, transform, load) data management process to extract the data from HR systems and put it into a data visualization tool. That way, it's easier to analyze.
Some larger companies have data analysts specifically dedicated to finding the insights in the numbers. While smaller companies might have one or two people managing the HR systems

and

doing the data analysis and reporting. The more employees and systems you have, the more HR specialists you'll need.
What key HR metrics are monitored?
Key HR metrics and reporting strategies will vary between companies, depending on their size, goals, and HR team. Here are some general metrics that are trackable via HR analytics.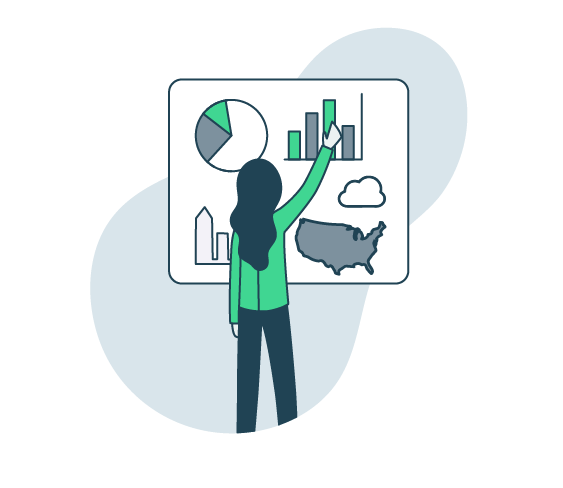 Recruitment and onboarding
Headcount:

This is the total number of employees in your organization. Headcount can also be broken out by department, team, job functions, and more, depending on the reporting your team is working on.
Demographics: These are the characteristics of your workforce, including age, gender, ethnicity, education level, length of service, marital status, and more.
Time-to-hire: Time-to-hire is the average amount of time it takes to hire a new employee, from posting the job to the candidate accepting your offer.
Time-to-productivity: Time-to-productivity measures the speed of the onboarding process, tracking how long it usually takes for a new hire to get up to speed on their role and begin working at full capacity.
Quick quits/new hire turnover: "Quick quits" tracks the number of new hires who leave the company within a certain amount of time, usually six months to a year.
Performance
Employee performance:

HR teams can track employee performance in multiple ways, including self-assessments, manager assessments, and peer reviews. Some companies will also use employee monitoring software and/or project management systems.
Revenue per employee: Revenue per employee is calculated by dividing your company's total revenue by the total number of employees. This is a great way to roughly measure how much revenue each employee generates.
Goal tracking: Employees can plug their goals into the talent management module in an HRIS. HR teams can then compare these goals to overall company goals, track an employee's progress with their goals, and find ways to support employee goals (e.g. professional development).
Time tracking (absence rates/overtime): Time tracking measures not only how many regular hours an employee works per time period, but also how frequently they miss work (absenteeism) and how many overtime hours they work.
Operations
Employee satisfaction and engagement: This measures how likely your employees are to recommend your company as a good place to work. This is usually measured in two ways: Employee

Net Promoter Scores

(eNPS) or employee satisfaction surveys.

Employee mobility:

Employee mobility tracks how and when employees move throughout the organization. This helps companies see what parts of the company employees are moving from and to, how long they were in their roles before they moved, and if they moved up, laterally, or down.
Retention rate:

Retention rate measures how well an organization holds on to its employees. It's usually measured by dividing the number of employees who stayed with your organization over a given period of time divided by the total number of employees.
Turnover rate:

Turnover rate is the opposite of retention. It's calculated by dividing how many employees leave your organization each year by the average number of employees. Then multiply by 100.
Training and development:

This measures the overall cost, time, and effectiveness of training and development for your organization's employees. You can measure training costs per employee, completion rates, and time to completion, and administer tests to measure effectiveness.


HR analytics help HR teams set goals, measure success, and optimize processes so the company can focus on driving revenue. When used responsibly and effectively, HR analytics provide the insights companies need to tackle difficult challenges like lack of diversity or a high turnover rate. Data takes the guesswork out of HR, allowing HR teams to become subject matter experts trusted by the C-suite.