Specialized IT careers are becoming fewer and more far between because technology is changing so rapidly. While technology innovation created the need for specialists in the first place, faster technology obsolescence means today's technologists have to prioritize learning and be willing to evolve their careers as technologies and their use cases evolve. Also, in the wake of the pandemic, some IT professionals will find their careers disrupted and of those, some will recover faster than others.
Right now, a lot of businesses are operating in crisis mode so they're prioritizing cost control out of necessity. Some of those companies will make staff cuts across the board to be "fair." Others realize that because the future is increasingly digital, they'll need to make cuts with a scalpel rather than an ax. Those companies are taking inventory of the skills they have and are comparing that with what they'll need to survive and thrive in the short term and over the long term.
How the pandemic affected upskilling searches
Online search behavior reflects users' state of mind. Interestingly, upskilling platform Degreed noticed a decline in technology-specific searches and an increase in business-oriented searches when it analyzed user data from December 2019 to March 2020. The data reflects the searches of millions of users at hundreds of client organizations in the retail, technology, agriculture, fast-moving consumer goods (FMCG) and engineering sectors.
Degreed reasoned in a press release that the increases in business-oriented keywords and key phrases correlated with transferable skills that "mitigate the risk of job loss and enable greater agility and skills mobility."
Machine learning, Python, and data science decrease seem counterintuitive, which Degreed acknowledged saying that the drop is likely temporary.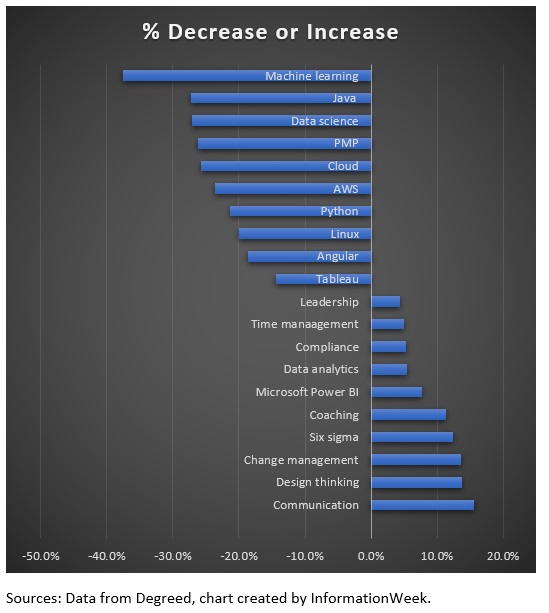 The reality is that there is a need for both highly specialized and generalized skills. However, there's a gap between them that is creating new roles beyond the business analyst that sits between the business and specialized areas of IT including cybersecurity, data science, and software development.
"If you are an expert or a specialist, there's huge value in taking a step back and understanding the adjacent domains and the big picture," said Harvard's Mansharamani. "That way, you can provide value beyond what's coming out of the one silo."
Not all career growth is upward
Mansharamani also recommends planning for several possible futures as opposed to "the future," which is the same advice major consulting firms are providing client companies. In both cases it's wise to do scenario planning for each possible circumstance.
"There's a lack of understanding of what the range of possibilities is," said Mansharamani. "A lot of people have thought of career paths as climbing corporate ladders, which I think is wrong."
Instead, it might be wiser at times to make a lateral move in order to shift one's career to a different track. Alternatively, one might consider what appears to be a temporary digression as part of a longer-term strategy.
Some IT organizations have already restructured themselves into hub-and-spoke organizations that marry centralized resources and satellite resources dedicated to a specific line of business or department. In that case, Mansharamani recommends rotating the roles so that everyone can benefit from the broader perspectives and experiences.
Although the idea of job rotation may seem foreign to IT professionals, future CEOs are often groomed by rotating them in and out of different departments. The breadth of experience makes them more effective organizational leaders.
Rotation is also used as a means of managing risks. That way, if an employee with specialized knowledge quits or is fired, some of that knowledge remains in the "corporate memory."
"One of the best things you can do to prepare yourself is to come up with multiple potential career options," said Jon Hill CEO and chairman of executive search and recruiting firm The Energists. "Write specialized resumes for each of these so you're ready to seize any opportunity that comes along. If you're flexible and able to adapt to changes as they come, you'll be better able to weather the uncertainty unscathed and maybe even come out ahead."
Uncertainty is not a new phenomenon. However, it has been exacerbated by the COVID-19 pandemic. Two of the best ways to deal with the uncertainty and rapid technological change are to broaden one's skills set so there are more career opportunities to take advantage of and to plan for multiple possible futures and one's value proposition in each.
Lisa Morgan is a freelance writer who covers big data and BI for InformationWeek. She has contributed articles, reports, and other types of content to various publications and sites ranging from SD Times to the Economist Intelligent Unit. Frequent areas of coverage include ... View Full Bio