Startup-focused lender SVB Financial Group
became the largest bank failure since the 2008 financial crisis on Friday, in a sudden collapse that roiled global markets and left billions of dollars belonging to companies and investors stranded.
California banking regulators closed the bank, which did business as Silicon Valley Bank, on Friday and appointed the Federal Deposit Insurance Corporation (FDIC) as receiver for the later disposition of its assets.
The main office and all branches of Silicon Valley Bank will reopen on March 13 and all insured depositors will have full access to their insured deposits no later than Monday morning, the FDIC said.
But 89% of the banks $175 billion in deposits were uninsured by the end of 2022, according to the FDIC, and their fate remains to be determined.
The FDIC is racing to find another bank over the weekend that is willing to merge with Silicon Valley Bank, according to people familiar with the matter who requested anonymity because the details are confidential. While the FDIC hopes to put together such a merger by Monday to safeguard unsecured deposits, no deal is certain, the sources added.
An FDIC spokesperson did not immediately respond to a request for comment.
Separately, SVB Financial, the parent company of Silicon Valley Bank, is working with investment bank Centerview Partners and law firm Sullivan & Cromwell to find buyers for its other assets, which include investment bank SVB Securities, wealth manager Boston Private and equity research firm MoffettNathanson, the sources said. These assets could attract competitors and private equity firms, the sources added.
It's unclear if any buyer will step up to buy these assets without SVB Financial having filed for bankruptcy first. Credit rating agency S&P Global Ratings said on Friday it expected SVB Financial to enter bankruptcy because of its liabilities.
SVB did not respond to calls for comment.
Companies such as video game maker Roblox Corp RBLX.N and streaming device maker Roku Inc said they had hundreds of millions of dollars in deposits at the bank. Roku said its deposits with SVB were largely uninsured, sending its shares down 10% in extended trading.
Technology workers whose paychecks relied on the bank were also worried about getting their wages on Friday. An SVB branch in San Francisco showed a note taped to the door telling clients to call a toll-free telephone number.
The collapse sent shockwaves through the startup community, which had come to view the lender as a source of reliable capital.
The bank's customers were met with locked doors on Friday. A client dashboard was down, a UK-based client of the bank told Reuters.
Dean Nelson, CEO of Cato Digital, was in a line outside of SVB Santa Clara headquarters, hoping to get answers. Nelson said he was worried about the company's ability to pay employees and cover expenses.
"Access to cash is the biggest problem for the majority of the companies here. If you're a startup, cash is king. The cash and the workflow, to be able to have the runway is critical."
SVB Financial CEO Greg Becker sent a video message to employees on Friday acknowledging the "incredibly difficult" 48 hours leading up to the collapse of the bank. "I can't imagine what was going through your head and wondering, you know, about your job, your future," he said.
The problems at SVB, which quickly escalated after the bank said on Wednesday it would raise money, underscore how a campaign by the U.S. Federal Reserve and other central banks to fight inflation by ending the era of cheap money is exposing vulnerabilities in the market. The worries walloped the banking sector.
U.S. banks have lost over $100 billion in stock market value over the past two days, with European banks losing around another $50 billion in value, according to a Reuters calculation.
U.S. lenders First Republic Bank (FRC.N) and Western Alliance (WAL.N) said on Friday their liquidity and deposits remained strong, aiming to calm investors as their shares fell. Others such as Germany's Commerzbank (CBKG.DE) issued unusual statements to reassure investors.
Some analysts forecast more pain for the sector as the episode spread concern about hidden risks in the banking sector and its vulnerability to the rising cost of money.
"There could be a bloodbath next week as banks are in trouble, the short sellers are out there and they are going to attack every single bank, especially the smaller ones," said Christopher Whalen, chairman of Whalen Global Advisors.
U.S. Treasury Secretary Janet Yellen met banking regulators on Friday and expressed "full confidence" in their abilities to respond to the situation, Treasury said.
The White House said on Friday it had faith and confidence in U.S. financial regulators when asked about the failure of SVB. Cecilia Rouse, who chairs the Council of Economic Advisers, said the U.S. banking system was fundamentally stronger than it was during the 2008 financial crisis.
The genesis of SVB's collapse lies in a rising interest rate environment. As higher interest rates caused the market for initial public offerings to shut down for many startups and made private fundraising more costly, some SVB clients started pulling money out.
To fund the redemptions, SVB sold a $21 billion bond portfolio consisting mostly of U.S. Treasuries on Wednesday and said it would sell $2.25 billion in common equity and preferred convertible stock to fill its funding hole.
Its stock collapsed and depositors started to panic. SVB scrambled this week to reassure its venture capital clients their money was safe. By Friday, the collapsing stock price had made its capital raise untenable and sources said the bank tried to look at other options, including a sale until regulators stepped in and shut the bank down.
The last FDIC-insured institution to close was Almena State Bank in Kansas, on Oct. 23, 2020.
The U.S. government on Friday assumed control of Silicon Valley Bank and its billions of dollars in customer deposits, temporarily shutting all branches and freezing withdrawals.
This weekend is key to determining if the situation escalates from an inconvenience to a crisis for SVB clients, most of which are businesses that need to meet payroll.
What to know: FDIC insurance covers up to $250,000 of deposits, all of which will be made available by Monday morning. But most of SVB's customers are companies with much higher balances, and it's not yet clear how much money they'll be able to draw and when.
In its statement, the FDIC said only that those in excess of $250,000 will receive "an advance dividend within the next week."
One big reason this weekend matters so much is that the next pay period for many companies is next Wednesday, March 15.
The best-case scenario is that another financial institution steps up and agrees to buy SVB, thus automatically strengthening its balance sheet.
Such a purchase presumably would facilitate the reopening of client accounts, and also calm nervous investors who've been dumping shares of SVB rivals like First Republic and PacWest.

It also could reopen venture lending, which is a key financing tool for many startups.
The worst-case scenario is that the market opens Monday and SVB remains a ward of the state, with no white knight on the horizon.
All eyes then would turn to the FDIC, to see exactly what those "advance dividends" look like and if they'll be sufficient to cover expenses. If payrolls are missed, the pain could spread from boardrooms to kitchen tables.
Some companies may begin to seek out alternate financing, such as loans from other banks, to tide them over.
No one currently knows if companies ultimately would be able to access all of their money. That includes the FDIC, which had not compiled that information at the time of its takeover.
SVB has melted down. The question now is if the fallout will be contained.
Here's how the crisis unfolded and what it means for the tech and financial sectors.
What is Silicon Valley Bank?
Founded in 1983, the bank grew to become the 16th-largest in the U.S., with $210 billion in assets. Over the years, according to reports, its client list grew to include some of the biggest names in consumer tech like Airbnb, Cisco, Fitbit, Pinterest and Square.
Why was it shut down?
On Wednesday evening, SVB announced it was planning to raise $2 billion to "strengthen [its] financial position" after suffering losses amid the broader slowdown in the tech sector. It also indicated it had seen an increase in startup clients pulling out their deposits. At the same time, the bank signaled that its securities had lost value as a result of higher interest rates.
By Thursday morning, SVB shares began to see a massive sell-off.
Later that day, SVB CEO Gary Becker pleaded with tech investors to "stay calm." He said that the only danger posed to SVB was if "everybody is telling each other that SVB is in trouble."
That appears to have morphed into a self-fulfilling prophecy, with tech titans including Peter Thiel reportedly warning startup founders to reduce their exposure to SVB.
By the end of the day, SVB shares had fallen by 60%.
On Friday morning, CNBC reported that SVB had been unable to raise the cash it had been hoping to assemble and was looking for a buyer as deposit outflows continued to accelerate.
The bank even called the New York Police Department on Friday morning as customers began lining up outside its Park Avenue offices to get their money, but officers who arrived on the scene left after determining "there was nothing criminal" happening, an NYPD spokesperson said.
By noon Friday, California state and federal banking regulators had seen enough and announced they were taking over SVB's deposits and putting the bank into receivership.
According to the FDIC, this is the second-largest bank failure in U.S. history, behind the collapse of Washington Mutual in September 2008.
What happens next?
Before the shutdown, some banking analysts dismissed concerns about a potential "contagion" stemming from SVB's problems that could unsteady the banking sector — though without ruling out the possibility that the bank could fail.
"We believe the sell-off was overdone as large banks have a lot more liquidity than smaller banks, they are more diversified with broader business models, have a lot of capital, are much better managed in regards to risk, and have a lot of oversight from regulators," JPMorgan analyst Vivek Juneja said in a note to clients earlier Friday.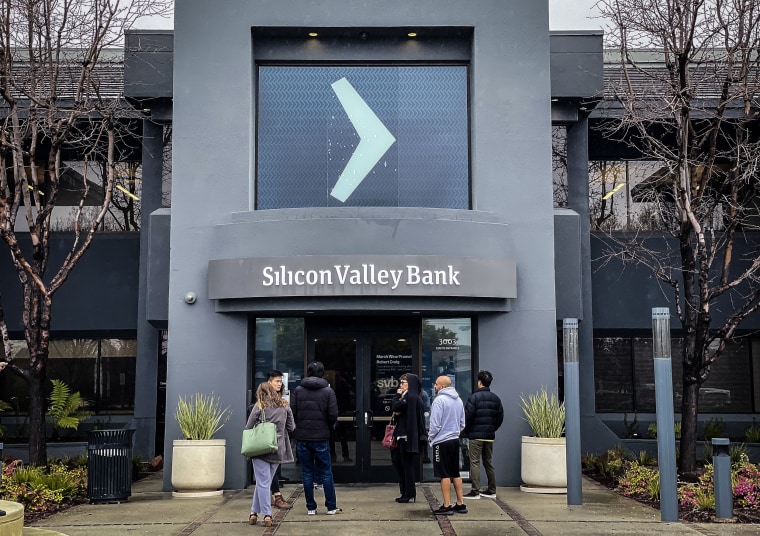 Morgan Stanley analysts Manan Gosalia and Betsy Graseck echoed that sentiment, saying in a note Friday morning that the issues appeared "highly idiosyncratic and should not be viewed as a read-across to other banks we cover."
Regulators' intervention midday Friday spooked investors and reversed a short-lived recovery in the broader market, with the Dow Jones index down 1.3% in afternoon trading, the S&P down 1.7%, and the tech-heavy Nasdaq down more than 2%.
Brad Hargreaves, a startup founder who previously served on boards of companies that did business with SVB, said the bank was unusual in that often played a dual role as a corporate and personal lender to CEOs.
Often, he said, SVB tied a company's loan to an executive's mortgage — and that a default on one would trigger a default on the other.
Silicon Valley Bank is to teach what Bank of America is to Main Street, he said, adding, "They got really integrated into the lives of a lot of founders."
Many startup executives whose companies banked with SVB are now also likely facing a payroll crisis, Hargreaves said, because the FDIC is authorized to release only insured deposits of up to $250,000. That heightens the risk that these companies could announce furloughs or layoffs of dozens or even hundreds of employees, he said.
SVB referred requests for comments Friday to the FDIC's takeover notice.
The FDIC said it is now working to determine what portion of SVB deposits are insured to its $250,000 limits. If you have a loan with the bank, you still need to make your payments.