Even before applying for a job, potential recruits to the New York City Police Department learned of a way to double their pay.
Annual salaries start at $42,500, but the job description explains that overtime can help bump that up to $100,000 a year. While New York City has lower average starting salaries than cities like Chicago and Los Angeles, the pattern persists to the highest levels.
The NYPD has blown past annual budgets every year for at least two decades, almost entirely due to overtime costs. Those extra hours also drive up the city's pension obligations. In fiscal 2020, New York City police officers logged more overtime hours than any other big city in the U.S., and violent crime rates still went up.
Rather than making the city safer, the overtime system fosters a flawed incentive structure and a pattern of petty arrests that entangle low-income residents and people of color with the criminal justice system. It also levies a social cost on over-policed neighborhoods that beg for more social services but just get more cops instead.
"Every dollar spent on policing, whether overtime or elsewhere in the budget, is a dollar not being spent somewhere else," said Maryanne Kaishian, the policy counsel for Brooklyn Defender Services, an organization that provides legal representation for low-income defendants.
In fiscal 2021, which ended in June, Mayor Bill de Blasio lowered the cap on overtime spending and the NYPD blew past it in eight months, according to the Independent Budget Office, the city's fiscal watchdog. The stricter spending limits were part of a promised $1 billion in cuts to the police department that never fully panned out due in part to overtime overages.
That's because New Yorkers have been content to overlook police overages and the social consequences of over-policing in exchange for a sense of security, according to Eric Adams, the Democratic nominee favored to become New York City's next mayor. Just look at the 18th precinct, which is headquartered just south of Central Park and has the highest per-officer overtime spending in the city.
"Public safety is so important to taxpayers, they basically close their eyes," he said. "They say, listen, as long as we feel safe, so what if you stopped 600,000 Black and brown children a year? As long as I can enjoy my theater at Lincoln Center, so what if you're spending $11 billion?"
That near-$11 billion spent on policing—when overtime, pension benefits, and capital spending are factored in—is cold comfort to New Yorkers rattled by a number of high-profile shootings in Times Square and a spike in murders over the last year. There were about 470 murders in 2020, up from nearly 320 the year before, according to the NYPD. Meanwhile, other types of crime—robberies, misdemeanors, and felony property crimes—are down.
A Campaign Promise
Adams, currently Brooklyn borough president, committed to cutting overtime spending in half before the end of his first year in office, in a recent interview with Bloomberg News. Tackling the problem requires changing the way the force deploys officers and how they get paid, he said.
It's an audacious goal—especially for a former police captain acutely familiar with the system's flaws. Among the five biggest cities in the U.S., the NYPD is the only department that eclipsed its budget each year since at least 2001. Although Chicago, Los Angeles, and other cities underestimate overtime costs in some years, none match New York in terms of how consistently and exorbitantly its police department overspends.
Adams' plan would slash the number of officers at some events by 75%, overhaul work schedules to include weekend shifts, and use real-time data to identify and discipline police officers who abuse overtime, he said. He also wants to reward precincts when overtime hours decrease to "incentivize the behavior you're looking for."
The existing system does the opposite. In fiscal 2020, 14,430 NYPD officers worked more than 400 hours of overtime—akin to extending a calendar year of work into March, according to a Bloomberg CityLab analysis of 31,221 uniformed officers. More than 16,000 took home over $100,000 in salary and overtime, while nearly 1,400 notched enough hours to take home a full year of additional pay.
That pushed overtime costs to a historic peak of $837 million that year, accounting for 45% of the city's total overtime across all city departments—and that was during a pandemic without parades and fewer events, though the department was deployed in response to the protests against racism and police brutality.
NYPD officials declined to be interviewed for this story but a spokesperson said "the department manages its overtime to ensure it is utilized in a matter that continues to prioritize public safety."
'Collars for Dollars'
Nowhere is overtime spending higher than in Adams's own borough of Brooklyn, particularly the 75th police precinct that borders the Brownsville neighborhood where Adams was born. The residential precinct is not the largest by geography nor resident population, but it employs the most cops in the city.
It also paid out $7.8 million in overtime in fiscal 2020, accounting for the highest payout among all 77 police districts. Officers at the 75th precinct worked a median of 477 overtime hours, compared to 306 hours across all city precincts in 2020, according to the Bloomberg CityLab analysis.
The additional manpower hasn't changed the fact that the neighborhood has among the highest instances of a felony crime and that its decrease in crime has lagged behind the cities for decades.
Historic disinvestment in the neighborhood is what has the most impact on crime, said Boris Santos, a board member of the East New York Community Land Trust, an advocacy group based in the heavily policed Brooklyn neighborhood.
"If you ask most one- or two-family homeowners or renters what the biggest issues they have to deal with day in and day out, it's not stuff that requires policing," he said.
Marking the streets of the East New York neighborhood at the heart of the 75th precinct are rows and rows of police cars. When sirens blare or groups of police officers trudge down the block, passersby barely lookup. In the center of it all is a community center owned and operated by the NYPD—a towering former courthouse that sends a clear message about where spending priorities lie.
The NYPD's outsize presence also serves as a daily reminder of the iniquities wrought when a city relies on police as a cure-all, said Michelle Neugebauer, executive director of the Cypress Hills Local Development Corporation, a nonprofit that provides affordable housing, after-school services, and job training to the local community.
"There are blocks in East New York that the government is spending millions of dollars on policing and incarcerating residents as opposed to investing in their education and job training and things that make a difference," she said.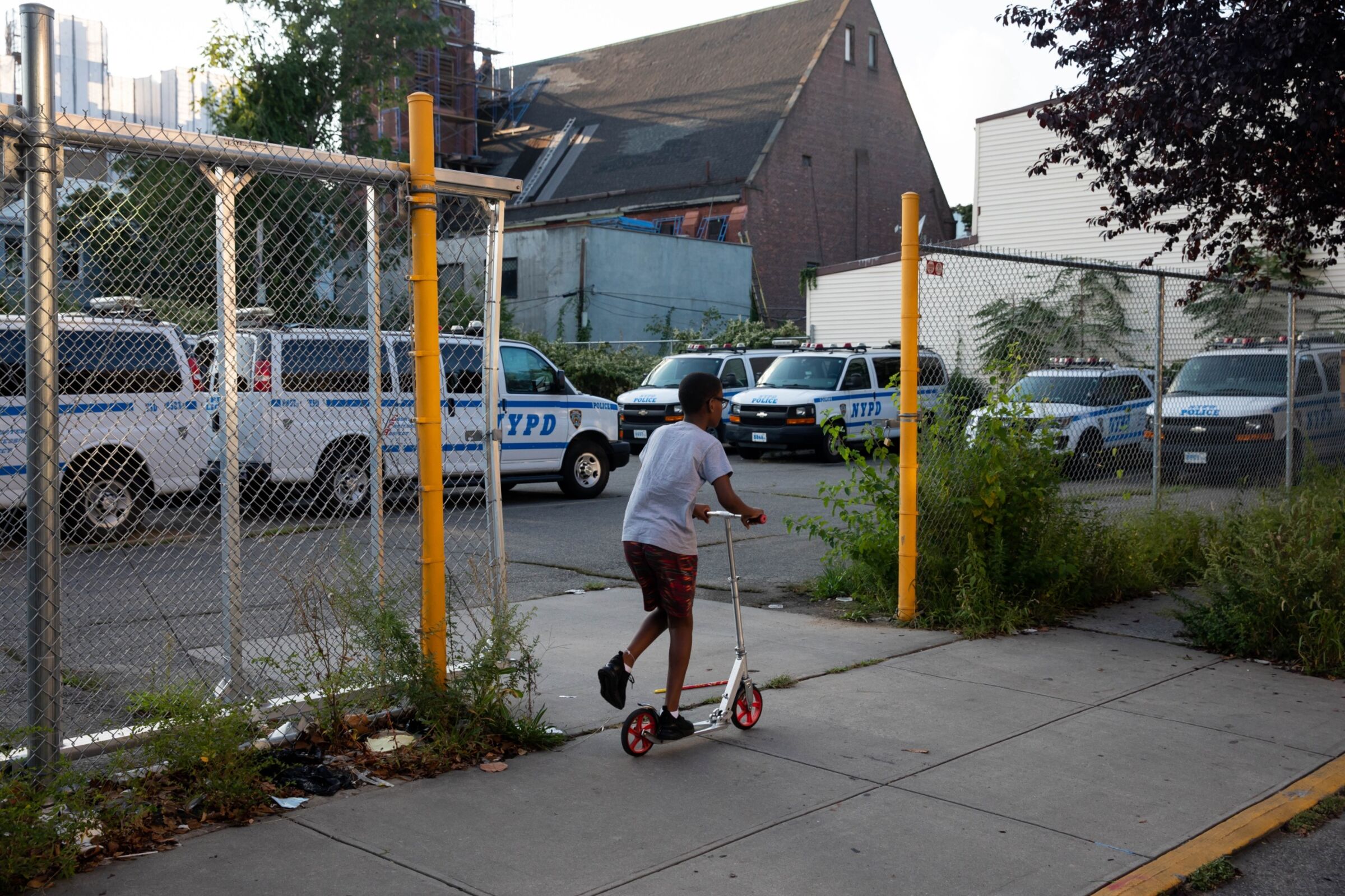 The 75th precinct has long been notorious for misconduct and malfeasance. An investigation of the precinct found a culture of corruption and crime outlined in a 1994 report by an oversight body called the Mollen Commission. Besides bribes and brutality, the report keyed into a pattern by officers who initiated unlawful arrests so they could bill overtime hours. The practice was so common it had its own nickname, "Collars for Dollars."
Decades later many of the same problems persist, according to public defenders and reform advocates. The 75th precinct paid out at least $9.2 million to settle federal lawsuits between 2015 and 2018, the most of any other precinct, according to CAPstat, which tracks city misconduct data.
During his eight years as a public defender in East New York and other Brooklyn neighborhoods, Scott Hechinger looked through scores of police memo books that revealed the disturbing pattern: cops would routinely initiate arrests for low-level crimes like drug possession or trespassing during the last hour of their shifts. "It wasn't that they needed to, it's that they wanted to," said Hechinger. "To get that extra money."
Officers would then search and sometimes haul a person off to the precinct, where police run their fingerprints, check for warrants and file arrest paperwork—a process that could take hours, he said.
Overtime transgressions were so widespread that inquiring about the timing of an arrest became a standard line of questioning in court. And the wrongful arrests led to a feeling by residents of being "incarcerated in their own neighborhood," said Hechinger, who now runs a public defender advocacy group called Zealous.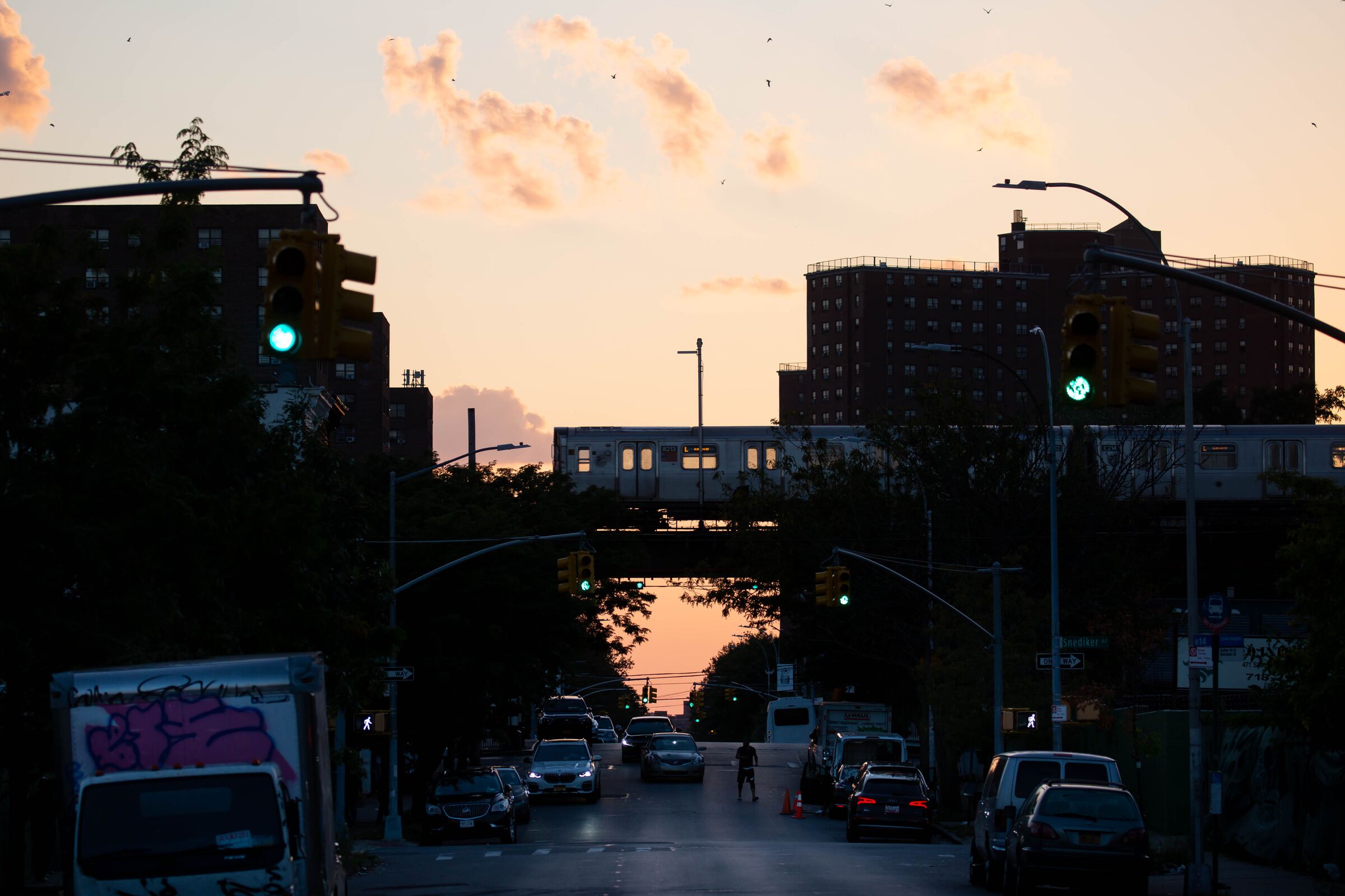 Adams, the Democratic mayoral nominee, pledged to track and target this behavior.
"There are officers who will wait until the last half an hour of their tour and they will come up with some bogus collar or some offense," Adams said. "That's what we're not identifying, we're not identifying those who are abusing the system for overtime."
Funding Disconnect
An NYPD spokesperson said overtime related to arrests has declined steadily in the last 10 years.
Former New York City Police Commissioner Bill Bratton says overtime can be crucial to responding to fast-changing staffing needs. He attributes last year's police overtime overages to spiking crime levels, demonstrations after George Floyd's murder, and personnel shortages which saw headcount drop by 1,404 officers.
But historical data shows that headcount has little bearing on overtime hours. The NYPD had nearly 1,300 fewer officers in fiscal 2010 as it did in fiscal 2020, but budget overruns averaged $379 million a year during that period.
Although paying for excess hours can cost less than hiring new cops, overtime contributes to future pension costs.
"If your last few years before you retire, you work 300, 400 hours of overtime and bump up your pay by $40,000, that all goes into the salary that your pension is based on," said Ana Champeny, director of city studies at New York's Citizens Budget Commission.
Champeny says that added pension benefits incentivize over time, particularly among more senior, highly compensated officers. New York state, by contrast, only includes up to 15% of overtime when calculating pensions.
Even if Adams is able to fulfill his campaign promise to curb overtime spending, the problem is poised to get worse. The city set aside $485.6 million for overtime in fiscal 2022, nearly double the fiscal 2021 mark. That helped push the NYPD's adopted budget to $5.4 billion, up to $200 million from fiscal 2021.
The added police spending contrasts with funding strains faced by nonprofits delivering much-needed social services.
"We need a community center, we need a place for our kids to go play and be safe, we need affordable housing, we need jobs," says Neugebauer, who runs the East New York development center. "That's where the investments need to go."