Amazon founder Jeff Bezos will step down as the company's chief executive officer this summer, after more than a quarter-century at the helm of the retail, logistics, and tech powerhouse.
Bezos will become Amazon's executive chairman and remain its biggest shareholder, the company said on Tuesday. He will hand over the CEO reins to Andy Jassy, the head of Amazon's cash-cow cloud computing division.
Jassy has been at Amazon for much of its existence and is one of Bezos' most trusted lieutenants. He served in the coveted role of the CEO's "shadow" technical — a role in which he accompanied Bezos to all his meetings to learn the business — in 2003. After writing the original document that became the Amazon Web Services business plan, he has run the division since it formally launched in 2006. Bezos has propelled the online bookseller he started in his Bellevue, Wash., garage in 1994 into a behemoth worth $1.7 trillion employing over 1.3 million people, with physical stores, delivery trucks, movies, Internet-connected cameras, a cloud business that props up the CIA and enough paying subscribers to populate the ninth-largest country on Earth.
"As much as I still tap dance into the office, I'm excited about this transition," Bezos said in a letter to employees, announcing the end of his 27-year run. He said he planned to spend more time focused on philanthropy and other outside ventures.
"As Exec Chair I will stay engaged in important Amazon initiatives but also have the time and energy I need to focus on the Day 1 Fund, the Bezos Earth Fund, Blue Origin, The Washington Post, and my other passions," he wrote. "I've never had more energy, and this isn't about retiring. I'm super passionate about the impact I think these organizations can have."
Cloud computing is Amazon's biggest profit center, even as the company continues to profit tremendously from pandemic-fueled online shopping. On Tuesday, Amazon reported yet another record-setting quarter, with sales during the holiday season topping $125 billion. AWS alone raked in $3.6 billion in operating profit — half of the company's total.
In recent years, Bezos had already largely stepped back from day-to-day role managing Amazon's business, focusing on longer-term projects at the company and his outside projects including rocket company Blue Origin.
He did take a more hands-on approach during the early months of the pandemic last year, however, as demand for deliveries soared but also tested Amazon's ability to keep up. AWS, which sells cloud computing services to other companies, also experienced surging demand as many people and businesses realigned for remote work.
"Jeff will continue to stay not only very involved but have his fingerprints on a lot of areas of product development and innovation," Amazon Chief Financial Officer Brian Olsavsky told reporters on Tuesday. "So Jeff is really not going anywhere, it's more of a restructuring of who's doing what."
For Jassy, moving up to the CEO role means taking on some of Amazon's most pressing challenges. That includes a burgeoning labor movement: Workers in Alabama are about to vote on whether to become the company's first unionized warehouse in the U.S., while white-collar staff and engineers at its headquarters in Seattle have pushed the company to get serious about addressing racial justice and the climate.
Amazon is also under growing scrutiny from regulators and lawmakers in the U.S. and Europe who worry about its market dominance. Last summer, Bezos faced his first congressional grilling as part of the House Democrats' investigation that concluded that Amazon, Google, Facebook, and Apple are all monopolies. Now it will be up to Jassy to defend the company from critics who say it should be broken up.
Tuesday's announcement also came on the same day as news that Amazon would pay over $61.7 million to settle the Federal Trade Commission's charges that the company withheld some tips of its Flex delivery drivers over two and a half years. Amazon did not immediately respond to a request for comment.
A mountain of glass and steel is soon to rise in Arlington, Virginia. Spiraling up from the earth and interwoven with gardens, trees, and workspaces, the structure is the architectural centerpiece of Amazon's HQ2, which is set to bring nearly 3 million square feet of office, retail, and public space to the company's second headquarters, just outside Washington, D.C.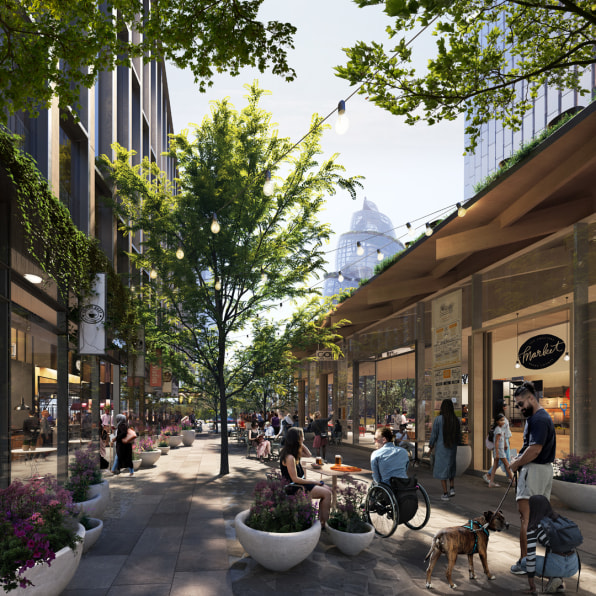 The new design, made public for the first time today, reveals a dense and urban campus that shuns the isolated and insular nature of tech campuses. With a focus on public space, connections to the neighborhood, and one very big artificial mountain, Amazon's plans for the project suggest a different kind of company headquarters.
The design encompasses 2.8 million square feet of offices spread across three mid-rise towers, 100,000 square feet of retail space, a community center and daycare facility, 2.5 acres of public space, and, most prominently, the spiraling mountain building.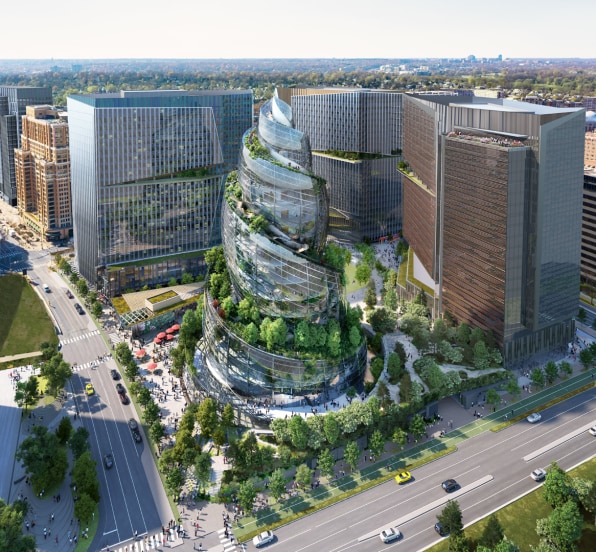 The mountain itself will be more of an amenity than an active office building but will include both indoor and outdoor spaces that can be used for individual or teamwork. And its spiraling design will create the opportunity for a somewhat strenuous midday climb. Designed by Seattle-based architects NBBJ, the mountain, dubbed the Helix, is intended to be a space where employees can escape and experience the indoor gardens or outdoor terraces, and also where they can come together to collaborate in unique settings. "Amazon's culture really reinforces the inspiration for this building," says Dale Alberda, principal at NBBJ and lead designer of the project.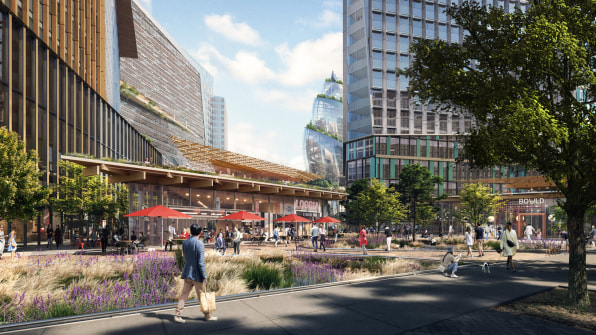 Though clearly a showpiece building, the Helix fits into the overall approach to designing HQ2, according to John Schoettler, Amazon's vice president of global real estate and facilities. In combination with the three office buildings on the site, the ground floor retail, and the acres of public space between them, the Helix is meant to create a space that not only showcases a nontraditional working environment but also embraces the city around it.
"We have designed spaces that promote physical well-being. We're dealing with the whole person," Schoettler says. "We're thinking not only what it's like for them to be inside, to be able to collaborate, but what is it like for them to be outside, and what does that mean for the local community."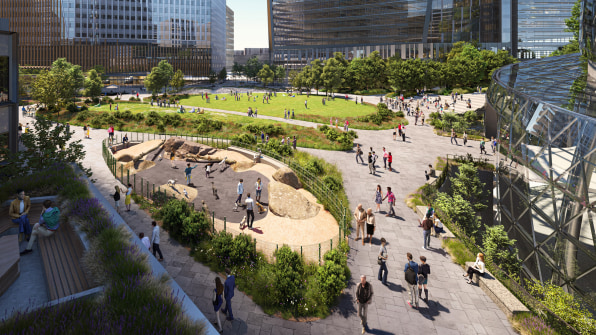 HQ2 has been a high-profile and controversial project since its announcement in September 2017, largely thanks to Amazon's competition-style approach to selecting one lucky city to become the company's new home—and see an estimated $5 billion worth of investment in the project. After sparking a wave of self-promotion among more than 200 hopeful host cities, the tech giant's November 2018 selection of Arlington and Long Island City, in Queens, New York, left many observers stunned and some local activists irate. Concerns over tax breaks and neighborhood impacts eventually led to the February 2019 announcement that the company was pulling out of New York, turning its bifurcated second headquarters back into a single development in Arlington.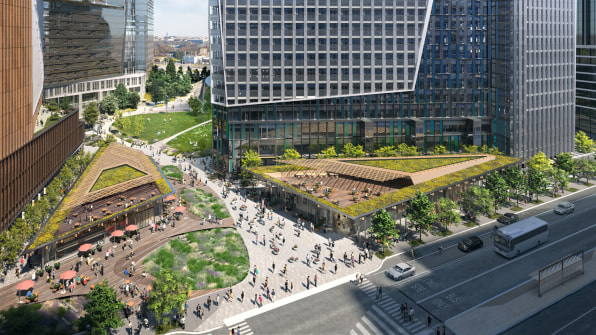 This is the second phase of the HQ2 project, and is expected to be completed around the beginning of 2025. Each of its buildings is designed to meet the LEED Platinum green building standard and be fully powered by a solar farm in southern Virginia. Central to the design was the elimination of vehicular access on the ground level, which was actually called for in the county-level design guidelines that had been established for the site. "We pushed the envelope on that," Schoettler says.
Instead, cars and service vehicles are redirected below ground, leaving the entire site a pedestrianized space. Lanes that would have otherwise been streets will now be walkable alleyways, connecting the retail pavilions that sit alongside the office buildings and serving as gateways to the surrounding neighborhood. The goal, Schoettler says, is for the site to be a place where Amazon employees and Arlington residents will feel equally welcome.
"We believe this headquarters should be integrated into the neighborhood, not closed off, not a place for Amazon employees only," Schoettler says. "We're really working hard to create an 18-hour district, a place that people will want to come to, not just travel through."
Even the climbable mountain building will be open to the public, though only part-time. Given the recent spate of suicides at the Vessel, another climbable piece of architecture at New York's Hudson Yards, restrictions on this amenity may end up needing to be even more stringent.
Plans for this phase of the design are now being presented to Arlington County, and a public comment period will follow. But the project is far from over. A second site a few blocks away, which began construction in 2020, will add another 2.1 million square feet of office space to HQ2. In total, the two developments will house about 25,000 employees and become a distinctive addition to Arlington's skyline.
NBBJ, which also worked on the spherical buildings at Amazon's Seattle offices, still has some technical details to figure out regarding the Helix. The workspace-garden-mountain is "absolutely a challenge," Alberda says. "And in fact, Amazon said this shouldn't be easy. It should be difficult to do. If it's too easy, we're not doing it right."
That may be a valid motto for the entire HQ2 process.