Analysis: working from home became the norm for many in 2020 and we are unlikely to go back to the way things were
By Maébh Coleman, Marian Jennings and Rowena Hennigan, TU Dublin
In January 2020, some colleagues sat in their office overlooking a street in Dublin city center. The sirens occasionally blared, passerby conversations could be heard floating up toward the window. The slight scent of Guinness lay in the air after a batch was brewed that day whilst the bus traffic and the flashing lights from cyclists punctuated the dusk with sound and light.
By 5pm, the office lights and the dark evening conspired to shroud the scene outside, and every now and then somebody would mention a bit of news or remark on the mundane parts of life, like the traffic or the weather. This day, in January 2020, the fire alarm sounded and everyone grabbed their coats and keys. A cold day for a fire drill, but a necessary element of keeping safe in the office.
The ongoing pandemic has taken this reality and turned it on its head. We have learned a lot about working from home during an emergency and what practices can help us, but we have also learned about its drawbacks. We need to keep productive, but we also need to keep safe. Now that a variety of innovative models have emerged, will we ever go back to the way things were?
What has the pandemic taught us about working from home?
One key lesson relates to balance, specifically that between individual wellbeing and organizational productivity. It's no longer the pre-Covid binary of a work/life balance choice. After all, the phrase 'living at work' rather than 'working from home' became common during 2020. Employers have invested heavily in wellbeing programs and supports to this effect much more than ever before.
By mid-2020, Ireland had one of the highest rates of WFH in Europe, with over 40% by comparison with an EU average of 33.7%. The National Remote Working Survey confirmed that workplace productivity can be maintained in home working. Over 5,600 workers were surveyed and 62% of respondents agreed that working remotely increases their productivity. In a similar survey undertaken by Ámarach for the Fórsa trade union, the figure for increased productivity was slightly lower at 50%.
Workers now want more flexibility in choosing where they work. 94% of respondents to the National Remote Working Survey were in favor of working remotely on an on-going basis, for some or all of the time, and over 80% in the Ámarach poll expressed a preference for a hybrid arrangement.
Now the bad news...
While benefits like lower costs, a reduction or removal of commute times, and a greater choice in work-location have not gone unnoticed, a number of negatives have emerged. Working from home impacted women more than men in more ways than one. Women are identified in research as shouldering a far greater proportion of the burden of care responsibilities, as well as housekeeping and other domestic responsibilities. In a May 2020 CSO survey, 48.6% of females indicated their wish to return to their workplace when restrictions were lifted, as opposed to 31.7% of men.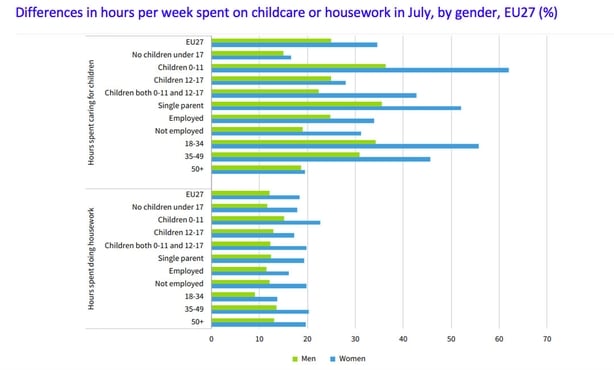 In November 2020, the CIPD and the Equality and Human Rights Commission in the UK launched new guidance for employers on supporting employees experiencing domestic abuse. Calls to Women's Aid increased by 41% since the start of the pandemic compared to the previous year, creating a real and ongoing concern in relation to domestic abuse. Inequalities such as space availability, technology access, the strength of network and household complexity will also play a role in how we can maintain both our wellness and our productivity while working from home
Both men and women are impacted by other worrying trends that emerged such as the impact on future salary increases. A survey of in-house lawyers in Ireland shows that 41% of women and 33% of men believe that working from home will have a negative effect on their future salary increases. In the US, 43% of respondents reported that remote working will have an impact on their career prospects, an increase of over 20% on the previous year's findings.
Much of the collaboration involved in innovation has also been reduced and concerns exist over whether the lack of connection will impact this in the longer term. The dangers of sitting for too long have been highlighted in a survey commissioned by the Irish Heart Foundation, which showed that more than half of those WFH in Ireland were, on average, sitting for 2 hours and 40 minutes longer than when office-based.
Working from home in 2021 and beyond
All of these are more reasons to act strategically to move to a more sustainable, well-managed, and effective model in 2021. We are no longer dealing with the 'emergency measures' we experienced in 2020. From an organizational perspective, a move to a more normalized solution is the most practical, not to mention the popular, option. Workers want flexibility and organizations want productivity.
A new term has been created to deal with this. Hybrid remote working encompasses many models forged through necessity as part of the pandemic including alternating, co-located, connected remote or on-site/on-demand. Then, there's the 'work from anywhere' model previously accessed only by digital nomads. We also became more aware of the phenomenon of working from home abroad after multinational organizations began calling their employees who moved abroad to work remotely back to Ireland. Tax, legal, and social protection headaches are of particular concern to these employers.
How will employers react to these new trends?
As employers juggle with the new world of work, there are a number of legal developments that they will need to take on board. The issue of 'always on' has already been addressed by AIB, who became the first employer in Ireland to agree a 'right to disconnect' policy for their workers with the Financial Services Union.
It is anticipated that a Code of Practice on the 'Right to Disconnect' will be introduced in early 2021 following a public consultation. The Code will provide guidance to employers and employees and will be admissible in evidence in proceedings before the Workplace Relations Commission, the Labour Court, and the Courts. A right in legislation already exists in France, Spain, Canada, and Portugal.
Employers will also have to prepare for the implementation of the EU Work-Life Balance Directive. This will give employees with caring responsibilities a right to request flexible working. There are concerns about the potentially gendered nature of the Directive, especially as women with caring responsibilities have already been disadvantaged during the pandemic.
We also await the publication of the Government's Remote Working Policy and the initiatives and requirements that it may contain, in particular the urgent roll-out of the National Broadband Plan. A number of public bodies such as the Health and Safety Authority, the Data Protection Commission, the National Cyber Security Centre and the Department of Enterprise, Trade, and Employment have easily accessible resources to support employers on all aspects of remote working.
All organizations must also develop a crisis management strategy. Unfortunately, future crises will arise due to severe adverse weather events, local or global health emergencies, acts of terror, and other environmental, social-political events. The learnings from Covid-19 are now readily available and it would be a huge loss if organizations do not take the evidence and prepare properly for next time.
We can predict from previous crises that a period of innovation follows. It is unfortunate that those who do not or cannot adapt will lose out on the best talent and fall short of industry trends leaving their competitors to the spoils. Employees cannot commit in the long-term to eternal burnout. They must find the employment that best enables them to develop their own wellbeing and productivity through flexible structures that represent real life, not an idealized identity of themselves as an employee.
Will we finally wave goodbye to working in the office in 2021?
While the 'death of the office' has been heralded, its demise may not be complete just yet. Although Google canceled its plans for a 202,000 sq. ft. office space in Dublin in September, it has been reported recently that Apple and Amazon are on the lookout for large office spaces in Cork. We may be likely to see smaller, but smarter offices. Offices are expensive to acquire and run. If employers wish to save money on their office properties, fully remote, remote-first or hybrid working models may be the way forward.
Most workers want a combination of hybrid working, so a greater use of 'hot-desking' may be seen, but workers will be averse to space sharing until Covid-19 is significantly reduced or eliminated. Research strongly suggests that people want to avail themselves of remote working benefits well into the future, yet the safety and productivity management tools are so different in the remote work context.
When we do finally sit with our colleagues in an office again, we will certainly need the fire alarm for safety. But when we sit with our colleagues in distributed environments, we will also need a wellbeing alarm that ensures our safety in new and different ways.
Maébh Coleman is a lecturer and teaching fellow at the School of Business at TU Dublin. Marian Jennings is a law lecturer at the School of Business at TU Dublin. Rowena Hennigan is a lecturer on the Future of Work module at TU Dublin and a freelance consultant.