Santa Index 2017: Santa's salary increases 2 percent to $149,434
Each year, Insure.com's own workshop examines all the roles that the Santa Claus plays throughout the year and assigns a value to each job based on the annual data from the Bureau of Labor Statistics. The result is an entertaining breakdown of the value of Kris Kringle's career. Gone are the days of jolly ol' St. Nick just sitting around whittling a nutcracker. In 2017, Santa is also in charge of labor negotiations, overseeing manufacturing and racking up frequent flier miles as a pilot.
The head elves at Insure.com have some good news for Mr. and Mrs. Claus: the value of Santa's job is $149,434. To more than just reindeer, that's a lot of hay. According to the most recent information from the

United States Census Bureau, the median household salary in 2016 was $59,039, up 3.2 percent from 2015.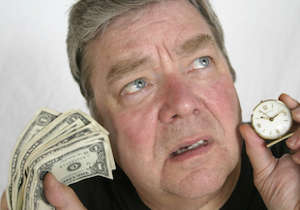 Santa Claus's wage didn't increase as it should have, however. Kiplinger reports that wage growth was expected to see an average of 3 percent increases - continuing a trend of wage stagnation frustrating for many Americans. He is a saint, after all, so it's reasonable to think that the altruistic life he leads is its own reward - a luxury not many can afford.
Check the list below (twice, if you'd like) to see what jobs we've assigned to Santa and how much each one is worth.
The Santa Index 2017
Santa's jobBLS occupation titleHours per dayDays per yearHours per yearMean hourly wageAnnual earningsChange from LY
Running the workshop

Industrial Engineers

8

364

2912

$42.56

$123,934.72

2%

Professional shopper

Sales and Related Workers, All Other

8

15

120

$20.83

$2,499.60

6%

Wrapper of gifts

Packers and Packagers, Hand

12

14

168

$11.74

$1,972.32

3%

Labor negotiator (with elves)

Labor Relations Specialists

0.5

365

182.5

$30.89

$5,637.43

5%

Letter reader

Correspondence Clerks

1

100

100

$18.11

$1,811.00

4%

Sitting in mall to speak with children

Customer Service Representatives

8

21

168

$16.91

$2,840.88

2%

Investigator (knows if you've been good or bad)

Private Detectives and Investigators

1

30

30

$25.74

$772.20

1%

List checker (checking it twice)

Bookkeeping, Accounting, and Auditing Clerks

1

30

30

$19.34

$580.20

3%

Taking care of reindeer

Farmworkers, Farm, Ranch, and Agricultural Animals

1

365

365

$12.90

$4,708.50

2%

Snow plow driver (at the North Pole)

Highway Maintenance Workers

0.5

360

180

$19.01

$3,421.80

3%

Pilot of sleigh

Airline Pilots, Copilots, and Flight Engineers

10

1

10

$73.45

$734.47

11%

Going down chimneys

Building Cleaning Workers, All Other (Chimney Sweeper)

10

1

10

$14.88

$148.80

2%

Cookie & milk taster

Agricultural Inspectors

10

1

10

$21.28

$212.80

1%

Distributor (placing gifts under the tree)

Shipping, Receiving, and Traffic Clerks

10

1

10

$15.94

$159.40

2%

Announcer ("Merry Christmas to all, and to all a good night!")

Public Address System and Other Announcers

0.01

1

0.01

$20.55

$0.21

10%
Santa's total salary for 2017 $149,434.33 2%
Even Santa needs to review his insurance portfolio
A salary of 2.5x the median household income might sound like Santa has got it made, but anyone who owns their own business knows that there are a lot of costs that arise - particularly when you have a high salary or net worth.
Using Insure.com's new

Insurance Advisor tool, Santa can quickly review what insurance policies he has in place to protect his assets and his family, get a score of his overall insurance health, and get personalized recommendations in less time than it takes Santa to get the reindeer harnessed. (That's about 8 minutes for those who have never fastened eight flying reindeer to a sleigh.)
Does Santa need auto insurance?
Santa's lightning-fast, flying sleigh is certainly legendary and the right vehicle for his main job, but it's not practical for a trip into town for provisions on the other 364 days of the year. While we're not certain what model vehicle he drives, we imagine his other preferred mode of transportation must have all-wheel drive. Regardless of what type of vehicle is being driven, smart drivers know auto insurance isn't a gift-list item that's delivered in fancy wrapping paper - it's a must-have. Maintaining sufficient

car insurance

will help ensure your place on the "Nice" list for next year.
Winters can be hard on houses and home insurance
Mr. and Mrs. Claus can expect to pay higher

home insurance

premiums due to the harsh climate at the North Pole. Geography certainly affects the home coverages required by insurers, along with the typical fire and accident coverages. Floridians are all too familiar with hurricane damage and Californians are well aware of earthquake zones. Regions that experience intense natural disasters or extreme weather often require extra protection. Up inside the Arctic Circle, it's conceivable to have damage from blizzards, snowdrifts or avalanche.
HMO-HO-HO for health insurance
Santa would likely have a contracted health insurance provider that offers group coverage to all the elves in the workshop - we're guessing it's an HMO-HO-HO. That means that Santa, Mrs. Claus, the elves and their dependents would be charged significantly reduced costs for staying within a network of approved providers, and group members are required to select a main healthcare provider and get a referral to see specialists. Santa could have chosen from several

health insurance types, but there aren't many providers to choose from at the North Pole, so we think Santa made the right choice.
Santa is a risk-assessment nightmare, but he still needs life insurance
Life insurance is a crucial coverage for Father Christmas. He leads a pretty adventurous lifestyle flying around the globe in an open-air sleigh, his diet staples are chocolate chip cookies, hot cocoa, and candy canes, and - at least in the fourth quarter - has a pretty high-stress occupation with one of the most high-profile deadlines ever. He's built a toy-manufacturing empire and shares it all with Mrs. Claus. Without a robust

life insurance policy, should Santa die, Mrs. Claus could find herself saddled with large bills for final expenses or unable to support herself or the workshop.
The most valuable gift of all - financial stability with a life insurance policy
The holidays are often a time of togetherness and gratitude spent with family and friends. After the excitement of the get-togethers comes to a close and all the presents are unwrapped and the china is put back in the cabinet, it's a great opportunity to reassess your life insurance policy to ensure that if you were to pass, your family would be provided for by a life insurance policy that affords them financial stability without you.
Income replacement, final expenses, mortgage payments, childcare expenses, and education costs are some of the major financial bills that can arise after a death in the family.
Insure.com's life insurance survey
In a recent survey of more than 1,700 respondents conducted by Insure.com, 61 percent reported that their spouse have a life insurance policy, while 25 percent stated their spouse did not have a policy.
Of those who reported their spouse did not have a policy, 24 percent said that they didn't believe a policy was needed because the spouse works part time. However, the value of a family member is far greater than their income. If your spouse is raising children or keeping the home clean and organized, then should they pass, you'd have to pay for childcare as well as possibly a housekeeper to maintain your current standards. These roles are often taken for granted when evaluating the worth of a contributor. Insure.com's

life insurance calculator

can help you estimate your life insurance policy coverage and recommend a coverage type, term or permanent.
Fourteen percent of survey respondents stated that beneficiaries of a life insurance policy were unaware of this designation. Of those, 34 percent cited that the reason they had not informed their beneficiary is because they are uncomfortable discussing death. Twenty-eight percent reported they didn't know what steps to take or how to go about notifying the beneficiary.
While a discussion about death can feel like a bigger holiday downer than receiving coal in your stocking, it's a truly unselfish act to endure a bit of conversational discomfort when ultimately you would be sparing your loved ones from a burden of finances and logistics when caught unprepared. It's important to note that life insurance companies are generally not responsible for contacting the policyholder's beneficiary, and in most cases, it's the beneficiary who notifies the insurer of the policyholder's death.
'And to all a good night!'
Santa Claus often embodies the spirit of giving for the holiday season. Take a cue from St. Nick, this holiday give yourself and your family the peace of mind of knowing that you've prepared a plan to deal with a future that no one likes to think about and a day everyone hopes will never come. When that's done, you'll be sure to earn a spot on the Nice List.